Mango-Pineapple Sangria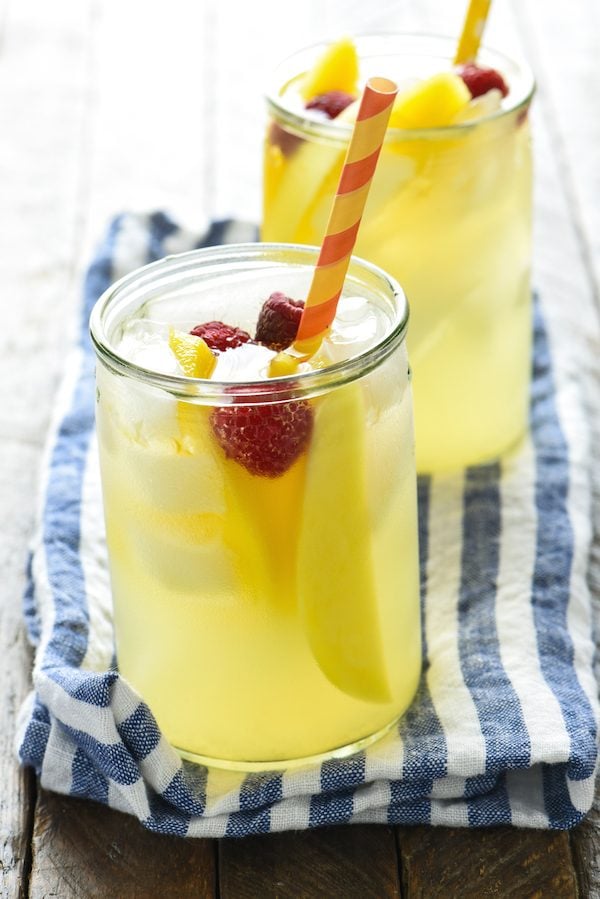 So, I've been trying to eat more fruit lately (and I don't just mean in tequila mojitos and strawberry Moscow mules). Truth be told, I've always been more of a vegetable person (I'll even put cucumbers in a White Claw cocktail).
Give me any vegetable, and I'm happy, especially if it's roasted or grilled. Call me crazy, but I'm such an OMG SAVORY ALL THE TIME person that some fruit is just too sweet for me.
But lately, I've made it a priority to keep fresh sliced fruit in the fridge for snacking and meals. The fruits I like best are the ones that aren't too sweet (even if I do end up dipping them in sweetened whipped cottage cheese fruit dip, like with my Easter fruit salad).
I particularly love pineapple (because it's kind of a mixture of sweet and sour), watermelon (because I put SALT on it, yo), and mango (because it's sweet-but-not-too-sweet, and is great in savory recipes like my chicken kabobs with curry mango sauce).
Another easy way I get my fruit servings in, especially in the summer? Cocktails, duh! Hey, just because there's a bit of alcohol mixed in, doesn't make it any less a serving of fruit. That's my stance, and I'm sticking to it.
This Mango-Pineapple Sangria is a breeze to stir together, and, just like my agave lemonade and honey lemonade, keeps in the fridge for about a week (in fact, the flavor gets even better a few days after making it).
Simply stir together a bottle of dry white wine (I used pinot grigio), a bit of orange liquer and pineapple juice, and then some fresh slices of pineapple and mango (+ some seltzer water just before serving).
Psst – if you love mango drinks, try my Sparkling Mango Lemonade!
Mango-Pineapple Sangria
Ingredients
2 mangos, peeled, pitted and sliced
1/2 pineapple, peeled, cored and sliced
1 bottle (750 mL) dry white wine (such as pinot grigio)
1 cup pineapple juice
1/2 cup orange liqueur
24 ounces seltzer water
Sliced mango, sliced pineapple and/or raspberries, for serving
Instructions
In large pitcher, stir together mangos, pineapple, wine, pineapple juice and orange liqueur. Cover and refrigerate at least 8 hours or up to 5 days, stirring each day.
To serve, stir in seltzer water. Serve over ice, garnished with mango, pineapple and/or raspberries.