Spicy Potato Chips (BBQ Seasoning for Chips)
These Spicy Potato Chips are a fun way to jazz up a bag of plain potato chips with homemade potato chip seasoning. Customize the spice level to your taste, and enjoy warm chips from the oven!
Were there kind of weird grocery shortages around you last year? Of course, the expected things like toilet paper and sanitizing wipes were cleared off of every shelf, everywhere. That makes total sense.
The breakfast supplies were out of stock for awhile, so no vegetarian quiche or oven bacon for me. I lived to tell the tale. Smoked salmon certainly couldn't be found, so no smoked salmon BLTs either.
Another thing I noticed around here was a strange shortage of bbq flavored chips for a few months. It's weird that I even noticed it, because bbq chips are not something that I normally buy or crave (although give me barbecue chicken any day).
But stress does weird things to our taste buds, I guess, and what's what my taste buds wanted during a global health emergency. Since I WAS able to find plenty of plain potato chips, I decided to whip up a smoky barbecue-like spice mix for them myself, and add some spice to them as well!
I recently found a small jar of this seasoning mix while cleaning out my pantry cabinet, and I wanted to share this spicy chips recipe with you.
They're perfect alongside Sonoran hot dogs, my turkey burgers recipe, country style ribs in the oven or salmon sandwiches. I'll even serve them on a football themed charcuterie board!
Why make spicy chips using homemade potato chip seasoning?
Seasoning potato chips with a custom homemade blend of spices has several benefits.
First of all, it's customizable, so you can use whatever spices you like for these spicy potato chips, in whatever amounts you like. More on that later!
Secondly, it's fun! Or at least, I think so. I love making homemade spice mixes, and getting out all of my little measuring spoons and stirring them up. That's my idea of fun.
And probably the best reason of all to season your own hot potato chips – you get to eat WARM potato chips right out of the oven, which are perfect for a party (especially when you have a brandy old fashioned in hand and a batch of crock pot ribs ready as well)! I'll even warm up plain potato chips just for dipping in roasted garlic dip, because they're so good when warm.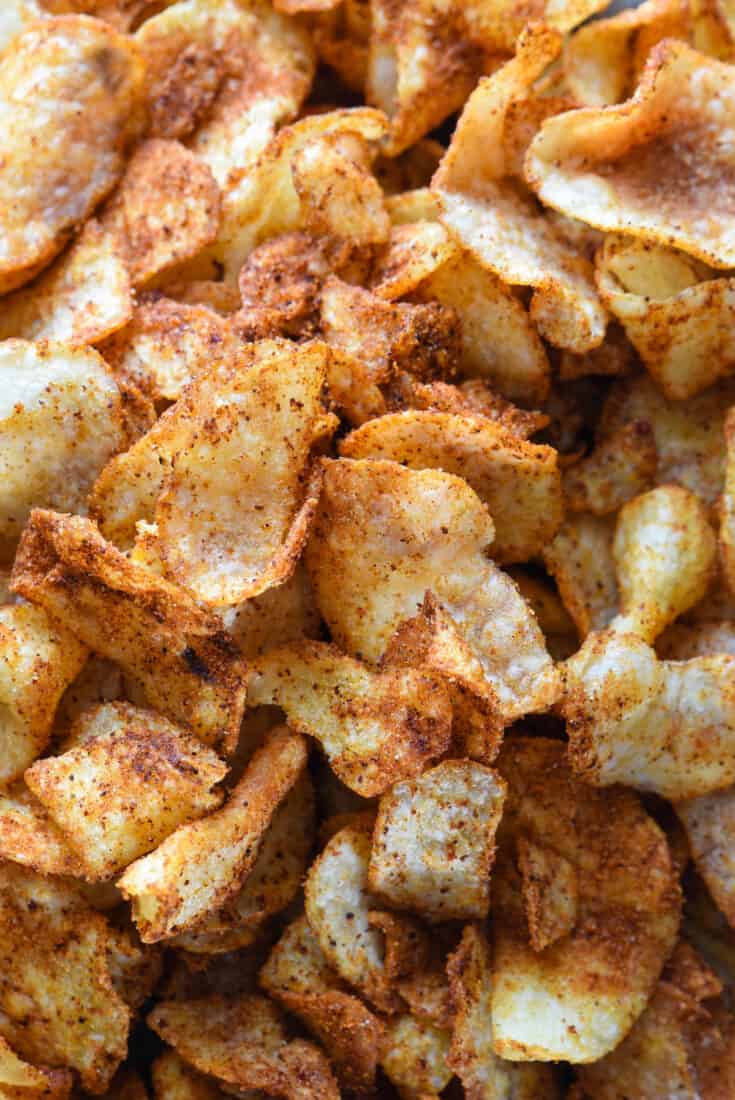 What's in the chip seasoning for these spicy potato chips?
In order from the largest amount to the smallest amount, the spices in this homemade potato chip seasoning are as follows:
chili powder – the backbone of any, well, chili recipe, this is also a crucial spice for bbq potato chips.
cayenne – this is where most of the spice in these hot potato chips comes from!
garlic powder – a spice almost everybody seems to have in their cupboard, for good reason. This adds lots of savory flavor to these spicy potato chips.
mustard powder – this one might surprise you, but it's one of the "spicy" elements in these spicy chips! I recommend Colman's brand mustard powder if you can find it. I also use this in my buttermilk grilled chicken marinade.
onion powder – right next to the garlic powder in my cupboard, there's the onion powder. This adds another layer of savory to this bbq seasoning for chips, and can also be used for my dry rub for ribs.
smoked paprika – regular Hungarian paprika is fine here, but I love smoked paprika for the depth of smoky flavor it adds to any recipe.
cumin – this might not be traditional for barbecue chips, but it adds a bit of earthiness that's really yummy. I love it in my kafta recipe too.
How to customize this bbq seasoning for chips:
Probably the most frequent question is "how can I make these spicy potato chips LESS spicy?"
No worries – if you're not a fan of spicy chips at all, you can make these mild by omitting or greatly reducing the cayenne to just a small pinch.
On the other hand, if you LOVE hot hot hot things, you can add an extra dash of cayenne.
If you don't have both garlic powder AND onion powder on hand, that's fine. Just double the amount of the one that you do have, and you can still make a good seasoning for chips.
Traditional (Hungarian) paprika (like my mom sprinkles on top of her Midwestern potato salad) can be used in place of the smoked paprika for these hot potato chips.
If you DO end up buying smoked paprika for this recipe, A Couple Cooks has a list of the 20 best smoked paprika recipes that will give you plenty of ideas to use up the rest of the jar.
And if you don't have cumin on hand, simply omit it.
Another way that you can customize these chips to your taste is by simply choosing the variety of plain potato chips you start with.
I've used kettle chips here, but you could use classic potato chips or wavy/ripple cut chips. Lowfat or baked chips don't work that well here, as the spice mix needs some oil to stick to!
Make sure to serve cold drinks with hot potato chips:
In my opinion, nothing goes better with spicy potato chips than an ice cold glass of lemonade. Whether it's honey lemonade or agave lemonade, something fruity like mango lemonade (that one is even a bit sparkly) or even combined with beer in a lemon shandy, it's my first choice to drink alongside these spicy kettle chips.
If you're in the mood for a cocktail to go with these spicy chips, my favorite fruity cold options are my strawberry Moscow mule, grapefruit mule and blackberry tequila mojito.
If I have a ton of basil in my garden, I'll make basil cocktails or basil lemonade. In the winter, I love a nice bourbon lemon rosemary cocktail or a whiskey mule.
Or, if you happen to have a random can of White Claw hanging around your fridge (it happens), try out a White Claw cocktail.
More Foxes Love Lemons Favorites
Spicy Potato Chips
These Spicy Potato Chips are a fun way to jazz up a bag of plain potato chips with homemade potato chip seasoning. Customize the spice level to your taste, and enjoy warm chips from the oven!
Ingredients
1-1/4 teaspoons chili powder
1/2 teaspoon cayenne
1/2 teaspoon garlic powder
1/2 teaspoon mustard powder
1/2 teaspoon onion powder
1/2 teaspoon smoked paprika
1/4 teaspoon cumin
1 bag (8 ounces) plain potato chips
Instructions
Preheat oven to 350 degrees F. In small bowl, stir together chili powder, cayenne, garlic powder, mustard powder, onion powder, paprika, and cumin.
Spread chips on baking sheet. Bake for 5 minutes or until warm. Immediately sprinkle and toss with spice mixture. Serve warm.
Recommended Products
Foxes Love Lemons, LLC is a participant in the Amazon Services LLC Associates Program, an affiliate advertising program designed to provide a means for sites to earn advertising fees by advertising and links to Amazon.com. There is no additional cost to you.
Nutrition Information:
Yield:

4
Serving Size:

1
Amount Per Serving:
Calories:

313
Total Fat:

20g
Saturated Fat:

2g
Trans Fat:

0g
Unsaturated Fat:

16g
Cholesterol:

0mg
Sodium:

375mg
Carbohydrates:

33g
Fiber:

3g
Sugar:

0g
Protein:

4g
Note: This recipe was originally published in 2012. The post was updated in 2021 to be updated for current packaging sizes (potato chips now come in 8 ounce bags instead of 10 ounce!), and the photos were reshot. The original photos appear below.