Root Beer Ribs
These succulent baby back ribs are marinated in root beer so they're extra juicy and flavorful. Save a little root beer to make a sweet and tangy root beer bbq sauce!
Nothing says summer like a slab of baby back ribs, does it? Ribs are usually what we make both for Memorial Day weekend and Labor Day weekend. Starting and ending the summer with ribs (with grilled chicken pizza and kafta in between)
We have a few different ways we like to make ribs. Sometimes we'll make crock pot ribs so that we don't heat the house up with the oven on really hot days.
Sometimes we'll brush them with harissa bbq sauce. Sometimes we'll make a our best rib rub for extra flavor without having to marinate. Once in awhile we'll make country style pork ribs oven, which aren't really ribs at all!
But these root beer ribs are probably my favorite of the styles of ribs we make. These ribs are marinated in root beer, and then slathered in a homemade root beer BBQ sauce. They're irresistible, especially with a tequila mojito in hand!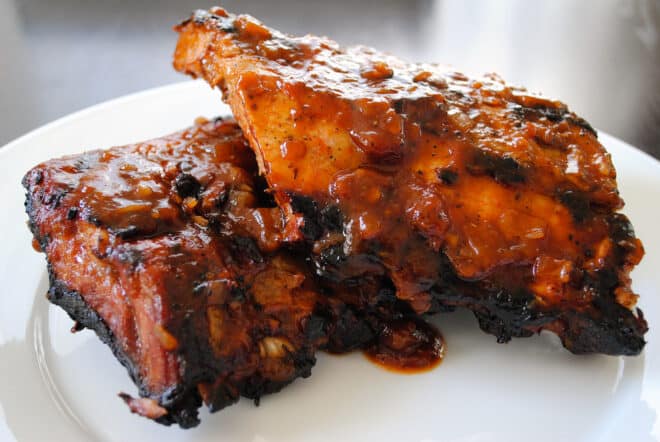 These root beer ribs are based off of a Dr. Pepper ribs recipe.
I adapted this recipe from the best rib recipe I've ever made – Dr. Pepper Ribs from a random copy of Men's Health magazine that Jeff had about 15 years ago!
They were sweet and tangy, and fall-off-the-bone tender. I knew if Dr. Pepper would work for that recipe, so would root beer.
The cool thing about these root beer ribs is that people can't really tell you used root beer – it's not a flavor you can pick out and identify in the finished product.
All you know is that the ribs are amazing, and there's a secret ingredient. The secret ingredient can be almost any type of cola. Coca Cola or even Cherry Coke are also great for this recipe!
Just do me a favor and hold the hard seltzer for a White Claw cocktail, OK?
I like baby back ribs, but you can also make root beer spare ribs.
When buying ribs, you're likely to come across a few different options. Spare ribs, baby back, St. Louis-style, oh my!
Bon Appetit has a nice tutorial that will teach you how to buy the right kind of pork ribs. For the root beer ribs recipe below, I've chosen baby back ribs. I like them because they're really meaty and they don't take super long to cook.
Feel free to use spare ribs (which will likely take longer to cook) or St. Louis-style (which will likely take shorter to cook). Beef ribs are a whole different animal (literally), and there I prefer Instant Pot short ribs.
Adjust the baking time accordingly, and cook until the ribs are tender but not totally falling off the bone before transferring them to a grill (more on that later).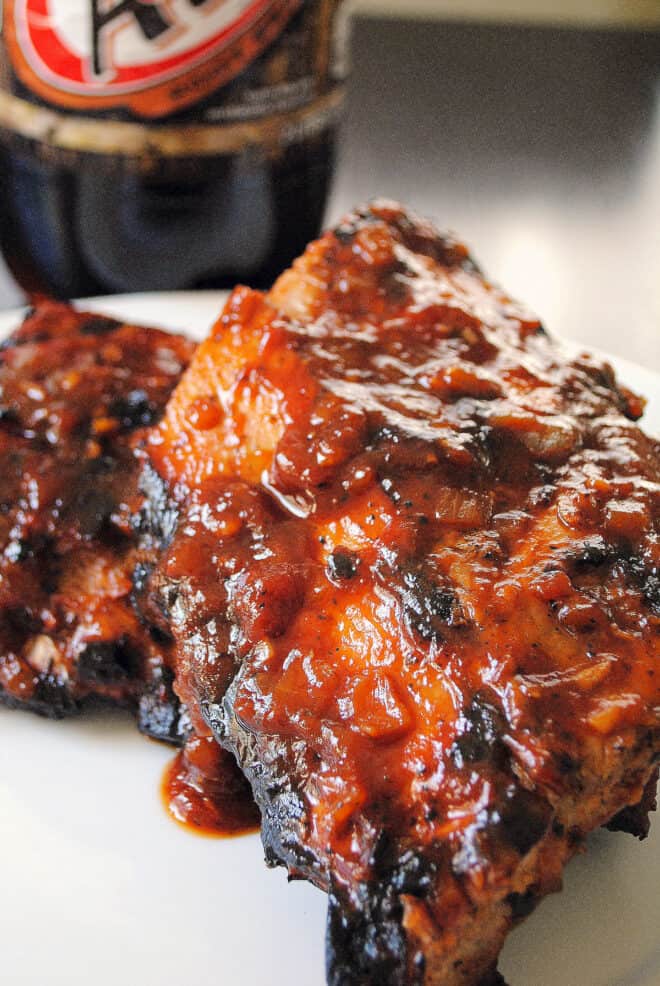 First, the root beer ribs need to marinate.
The hardest part about this recipe (and it's not really that hard) is finding a vessel large enough to marinate the ribs. Racks of baby back ribs can be quite large, although feel free to cut them in half, or even thirds, to make them more manageable.
From my numerous times making Dr. Pepper ribs, I've found that using a big roasting pan (like the kind you'd roast a big roasted turkey with maple bourbon glaze or put the ramekins in for chocolate creme brulee) is a great place to marinate ribs.
Nestle the rib racks into the pan and pour root beer over them (use an entire 2 Liter bottle of root beer EXCEPT SAVE ONE CUP to make root beer bbq sauce!).
Then, you'll sprinkle 2 tablespoons of salt over the ribs. It seems like a lot of salt, but it's necessary for flavorful and juicy ribs. And you won't be eating ALL of that salt in the end product, don't worry.
The salt with react with the root beer to create a short-lived bubbling effect. It's fun to watch, but won't bubble over a roasting pan or anything, don't worry.
Cover and refrigerate the root beer ribs in their marinade for at least 4 hours, or overnight (just like my flat iron steak marinade and balsamic steak marinade). Try to turn them once during their marinating time, if you can. And maybe make a batch of caramel iced coffee with my homemade caramel coffee syrup recipe while you wait for them to marinate!
Don't have a large roasting pan? You can split the half or third racks between multiple Ziploc bags. But, you'll have to divide the root beer and salt between the bags. Just do the best you can to divide it up evenly.
Another idea is a clean 5-gallon bucket with a lid (as long as you have space in your fridge for it). We have a bucket like this that we use for brining turkeys, and it's also perfect for marinating ribs!
Then, bake the ribs.
Remove the root beer ribs from their marinade and pat them dry with paper towel. Throw away the root beer that's left in the pan – you don't need it anymore.
If you're using the same roasting pan to bake the ribs (which is what I do), wipe the pan dry. Then, place the ribs back in the pan.
Add 1 cup of water to the bottom of the pan, and cover the pan tightly with foil.
Bake at 350 degrees F for 2 hours or until the meat is very tender (nearly but not quite falling off the bone). You have time to make a batch of acini de pepe pasta salad or seafood pasta salad while they bake!
While the ribs bake, make the root beer bbq sauce.
You saved 1 cup of root beer to make barbecue sauce for the root beer ribs, right? Good.
In a small saucepan, first sauté some onion and garlic until soft. Then, you'll be adding everything to make it "saucy" – the reserved cup of root beer, ketchup, apple cider vinegar, and Worcestershire sauce. Also, some brown sugar, thyme, salt and pepper, chili powder and cayenne.
Simmer everything together for 15 to 20 minutes or until you've achieved the perfect barbecue sauce consistency. Perfect is what YOU like. Some people like really thick and sticky sauces, others (like me) prefer a root beer bbq sauce that is a little thinner and glazy-er.
Finish the ribs on the grill for a little bit of char.
You don't HAVE to finish the root beer ribs on the grill, but I highly recommend it! The grill chars them in spots and really gives the ribs some smokiness and crusty bits that are so yummy (just like with my buttermilk grilled chicken).
Because the ribs are already fully cooked from their time in the oven, you don't need to actually cook them any longer on the grill. So, we'll be using indirect heat to char the ribs.
Preheat one side of the grill, while leaving the other side off. Transfer the ribs to the "off" side and brush with a little bit of the root beer bbq sauce.
Cook 10 to 15 minutes or until crusty in some spots. Flip, brush with the root beer rib sauce again, and cook 10 more minutes or until the other side if lightly charred as well.
Don't have a grill? Pop the ribs under a high broiler for a few minutes, watching them very carefully. Move them around as they broil so they evenly char a little bit. I've done this with Dr. Pepper ribs several times, and it works great!
Bring them to the table, and don't forget the wet naps and the side dishes for ribs!
More Foxes Love Lemons Favorites
Root Beer Ribs
Cook Time:
2 hours
20 minutes
Total Time:
6 hours
50 minutes
These succulent baby back ribs are marinated in root beer so they're extra juicy and flavorful. Save a little root beer to make a sweet and tangy root beer bbq sauce!
Ingredients
2 racks baby back ribs
1 bottle (2 liters) root beer
2 tablespoons plus 1/2 teaspoon kosher salt, divided
1 tablespoon olive oil
3 garlic cloves, minced
1/2 small white onion, finely chopped
1 cup ketchup
2 tablespoons apple cider vinegar
2 tablespoons Worcestershire sauce
1 tablespoon light brown sugar
1-1/2 teaspoons chopped fresh thyme
1 teaspoon ground black pepper
1 teaspoon chili powder
1/4 teaspoon cayenne pepper
Instructions
Place ribs in single layer in large baking dish or roasting pan. If necessary, cut rib racks into halves or thirds to fit into pan easier.
Reserve 1 cup root beer and set aside. Pour remaining root beer over ribs. Sprinkle 2 tablespoons salt over ribs; cover and refrigerate at least 4 hours or up to overnight, turning once if possible.
Preheat oven to 350 degrees F. Remove ribs from marinade and pat dry with paper towel. Discard marinade in pan; wipe pan dry.
Place ribs back into pan. Add 1 cup water to bottom of pan; cover tightly with foil. Cook 2 hours or until meat is nearly falling off the bone.
Meanwhile, make Root Beer Barbecue Sauce: In small saucepan, heat oil over medium heat. Add garlic and onion; cook 3 to 4 minutes or until onion is soft, stirring frequently. Add ketchup, vinegar, Worcestershire sauce, brown sugar, thyme, black pepper, chili powder, cayenne, remaining 1/2 teaspoon salt and reserved 1 cup root beer. Heat to boiling over medium-high heat, then reduce heat to medium-low and simmer 15 to 20 minutes or until sauce thickens, stirring occasionally.
Just before ribs hit the 2 hour mark in the oven, preheat grill for indirect grilling over medium-high heat. Put ribs on cooler side of grill, bone side down. Brush with some Root Beer Barbecue Sauce and cook 10 to 15 minutes, then flip. Brush with sauce again and cook until ribs are lightly charred and meat is falling off bone. Serve with any remaining sauce.
Recommended Products
Foxes Love Lemons, LLC is a participant in the Amazon Services LLC Associates Program, an affiliate advertising program designed to provide a means for sites to earn advertising fees by advertising and links to Amazon.com. There is no additional cost to you.
Nutrition Information:
Yield:

4
Serving Size:

1
Amount Per Serving:
Calories:

659
Total Fat:

38g
Saturated Fat:

13g
Trans Fat:

0g
Unsaturated Fat:

23g
Cholesterol:

132mg
Sodium:

1316mg
Carbohydrates:

36g
Fiber:

1g
Sugar:

25g
Protein:

38g