Crock Pot Ribs (Baby Back Ribs with Dry Rub)
Baby back ribs don't need to be complicated or time consuming. These crock pot ribs are fall off the bone tender, and easy enough for a weeknight!
For me, baby back ribs (like root beer ribs) and short ribs (like Instant Pot short ribs) are the epitome of a weekend FUN MEAL (maybe with a White Claw cocktail in hand, to be honest). The only thing about my root beer ribs that I don't love is having the oven on for several hours if it's already a warm day.
The oven heats up my small house and makes it into an unbearable sauna! By the time the ribs are ready, I'm so hot that I'm not even hungry anymore. But I love eating ribs in the summer, so what am I to do?
Turns out that the slow cooker collecting dust in my basement is good for a lot more than crockpot taco soup and slow cooker beef stroganoff.
These crock pot ribs are the easiest, most fuss-free way to make baby back ribs, all year long. And best of all, they're simple enough to make on a weeknight!
How to prep crock pot ribs before adding the dry rub:
While I'd love to take the ribs out of their butcher paper and put them directly in the crock pot, crock pot ribs need a little bit more love (just like steak always benefits from a bath in my flat iron steak marinade). But don't worry, crock pot baby back ribs are not hard at all.
First, you'll need to remove the membrane (technically called silverskin) from the back sides of the rib racks. The Spruce has a tutorial on how to remove silverskin from ribs that shows you exactly how to do it (I do it this way, too).
If it's your first time prepping slow cooker ribs, don't stress out. It's not important that you get every teeny tiny piece of the membrane. Just do the best you can, and your crock pot baby back ribs will be fine, I promise!
After removing the membrane, you may want to cut the rib racks into halves or even quarters so that they best fit into the bowl of your slow cooker. This will depend on the size and shape of your slow cooker.
I used a large (7 quart) oval shaped slow cooker, and I was able to fit two rack of baby back ribs into it by cutting each rack in half.
Why I make my slow cooker ribs with dry rub:
You don't HAVE to rub your slow cooker ribs with spices before cooking them, but making my slow cooker ribs with dry rub for ribs sure does add a ton of flavor (I've even been known to use the rub for bourbon glazed salmon and steak lettuce wraps too).
The rub for these crock pot baby back ribs is made with kosher salt, chili powder, garlic powder, brown sugar, onion powder, paprika, cumin, ground mustard, black pepper and cayenne pepper, and it adds a savory-sweet quality to the ribs that is irresistible!
After rubbing the slow cooker ribs with dry rub and letting them sit for 15 minutes, you'll also be brushing the ribs with barbecue sauce all over before they hit the slow cooker bowl.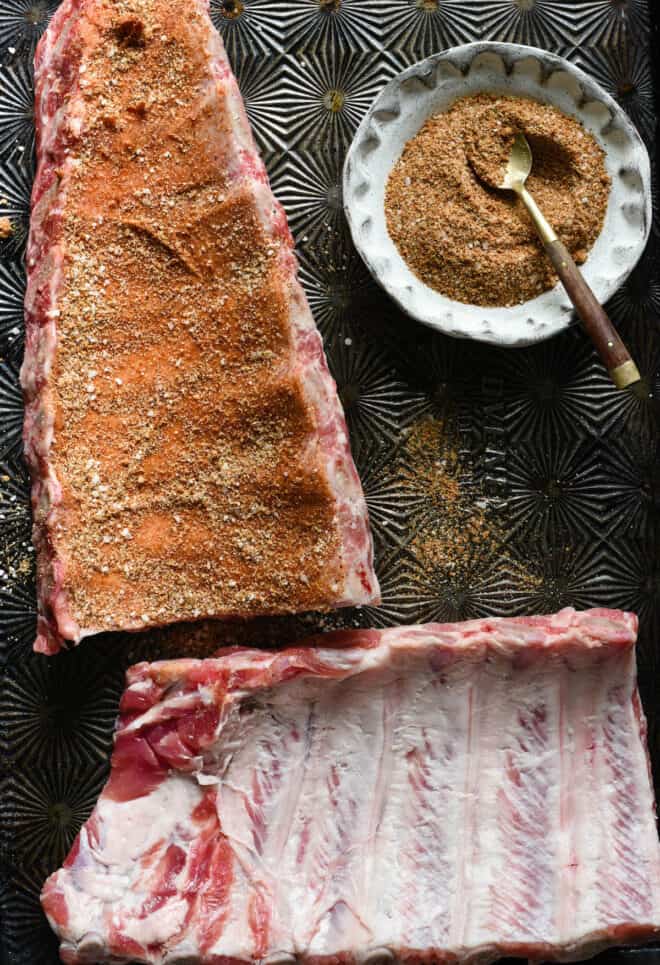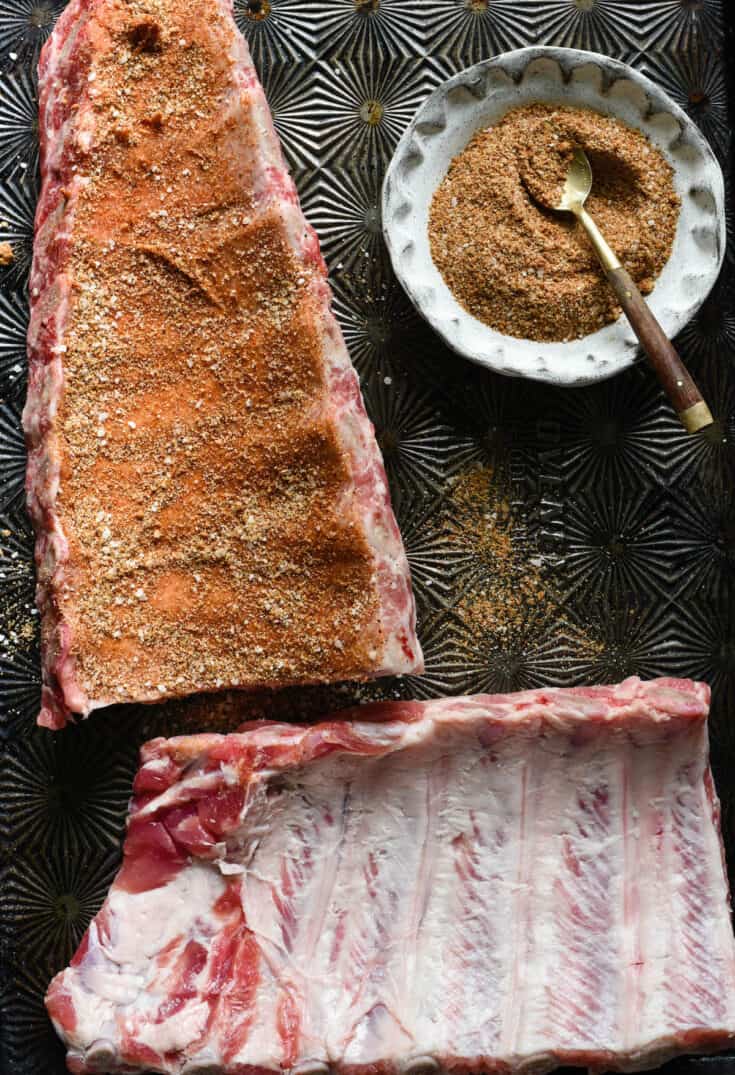 How long should dry rub be on before starting slow cooker ribs?
Since in this instance (just like my country style pork ribs oven), we are using the dry rub in conjunction with barbecue sauce, the rub only needs to be applied to the ribs for 15 minutes before putting the crock pot baby back ribs in the slow cooker.
Between the rub and the barbecue sauce, there will be plenty of flavor in the final result for these slow cooker ribs.
However, if you'd like an even deeper flavor for your crock pot ribs, feel free to apply the rib rub to the meat the night before you plan to slow cook them.
However, don't let the rub sit on the meat any longer than about 12 hours or so. Any more than that, and the crock pot baby back rib meat can start to dry out, similar to a curing effect.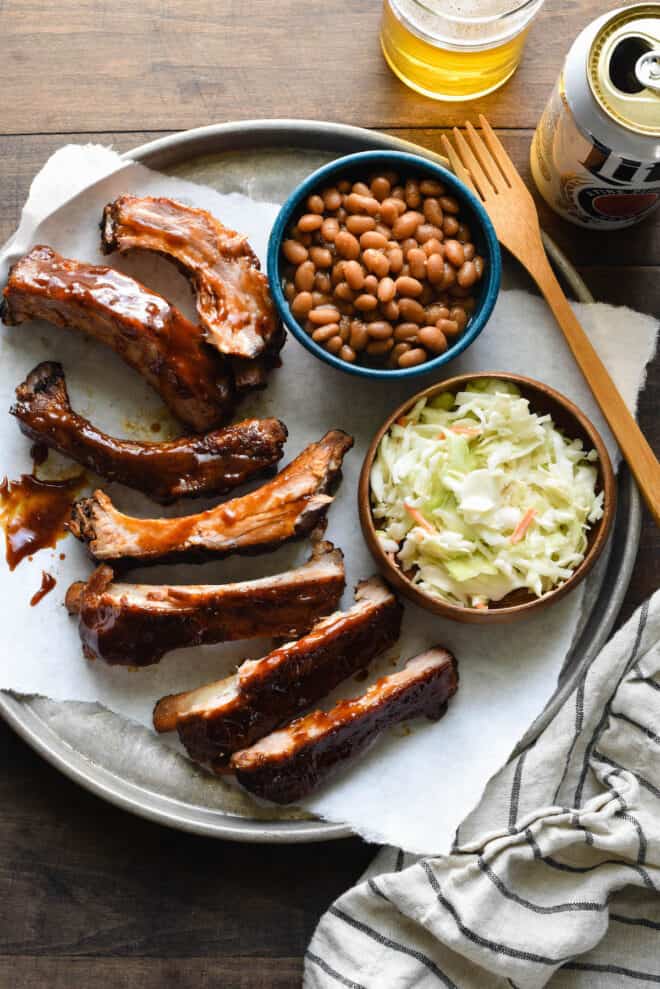 How long to cook ribs in a crock pot:
Just like the beef short ribs in my crockpot vegetable beef soup, baby back ribs benefit from a low and slow cooking time.
But what exactly is low and slow? Most American slow cooker recipes seem to define it as 8 hours on the low setting. But why? This likely harkens back to the conventional 9 – 5 work day.
But look, lots of us aren't working that conventional work day anymore, are we? Sometimes, I'm just not ready to start thinking about crock pot baby back ribs for dinner at 9 AM!
If that sounds like something you can identify with, don't worry. There's a second option for these crock pot ribs, and that's 4 hours on the high setting.
And do you want to know a secret? These slow cooker ribs (and just about any slow cooker recipe, with maybe the exception of my crockpot green bean casserole) turns out EXACTLY THE SAME WAY with both methods.
So, feel free to start your ribs on low in the morning, or on high around lunch time. Either way, you'll be enjoying succulent, fall off the bone baby back ribs at dinner time.
How to finish crock pot baby back ribs:
Just like with oven-baked ribs, I like to finish crock pot ribs either on the grill or under the broiler so that they can get charred and crusty in spots.
So, just before your slow cooker timer goes off, heat up the grill (and maybe make a round of fancy toast as an appetizer) or turn your broiler on to high.
Transfer the crock pot baby back ribs to the grill or under the broiler and cook them just long enough to get some crusty bits.
Cut up the ribs and serve them with some , elote corn salad and coleslaw with celery seed (also good side dishes for honey mustard pork chops). We've also been known to have them for Easter dinner, with Easter salad, mashed potatoes cakes and Dr. Pepper baked beans.
If it's game day, don't forget the healthy buffalo chicken dip! Enjoy!
More Foxes Love Lemons Favorites
Crock Pot Ribs (Baby Back Ribs with Dry Rub)
Additional Time:
15 minutes
Total Time:
8 hours
30 minutes
Baby back ribs don't need to be complicated or time consuming. These crock pot ribs are fall off the bone tender, and easy enough for a weeknight!
Ingredients
2 racks baby back ribs
1/2 cup dry rub for ribs
1 cup barbecue sauce
5 garlic cloves, peeled
1 white onion, peeled and quartered
1 cup apple juice
Instructions
Remove silver skin membrane from backs of rib racks. Cut racks into halves or thirds to best fit into slow cooker bowl.
Rub ribs all over with dry rub. Let stand at room temperature 15 minutes.
Brush ribs all over with barbecue sauce.
Place garlic, onion and juice in slow cooker bowl. Place ribs on top. Cover and cook on low for 8 hours or on high for 4 hours.
Just before slow cooker time is up, preheat grill for direct grilling over medium heat. Transfer ribs to grill and cook 6 to 8 minutes or until lightly charred in spots, turning once.
Cut ribs and serve immediately.
Notes
Home Chef note: Don't have a grill? Pop the ribs under a high broiler for a few minutes, watching them very carefully. Move them around as they broil so they evenly char a little bit.
Recommended Products
Foxes Love Lemons, LLC is a participant in the Amazon Services LLC Associates Program, an affiliate advertising program designed to provide a means for sites to earn advertising fees by advertising and links to Amazon.com. There is no additional cost to you.
Nutrition Information:
Yield:

4
Serving Size:

1
Amount Per Serving:
Calories:

667
Total Fat:

35g
Saturated Fat:

12g
Trans Fat:

0g
Unsaturated Fat:

20g
Cholesterol:

132mg
Sodium:

1128mg
Carbohydrates:

49g
Fiber:

1g
Sugar:

39g
Protein:

38g