French Onion Chicken Sandwiches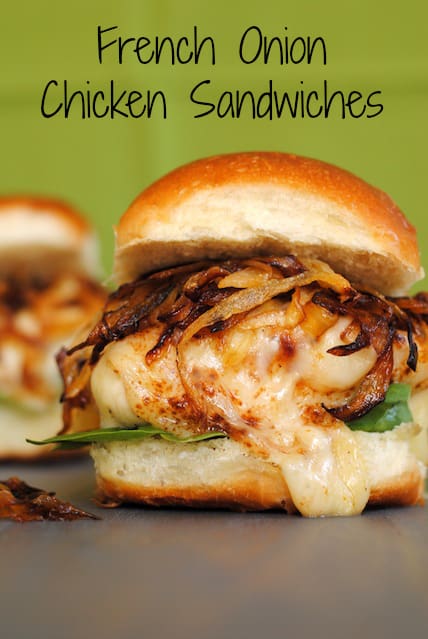 Toward the end of my advertising career, I traveled for a client meeting to a nondescript nowhere city in the Midwest. I was forced to endure an awkward coworker/client dinner at a steakhouse, where I witnessed a coworker request "French onion soup . . . but I don't want the onions. Can you strain those out, and just give me the broth?"
I'll always remember it as the moment when I decided to quit my job and go to culinary school.
I like to bring ALL OF THE ONIONS to most meals. In fact, I'm getting rid of the broth from the soup altogether, and just making a French Onion Chicken Sandwich.
This sandwich is a little something different, but it's actually no more complicated than making grilled chicken sandwiches.
The onions can be caramelized up to three days in advance and just kept in the fridge until you're ready to serve, when you can gently reheat them in either a microwave or a small pan on the grill (you can do the same thing with my turkey and ham sliders).
Grill up your chicken, then top it with Swiss cheese (also one of my fav cheeses for vegetarian quiche and corned beef egg rolls) and the onions for hearty french onion chicken sandwiches that taste like soup!
French Onion Chicken Sandwiches
Ingredients
1 tablespoon extra virgin olive oil
1 large white onion, thinly sliced
1 teaspoon granulated sugar
2 boneless, skinless chicken breasts, halved crosswise and pounded to 1-inch thickness, if necessary
Nonstick cooking spray
4 slices Swiss cheese
4 hamburger buns
2 cups baby spinach
Instructions
In large skillet, heat oil over medium heat. Add onion and sugar; cook 25 minutes or until onions are deeply caramelized, stirring frequently. This step can be done up to 3 days in advance. Re-warm onions in microwave or in a small pan on grill before proceeding.
Preheat grill for direct grilling over medium-high heat. Spray chicken with nonstick spray. Transfer chicken to hot grill rack; cover and cook 10 minutes or until chicken loses its pink color throughout and internal temperature reaches 160 degrees F, turning once.
Place cheese slices on chicken pieces. Cover and cook 1 to 2 minutes or until cheese is melted and golden brown. Build sandwiches using hamburger buns, spinach, chicken and caramelized onions.
Nutrition Information:
Yield:

4
Serving Size:

1
Amount Per Serving:
Calories:

389
Total Fat:

16g
Saturated Fat:

7g
Trans Fat:

0g
Unsaturated Fat:

8g
Cholesterol:

77mg
Sodium:

337mg
Carbohydrates:

28g
Fiber:

2g
Sugar:

6g
Protein:

32g