Minestrone Pasta Sauté with Ricotta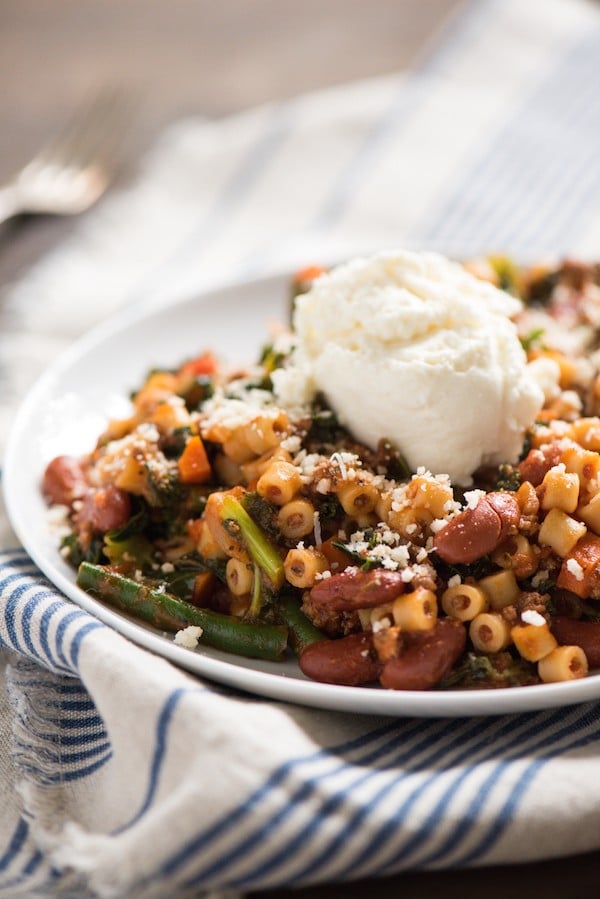 I have this weird thing with soups. With some soups, I really only like the broth. Like, I enjoy chili that has a thinner consistency, so that I can eat the broth, and just leave behind all the beans and meat.
But with other soups, it's really the "stuff" that I'm into. Like minestrone. I love the combination of those short little tubes of pasta ("ditalina"), ground beef, beans, lots of veggies and cheese.
The broth doesn't matter as much in minestrone, it's really all about the stuff.
Today, I'm bringing you a big bowl of just the "stuff" from minestrone. Put a pot of ditalina pasta on to boil, then grab a big skillet and sauté some carrots, onion and garlic.
Add kale (also great in cabbage potato soup), green beans and a touch of white wine. Then goes the ground beef, kidney beans and marinara sauce.
Toss everything together with the pasta, then top with some Parmesan cheese and a dollop of creamy, dreamy ricotta cheese (I love a dollop on top of fettuccine bolognese, too).
It may look a bit like vanilla ice cream in these photos (right?) but it's cheese! Glorious cheese! It's equally great in sweet recipes like cannoli dip and savory recipes like this lasagna (except when I'm making lasagna with cottage cheese), and this pasta.
Serve this pasta alongside a roasted radicchio wedge salad if you'd like even more vegetables on the side!
Minestrone Pasta Sauté with Ricotta
Ingredients
8 ounces ditalina pasta
1-1/2 tablespoons extra virgin olive oil
3 carrots, finely diced
3 garlic cloves, minced
1/2 medium onion, chopped
1/2 bunch kale, thinly sliced
1/2 pound green beans, trimmed and halved
1/4 cup dry white wine
1/2 pound ground beef
1 can (15 ounces) kidney beans, rinsed and drained
1 jar (24 ounces) marinara sauce
1/2 teaspoon kosher salt
1/4 teaspoon ground black pepper
1 cup ricotta cheese
1/4 cup grated Parmesan cheese
Instructions
In large pot of boiling salted water, cook pasta according to package instructions. Reserve 1/4 cup pasta cooking water, then drain pasta.
Meanwhile, heat oil in large skillet over medium-high heat. Add carrots, garlic and onion; cook 3 minutes or until vegetables start to soften, stirring occasionally. Add kale and green beans to skillet; cook 3 minutes or until green beans are tender-crisp, stirring occasionally.
Add wine to skillet; cook 2 minutes or until most liquid has evaporated. Transfer vegetables to medium bowl.
Return skillet to medium-high heat. Add ground beef; cook 6 to 8 minutes or until meat is cooked through, breaking up meat with side of spoon. Spoon off any excess fat.
Reduce heat to medium-low. Add kidney beans, marinara sauce, salt, pepper, pasta, 1/4 cup pasta cooking water and cooked vegetable mixture to skillet with beef. Cook 2 minutes or until everything is warmed through, stirring occasionally. Divide pasta between 4 pasta bowls or plates, top with ricotta and Parmesan.
MORE GREAT PASTA RECIPES: