Mushroom & Lentil Pasta Sauce (Vegan Ragu)
This lentil and mushroom ragu recipe is a hearty lentil pasta sauce that will leave even the hungriest eaters satisfied. Serve this vegan ragu over your favorite noodles!
Oh look, it's Meatless Monday again! I'm a big fan of meatless meals in general, and try to eat them at least once a week.
While I'm generally pretty satisfied with a coconut risotto, kale risotto, oatmeal for dinner or butternut squash noodles, all of these meals have to pass the "satisfied the rest of the evening test."
This Mushroom & Lentil Ragu certainly did.
A sure sign that a meatless meal did not have enough substance? A few hours after dinner, Jeff sneaks off to the kitchen and returns with a handful of peanuts.
And then does it again. And then maybe sees if he can scrounge up some pimento cheese dip from the fridge. Usually by this point, my stomach is rumbling too, so I grab my own cheese and crackers.
That's when I've realized that my vegetarian dinner clearly didn't have enough substance to get us through until breakfast the next morning.
About this lentil pasta sauce:
This Mushroom & Lentil Ragu is, without a doubt, one of the most satisfying meatless meal I have ever made (my Greek yogurt pasta and black bean meatballs are also on that list!).
I think that both lentils and mushrooms have a quite "meaty" quality to them, and knew they would sub in for meat in a vegan ragu pretty seamlessly.
Sure enough, the lentils soaked up the flavors of garlic, tomatoes and spices, and the mushrooms added even more substance to this hearty sauce.
Serve this lentil and mushroom ragu recipe over your favorite pasta for a filling vegetarian meal that will leave you satisfied all night!
How do you make lentil pasta sauce?
Like just about any pasta sauce, you'll start this lentil and mushroom ragu recipe by sauteeing aromatics (onions, garlic, carrot, bell pepper), plus mushrooms, in oil until they're softened. Any extra carrots can be throw into a carrot cake smoothie to sip on while the ragu simmers.
Then, you're going to hit the lentil pasta sauce pot with a little bit of wine to "deglaze" the pan and get all of the crusty bits (one of my culinary school instructors would call that "free flavor") off of the bottom of the pot.
Use a wooden spoon to help scrape these bits off as soon as the wine goes in.
Then, you'll stir in the lentils, water, canned tomatoes, and herbs and spices.
Bring the vegetable ragu to a boil and then reduce it to a simmer and cook 30 to 35 minutes or until the lentils and mushrooms are soft enough for your liking.
What defines a ragu? Can you make a vegetable ragu?
According to Miram-Webster, a ragu is "a hearty, seasoned Italian sauce of meat and tomatoes that is used chiefly in pasta dishes and that is typically made with ground beef, tomatoes, and finely chopped onions, celery, and carrots."
So, is this dish made with mushrooms and lentils and pasta, and no meat, technically a ragu? Probably not. But is it delicious? Definitely yes!
Can you freeze this lentil and mushroom ragu recipe?
The truth is, I've never tried freezing this lentil and mushroom ragu recipe. It's so delicious that my husband and I just eat it for dinner and then finish the leftover lentil pasta sauce for lunch the next day.
However, I have been known to freeze slow cooker lentil soup with sausage, and I know that the lentils break down a bit and become a little mushier than they once were when I thaw and re-heat the soup.
Since the lentils in this lentil ragu recipe are incorporated into a sauce, I don't think it will matter much if the lentils break down a little bit more.
So, I believe this vegetable ragu recipe would be just fine thawed and reheated.
If you're looking for a hearty pasta dish that I know freezes really well (albeit isn't vegetarian), you may want to check out my lasagna recipe cottage cheese, rigatoni bolognese or fettuccine bolognese.
One of my family members hates mushrooms. Can I use something else for this lentil ragu?
Absolutely! We're mushroom lovers and even make mushroom tacos, but realize that not everybody feels the same. Eggplant, zucchini or summer squash all work well in place of the mushrooms in this vegan ragu recipe. Substitute them in the same quantity directly into Step 1 the recipe.
Another option would be to use chickpeas (garbanzo beans) or any other type of bean in place of the mushrooms in this lentil pasta sauce.
I would recommend using canned (drained and rinsed) chickpeas and stirring them in in Step 3.
Can I leave the wine out of this lentil pasta sauce?
Yes! No worries. Just like with my lamb bolognese and pasta with salmon, you can use an equal amount of water to deglaze the vegetable ragu pan in step 2, instead.
Top this vegan ragu with "cheese":
If you're not vegetarian or vegan, you can top the lentils and pasta with Parmesan cheese.
For a vegan ragu, purchase a vegan Parmesan substitute at the store. Or, you can even make your own vegan Parmesan cheese!
More great lentil recipes:
With 18 grams of protein per cup, lentils are an excellent source of plant-based protein for satisfying meatless meals!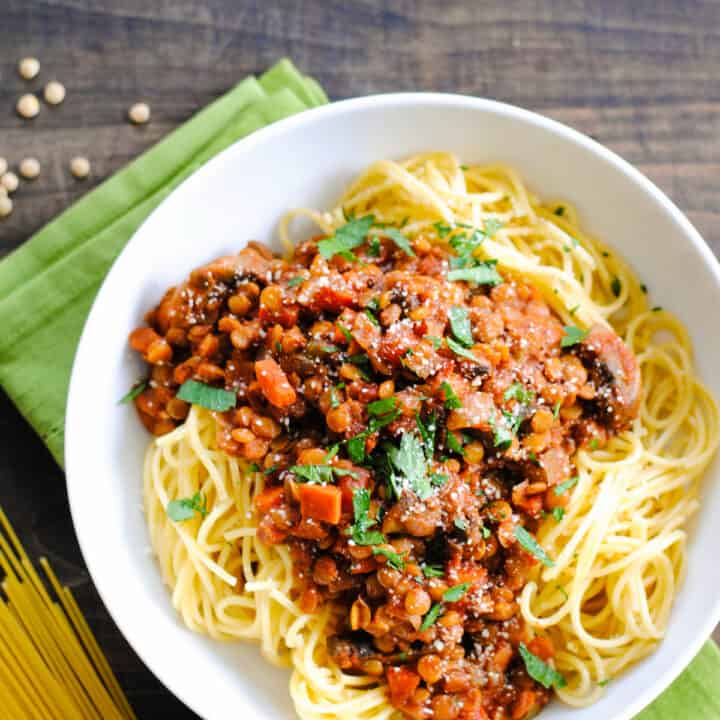 Mushroom & Lentil Pasta Sauce (Vegan Ragu)
Total Time:
1 hour
10 minutes
This lentil and mushroom ragu recipe is a hearty lentil pasta sauce that will leave even the hungriest eaters satisfied. Serve this vegan ragu over your favorite noodles!
Ingredients
2 tablespoons olive oil
12 ounces button mushrooms, sliced
4 garlic cloves, minced
1 large carrot, chopped
1/2 green bell pepper, chopped
1/2 medium yellow onion, chopped
1/4 cup red wine
1 bay leaf
1 can (28 ounces) crushed tomatoes
2-1/2 cups water, plus more if needed
1 cup brown lentils, rinsed and picked through
2 teaspoons dried oregano
1/2 teaspoon kosher salt
1/4 teaspoon ground black pepper
1/4 teaspoon red pepper flakes
1 pound spaghetti noodles
1 tablespoon chopped fresh basil
Chopped fresh parsley, for garnish
Vegan Parmesan cheese, for serving (optional)
Instructions
In large saucepot, heat oil over medium-high heat. Add mushrooms, garlic, carrot, bell pepper and onion. Cook until vegetables are very brown and soft, about 15 to 20 minutes, stirring frequently.
Add wine; cook 1 minute, stirring constantly. Use wooden spoon to scrape browned bits from bottom of pan.
Stir in bay leaf, crushed tomatoes, water, lentils, oregano, salt, black pepper and red pepper flakes. Heat to boiling, then reduce heat to medium-low. Simmer 30 to 35 minutes or until lentils are tender, stirring occasionally. Add more water in 1/2 cup increments, as needed, if ragu gets too thick.
Meanwhile, prepare spaghetti according to package directions.
To serve, remove bay leaf from ragu, and stir in basil. Serve ragu over spaghetti. Garnish with parsley and serve topped with cheese.
Recommended Products
Foxes Love Lemons, LLC is a participant in the Amazon Services LLC Associates Program, an affiliate advertising program designed to provide a means for sites to earn advertising fees by advertising and links to Amazon.com. There is no additional cost to you.
Nutrition Information:
Yield:

4
Serving Size:

1
Amount Per Serving:
Calories:

355
Total Fat:

9g
Saturated Fat:

1g
Trans Fat:

0g
Unsaturated Fat:

6g
Cholesterol:

1mg
Sodium:

311mg
Carbohydrates:

55g
Fiber:

9g
Sugar:

7g
Protein:

14g