Butternut Squash Noodles
Butternut Squash Noodles with Garlic & Lemon turns a seasonal favorite veggie into a healthful "pasta" the whole family will love.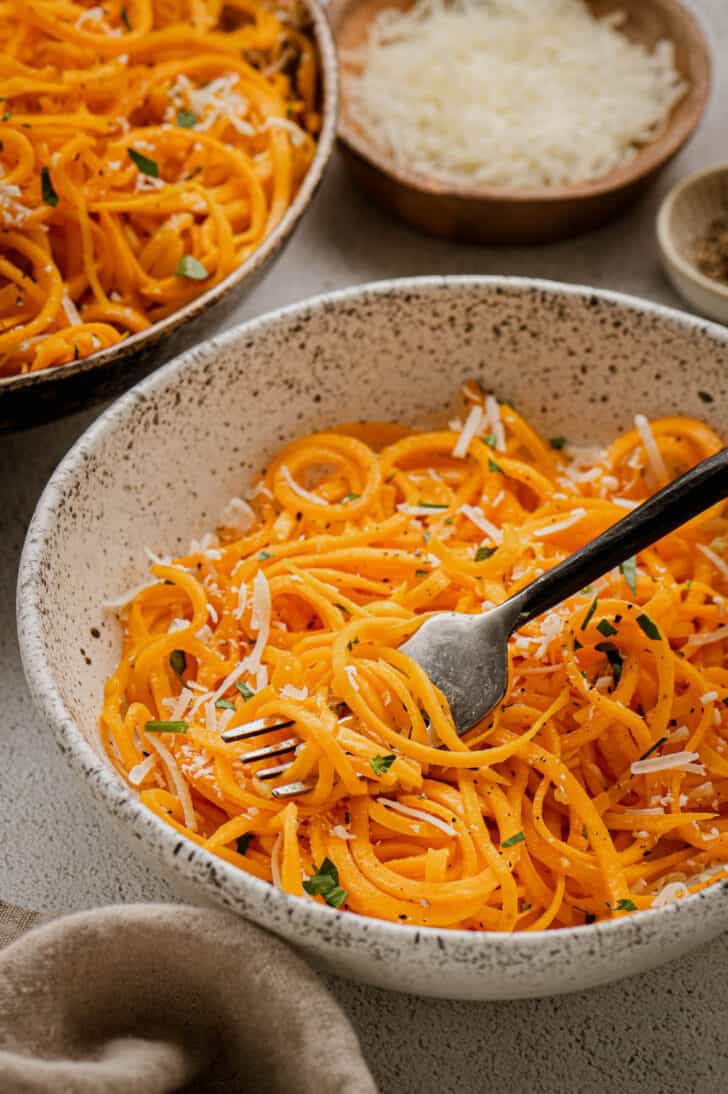 Remember 2016, when we were spiralizing everything? Or was that just me? I bought a spiralizer and for at least a year, I was making "noodles" out of every vegetable I could (even pickled veggies for grilled pork banh mi).
But since then, the spiralizer has collected dust, and now when a veggie noodle craving strikes, I'll often just buy a box of butternut squash spaghetti at the grocery store, as it is widely available and so much easier than spiralizing myself.
But, if I'm not making butternut squash soup with goat cheese, and decide I do want to make my own noodles, the large size of a butternut squash makes it ideal to get nice long strands of "spaghetti."
This makes it an awesome healthful alternative to pasta, although a decadent creamy salmon pasta will always have it's place in my heart.
Whether you buy it or spiralize it yourself, this butternut squash noodles with garlic and lemon recipe is my favorite, simple way to prepare it.
These noodles are delightful as a main course, but also great alongside Greek chicken meatballs, black bean meatballs or a grilling flat iron steak.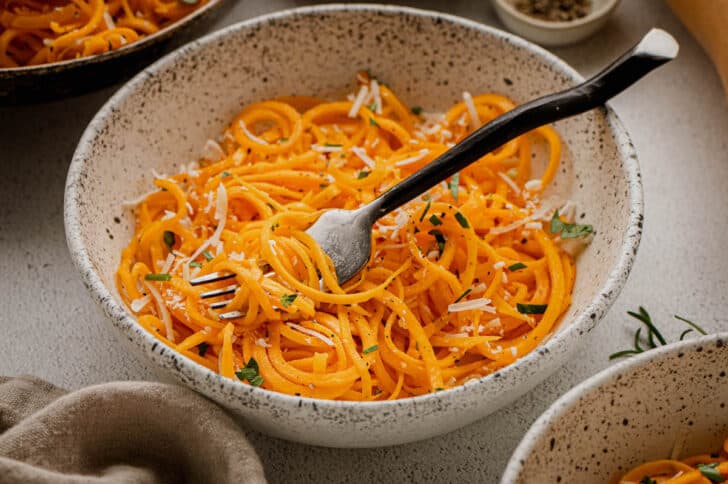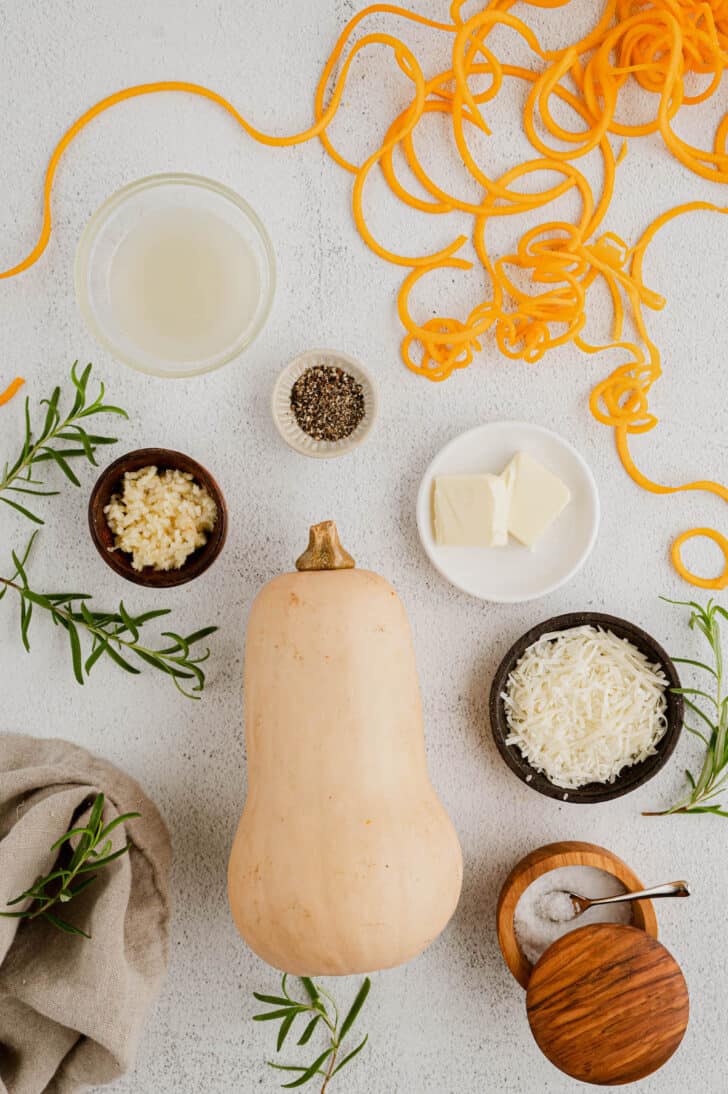 What you'll need for this garlic and lemon butternut squash noodle recipe:
unsalted butter – we'll be using this to saute the butternut squash noodles. You can also use olive oil!
garlic cloves – this adds much of the flavor to this butternut squash spirals recipe. Garlic lovers – don't miss my roasted garlic spread!
lemon juice – 1 large fresh lemon should yield enough juice to add some brightness to this butternut squash noodle recipe. Buy a few extra lemons so you can make a lemon smoothie, too!
spiralized butternut squash – you can spiralize it yourself (more on this below) or buy a package of butternut squash spirals at the grocery store.
rosemary – I love the flavor combination of squash and rosemary, but you can also use thyme. Any extra rosemary can be used to make my rosemary syrup recipe for rosemary cocktails.
salt and pepper – always.
grated Parmesan cheese – a sprinkle of good quality Parm at the end adds a salty, savory finish to this butternut squash spaghetti. Also great in lemon caper pasta and mashed potato cakes.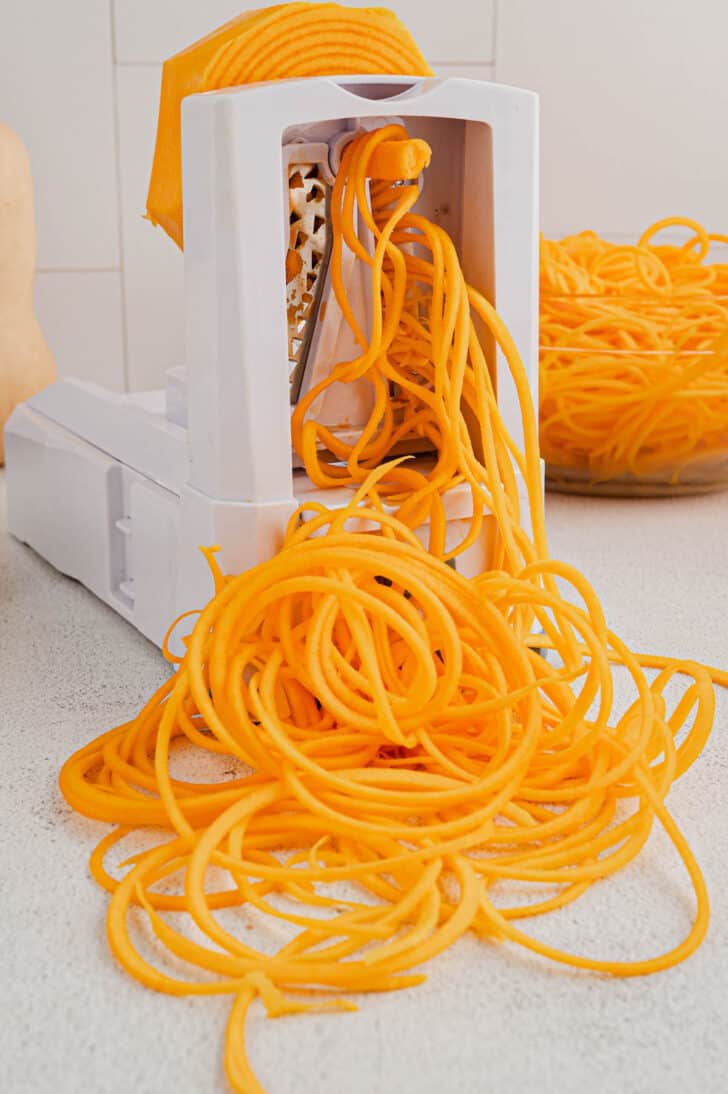 How do I spiralize butternut squash?
When looking for a butternut squash to spiralize, you want to find one with a small "bulbous" end (the hollow part with the seeds), as that part won't spiralize well (so just reserve it for another meal or snack, perhaps where you simply dice it up and roast it for fall crostini).
You also want to find a squash with a long and thick "neck" (the non-bulbous part) – that's the part that spiralizes well (and why smaller types of squash are best made into roasted delicata squash, roasted acorn squash slices or stuffed acorn squash).
Peel the neck of the butternut squash and trim the top off. Spiralize the squash using the thickest noodle setting on your spiralizer.
If desired, use scissors or a sharp knife to trim the butternut squash noodles into shorter lengths so they're easier to eat (otherwise they can get REALLY REALLY long).
How to cook butternut squash noodles:
I wanted to keep this butternut squash noodle recipe simple and really let the flavor of the squash shine, so I didn't add too many ingredients to it.
First, you're going to heat up some butter in a skillet, and then add a little garlic. Cook that for just a minute, long enough to infuse the butter with good garlic flavor.
Then, you're going to add the butternut squash spaghetti, along with a sprinkling of fresh rosemary (you can also use dried, just use half the amount) and salt and pepper. Cook that for 5 more minutes or until the noodles are tender.
Finish the butternut squash noodles with fresh lemon juice and Parmesan cheese, and you're ready to eat!
I also love crumbling a little bacon on top sometimes (see my tutorial on cooking bacon in the oven for the best way to cook it).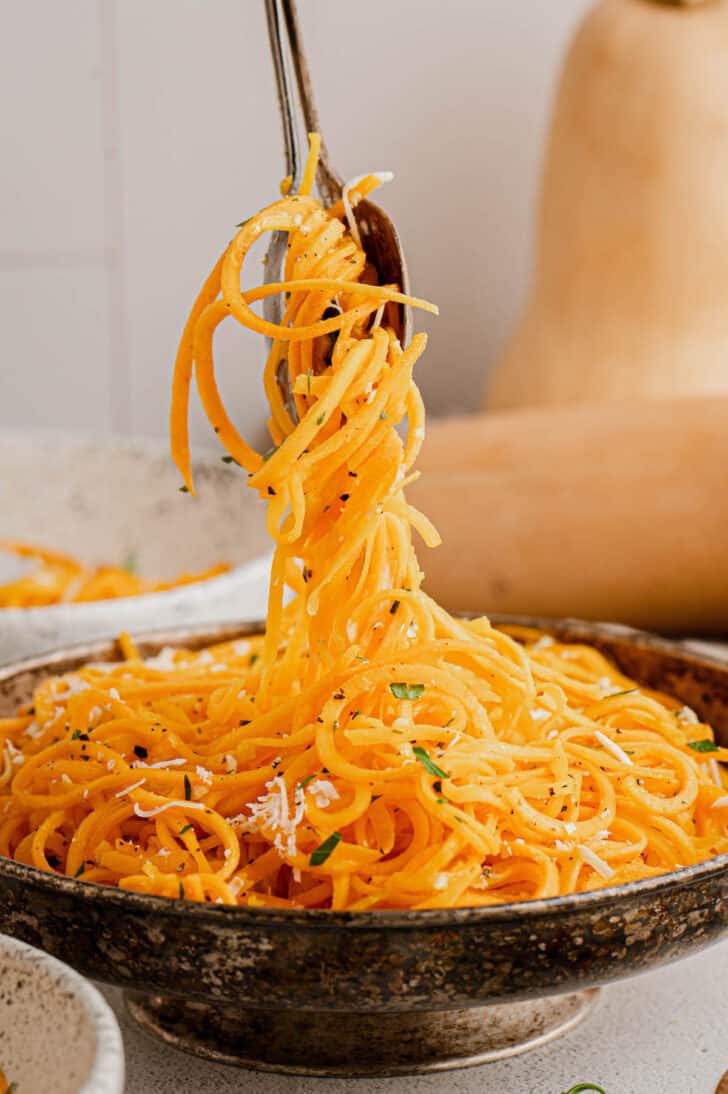 Can you boil butternut squash spaghetti instead of sauté?
Definitely! I prefer the stovetop sauté method because it allows me to get more butter and garlic flavor into the butternut squash spaghetti, but if you'd prefer to boil your butternut squash noodles, simply bring a large pot of water to a boil.
Just like with traditional pasta like rigatoni meat sauce, make sure you salt the water well before adding your noodles.
Add the squash noodles and cook 2 minutes or until tender. Drain well and serve!
What to have with this recipe:
Just like honey roasted carrots and balsamic roasted carrots, these butternut squash noodles are an excellent side dish to an entree protein such as my sockeye salmon recipe or almond crusted chicken.
If you'd prefer a creamy sauce for this butternut squash spaghetti instead of the garlic-lemon-butter situation going on below, my Greek yogurt pasta sauce would be perfect with butternut noodles! My lentil ragu is also great on butternut noodles.
If you'd like a salad to go with your "pasta," I recommend my roasted radicchio wedge salad.
Can I freeze butternut squash spirals?
Yes, you can! The texture won't be QUITE as good as if the noodles were prepared fresh, but it's absolutely OK to freeze them. It's best to spiralize the noodles, and freeze them before cooking them.
Place them in a freezer bag and freeze up to a month. When ready to serve, thaw the noodles and prepare the butternut squash noodle recipe below recipe as written.
Butternut Squash Noodles
Butternut Squash Noodles with Garlic & Lemon turns a seasonal favorite veggie into a healthful "pasta" the whole family will love.
Ingredients
1/4 cup (4 tablespoons) unsalted butter
4 garlic cloves, minced
8 cups spiralized butternut squash (made using the "spaghetti" blade) (about 1 medium butternut squash)
1 teaspoon finely chopped fresh rosemary or 1/2 teaspoon dried rosemary
1/2 teaspoon kosher salt
1/4 teaspoon ground black pepper
2 tablespoons fresh lemon juice
1/2 cup grated Parmesan cheese
Instructions
In large skillet, heat butter over medium heat. Add garlic and cook 1 minute, stirring constantly.
Add squash, rosemary, salt and pepper; cook 5 minutes or until squash noodles are tender, stirring frequently. Add lemon juice; toss until well combined.
Serve noodles garnished with cheese.
Recommended Products
Foxes Love Lemons, LLC is a participant in the Amazon Services LLC Associates Program, an affiliate advertising program designed to provide a means for sites to earn advertising fees by advertising and links to Amazon.com. There is no additional cost to you.
Nutrition Information:
Yield:

4
Serving Size:

1
Amount Per Serving:
Calories:

182
Total Fat:

15g
Saturated Fat:

9g
Trans Fat:

0g
Unsaturated Fat:

5g
Cholesterol:

41mg
Sodium:

389mg
Carbohydrates:

9g
Fiber:

2g
Sugar:

1g
Protein:

4g
This website provides estimated nutrition information as a courtesy only. You should calculate the nutritional information with the actual ingredients used in your recipe using your preferred nutrition calculator.