Sriracha Apricot Chicken Drumsticks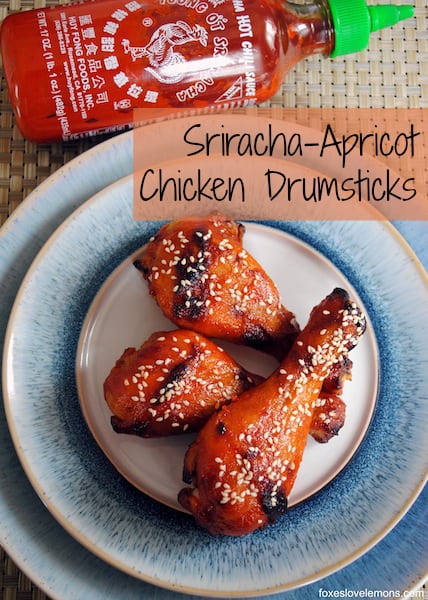 Who likes sriracha? Seems like everybody does recently. Between sriracha and it's awesome cousin, sambal oelek, I add a bit of spice to pretty much everything I eat, including orange ginger chicken and coconut risotto. When I saw a recipe in Bon Appetit for some sweet and spicy chicken drumsticks utilizing my favorite condiment, I had to try it.
In this recipe, the first step is very important. When you salt the chicken and let it stand, the salt draws out some of the moisture from the chicken skin. That allows the skin to get extra-crispy in the oven. The crispy skin combined with the sweet, sour and spicy Asian-inspired sauce makes this chicken a perfect easy meal. This sriracha apricot chicken can also be made with chicken wings, which would be a fun party food!
Oh, and be careful when you're washing dishes, and don't accidentally breathe in a Sriracha-steam-dish soap cloud like I did. That was bad news bears.
Sriracha-Apricot Chicken Drumsticks
Ingredients
4 chicken drumsticks
1-1/2 teaspoons kosher salt
1/4 cup brown rice flour
1 teaspoon cornstarch
1/4 cup sriracha
1/4 cup rice vinegar
2 tablespoons mirin
2 tablespoons apricot preserves
1 tablespoon toasted sesame seeds
Instructions
In a large bowl, toss chicken with salt. Cover and refrigerate 1 hour.
Preheat oven to 450 degrees F. In a medium bowl, stir together flour and cornstarch. Pat chicken dry with paper towel. Lightly dredge chicken with flour mixture; place on wire rack set over rimmed baking pan. Roast 55 minutes or until skin is browned and crisp; turning every 15 minutes.
Meanwhile, in small saucepot, combine sriracha, vinegar, mirin and preserves. Heat to boiling over high heat; reduce heat to medium and simmer 10 minutes or until thickened.
Brush chicken with some sriracha mixture; roast 8 minutes longer or until sauce begins to brown. Sprinkle with sesame seeds and serve with remaining sauce.