Thai Curry Potato Soup
In just about 30 minutes, you can put together this healthful and intensely flavorful Thai Curry Potato Soup!
I guess between some Asian chicken salad I made on Monday, and today's Thai Curry Potato Soup, this week kind of has an Asian theme around here. This ends up happening to me a lot, even though I don't plan things like that.
I'll often have two cocktail recipes in a week, or like, two weeks straight of chicken recipes. Have you noticed? I guess I just make, photograph and post recipes that I'm in the mood for at any given time, and I guess this week it's all about those Asian flavors!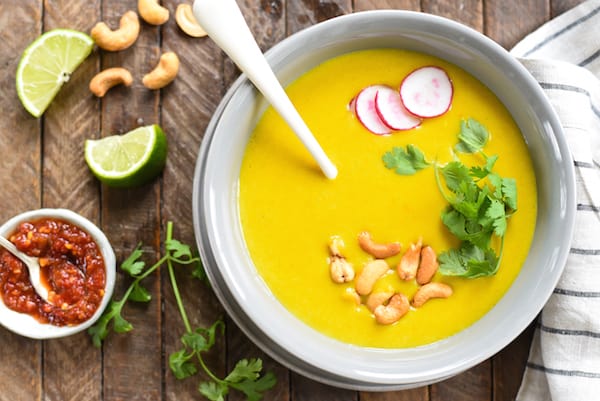 While potatoes probably don't immediately come to mind when you think about Asian food, potatoes are truly a food chameleon that will adapt to whatever flavor you want to lend them. They're great in my Irish colcannon soup.
How to make curry potato soup:
For this Thai Curry Potato Soup, you start by making a very simple homemade curry paste with ingredients you should have no trouble locating at any major grocery store.
Stir in two chopped potatoes, some chicken broth, and a small spoonful of sambal oelek (a spicy Asian chili paste). Once the potatoes are tender, you'll puree the mixture until it's nice and smooth, then stir in some coconut milk (also the star ingredient in my coconut risotto) for a little richness.
Divide the soup into bowls and garnish with some fresh cilantro, sliced radishes, cashews and lime wedges. Enjoy!
Thai Curry Potato Soup
In just about 30 minutes, you can put together this healthful and intensely flavorful Thai Curry Potato Soup!
Ingredients
2 teaspoons olive oil
3 garlic cloves, minced
2 teaspoons grated fresh ginger
1 teaspoon ground coriander
1 teaspoon ground turmeric
1/2 teaspoon curry powder
2 medium russet potatoes (about 1-1/2 pounds), peeled and cut into 1-1/2-inch chunks
4 cups chicken broth, divided (sub vegetable broth for a vegetarian soup)
1 teaspoon sambal oelek
1 can (14 ounces) lite coconut milk
½ teaspoon kosher salt
Cashews, cilantro, lime wedges and sliced radishes for garnish (optional)
Instructions
In medium pot, heat oil over medium-low heat. Add garlic, ginger, coriander, turmeric and curry powder. Cook 2 minutes or until very fragrant, stirring constantly.
Stir in potatoes, 3 cups broth and sambal oelek. Heat to boiling over medium-high heat. Reduce heat to medium; cook 15 to 20 minutes or until potatoes are very tender, stirring occasionally.
Carefully transfer mixture to blender and blend until smooth.
Transfer blended mixture back to pot set over medium heat. Stir in coconut milk, salt and remaining 1 cup broth. Cook 2 to 3 minutes until heated through.
Divide soup between 4 bowls and serve garnished with cashews, cilantro, lime wedges and radishes, if desired.
Notes
Home Chef Tip: Toasting the spices in Step 1 "blooms" them and brings out their best flavor. You can use this technique with nearly any spice in any soup to create an intense depth of flavor.
Nutrition Information:
Yield:

4
Serving Size:

1
Amount Per Serving:
Calories:

247
Total Fat:

15g
Saturated Fat:

11g
Trans Fat:

0g
Unsaturated Fat:

3g
Cholesterol:

5mg
Sodium:

1238mg
Carbohydrates:

25g
Fiber:

3g
Sugar:

2g
Protein:

6g
MORE GREAT SOUP RECIPES: