The Best Yogurt Toppings for a Parfait Bar
A build-your-own yogurt bar is a fun and healthy addition to a brunch gathering. Customize yogurt toppings to suit different tastes, preferences and dietary restrictions.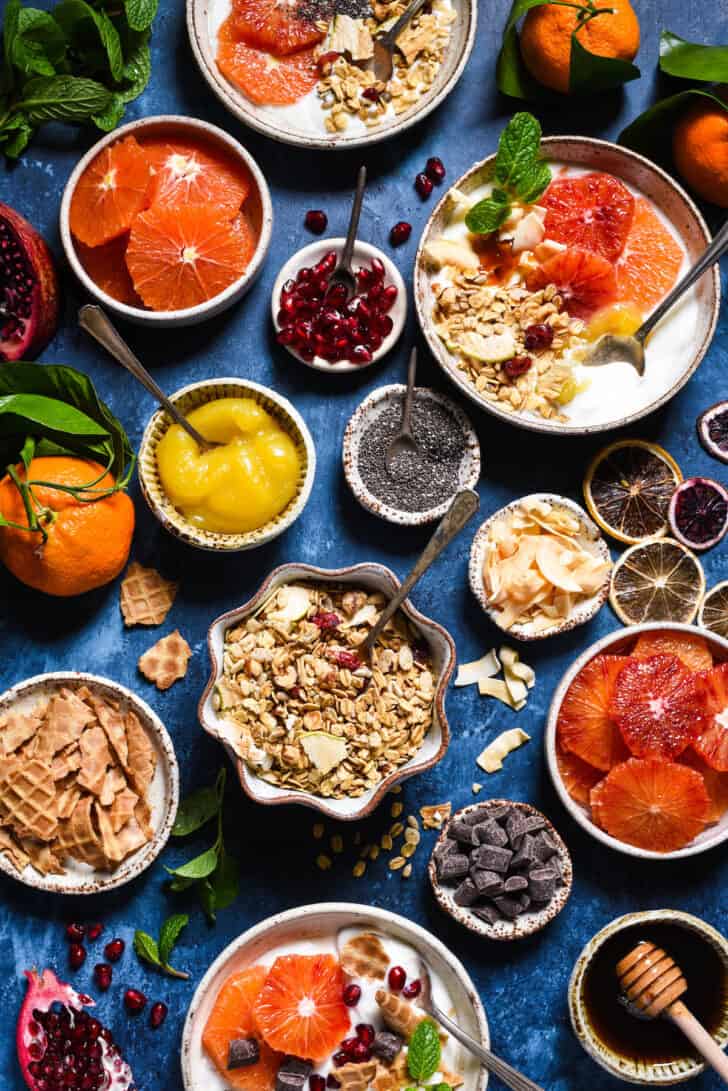 Anybody else remember those "Choose Your Own Adventure" books? Man, I could get DOWN with those things. Pretty sure I'd read one tomorrow if it showed up in my neighborhood's Little Free Library.
Well, this build-your-own yogurt bar is the food equivalent of one of those books. Want all healthy yogurt toppings? Load up on fruit and lemon cardamom granola. Want more decadent toppings for yogurt? Some chocolate chunks and waffle cone bits are waiting for you.
The recipe card below includes approximate amounts for a yogurt parfait bar for 8 people, but you can set up all of these ingredients in any quantity for any number of people. Just change your serving bowl sizes accordingly.
Round out your brunch buffet with vegetarian quiche and some bacon in the oven, and you have the perfect Mother's Day or bridal shower morning meal.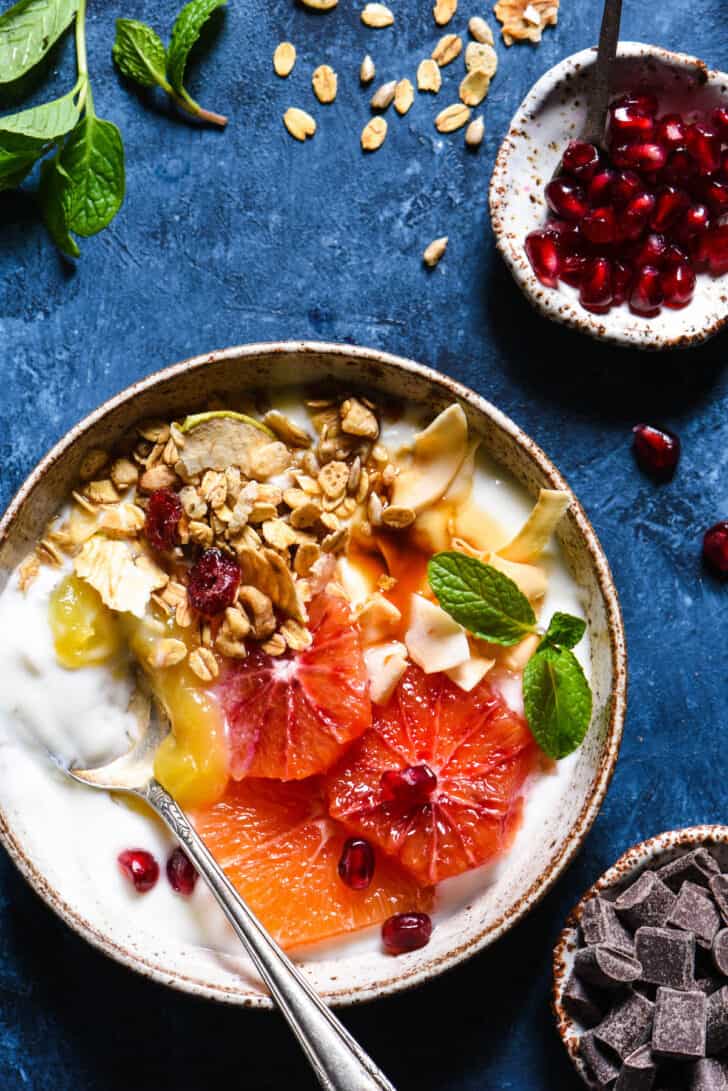 What type of yogurt for a yogurt bar?
Depending on how many people will be partaking in the yogurt bar, and their dietary preferences, you could offer just one classic yogurt, like plain Greek yogurt (also great for Greek yogurt pasta sauce), or a variety options.
You could offer plain Greek AND vanilla-flavored traditional yogurt, perhaps. You could also include a low-fat or dairy-free yogurt alternative if your guests need it.
Healthy yogurt toppings ideas:
granola – make it yourself, with my maple quinoa granola recipe, or buy a high-quality bag of store-bought granola for your yogurt bar.
fresh fruit – such as berries, cubed mango, pomegranate seeds, sliced bananas and segmented oranges. You can use classic navel oranges like you'd use for orange glazed chicken, or you even use blood oranges or Cara Cara oranges for a gourmet touch.
dried fruit – dried cherries, cranberries and golden raisins are some of my favorites. Dried citrus slices are also pretty toppings for yogurt.
seeds – chia, pumpkin and flax seeds are all great yogurt parfait bar ideas.
toasted coconut flakes – start with unsweetened coconut flakes and choose one of these 3 methods for how to toast coconut.
natural sweeteners – honey, maple syrup and agave nectar are all great options to add a touch of sweetness. Don't miss my honey lemonade and agave lemonade, too.
Indulgent yogurt toppings:
chocolate – chocolate chips, chunks you have left over from making chocolate creme brulee or chocolate cake with cream cheese frosting, or a finely chopped chocolate bar all work here!
nut butter – peanut butter, almond butter and Nutella are all luxurious additions to a yogurt parfait.
waffle cone pieces – I included these only because I had a box of waffle cones randomly in my pantry, but they were a hit as a yogurt parfait bar idea!
lemon curd – make a double batch of the curd from my lemon curd cake and use one batch in the cake and one batch for a yogurt bar.
You could even offer savory toppings:
That's right, savory yogurt is a thing, and I'm here for it. Click over to my post about savory yogurt for ideas for savory yogurt toppings, including everything bagel seasoning, olives, tomatoes, pesto, and all kinds of things.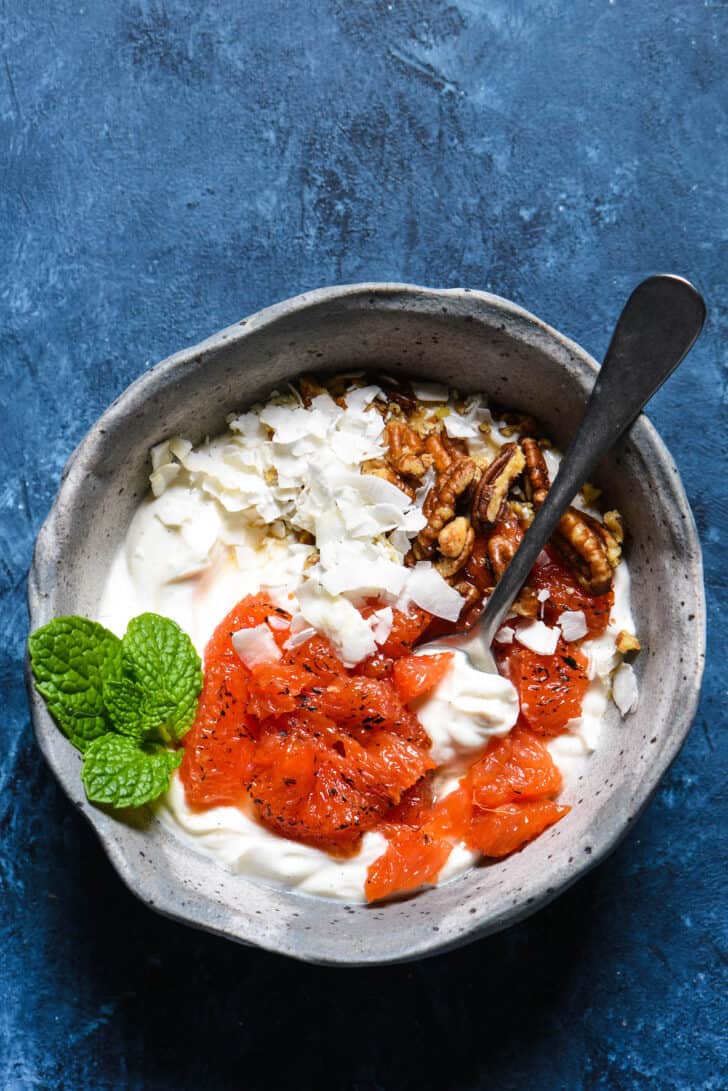 One of my favorite yogurt toppings ideas: bruleed grapefruit.
Bruleed grapefruit takes just a few minutes to prepare, but it's such a special touch for a parfait bar.
Grab as many grapefruits as you think you might need (save a few for a grapefruit vodka cocktail), and peel and segment them. While you're working on this, have your broiler preheating on high.
Lightly spray a rimmed baking pan with cooking spray. Place the grapefruit on the prepared pan and sprinkle with a bit of granulated sugar (about 2 teaspoons of sugar for each large grapefruit that you use).
Place the sugared grapefruit under the broiler and cook for 4 to 6 minutes or until the grapefruit is caramelized. WATCH IT CAREFULLY! The grapefruit will fall apart and form a compote-like mixture. So yummy!
Keep your yogurt parfait bar simple and not overwhelming.
While it's tempting to offer ALL OF THE OPTIONS on your yogurt bar, this isn't really necessary. In fact, too many options can turn out to be quite overwhelming for your guests.
I would probably choose either sweet OR savory, and stick to around 6 to 8 yogurt parfait bar toppings. Be sure to label them clearly, and offer plenty of spoons, tongs and ladles!
Consider dietary restrictions when choosing yogurt parfait bar ideas.
If you're hosting guests with any dietary restrictions, be sure to make them feel welcome with plenty of yogurt toppings to suit their needs.
Most large grocery stores have a variety of vegan yogurt alternatives (also great for a carrot cake smoothie), gluten-free granolas, and the like, so finding toppings for yogurt suitable for everybody shouldn't be too much of a challenge.
More Foxes Love Lemons Favorites
Best Yogurt Toppings for a Parfait Bar
A build-your-own yogurt bar is a fun and healthy addition to a brunch gathering. Customize yogurt toppings to suit different tastes, preferences and dietary restrictions.
Ingredients
4 cups Greek or traditional yogurt (plain or flavored)
2 oranges, peeled and segmented
1 cup homemade granola or store-bought
1/3 cup agave nectar, honey or maple syrup
1/3 cup chocolate chips or chunks
1/3 cup dried fruit, such as cranberries, raisins or dried citrus
1/3 cup lemon curd or jam
1/4 cup pomegranate seeds
1/4 cup waffle cone pieces
3 tablespoons chia seeds
3 tablespoons toasted coconut flakes
Fresh mint leaves, for garnish (optional)
Instructions
Arrange yogurt and toppings in bowls on large board or platter with plenty of serving utentils, and let guests assemble their own parfaits.
Recommended Products
Foxes Love Lemons, LLC is a participant in the Amazon Services LLC Associates Program, an affiliate advertising program designed to provide a means for sites to earn advertising fees by advertising and links to Amazon.com. There is no additional cost to you.
Nutrition Information:
Yield:

8
Serving Size:

1
Amount Per Serving:
Calories:

353
Total Fat:

10g
Saturated Fat:

4g
Trans Fat:

0g
Unsaturated Fat:

6g
Cholesterol:

19mg
Sodium:

82mg
Carbohydrates:

53g
Fiber:

5g
Sugar:

38g
Protein:

16g
This website provides estimated nutrition information as a courtesy only. Nutrition information does not include any optional ingredients or toppings. You should calculate the nutrition information with the actual ingredients used in your recipe using your preferred nutrition calculator.