Agave Lemonade (Just 3 Ingredients!)
Just three ingredients plus water come together in this agave lemonade recipe. Similar to Panera agave lemonade, but no added white sugar!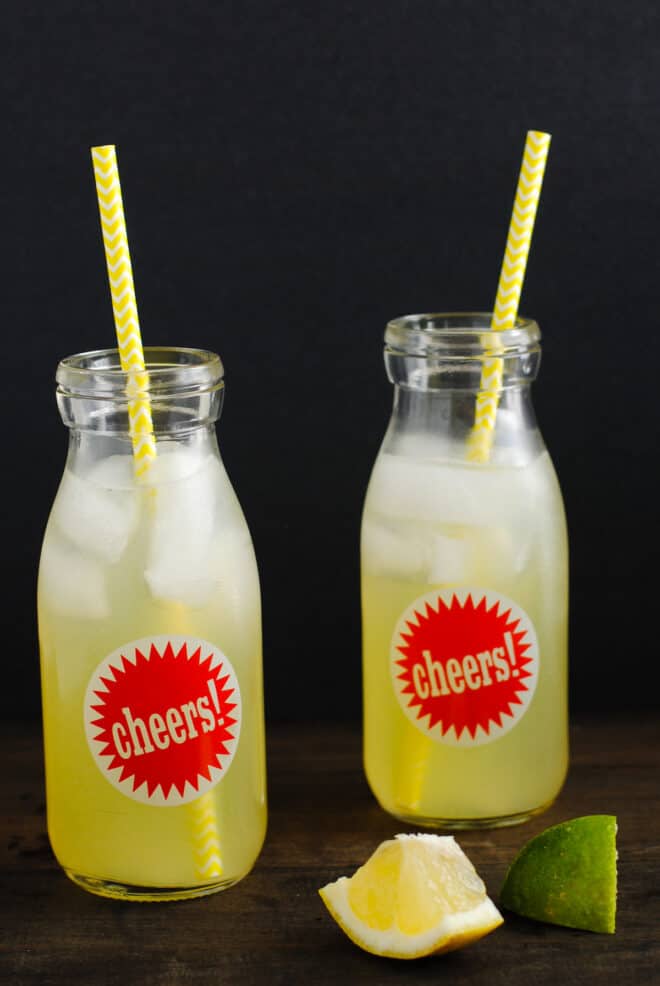 I've probably told you this story before, but there's no other way to explain all the tequila in my house!
My husband used to travel to Mexico for work several times a year, and without fail, he would bring me back four things: tequila (which I almost always used for a lemon margarita or two), more tequila, agave nectar, and additional tequila (OK I'll make tequila mojitos). And sometimes even recipe inspiration, like for my Mexican street corn salad recipe.
I left the tequila on the shelf today (although really, a splash of it would be good in this lemonade), and instead used just the agave nectar to balance the tartness of the lemons without any granulated white sugar.
You can find agave nectar in most U.S. supermarkets nowadays, and it's usually located near either the honey (hey, honey lemonade) or regular sugar.
You only need 3 ingredients + water to stir up a batch of this Mexican-inspired agave lime lemonade! Don't forget a batch of spicy potato chips or wonton nachos for snacking.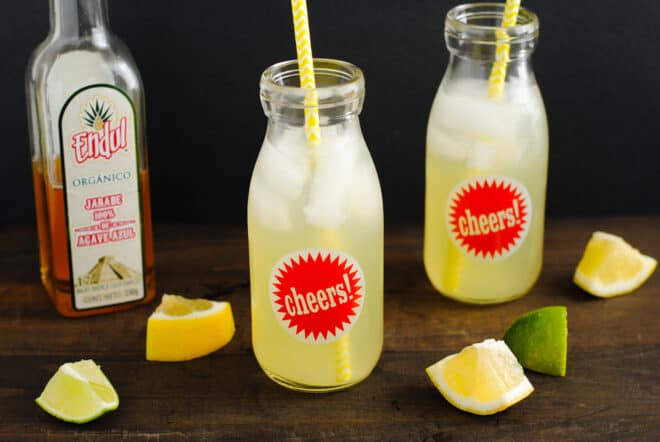 How to make agave lemonade even better than Panera:
I don't go to Panera all that often – there's not really one near my house, and in my opinion, it's honestly really expensive for what it is. BUT, I do enjoy their lemonade when I stop in every now and then.
Panera sells their agave lemonade at their restaurants to go with your meal, and you can even buy a half gallon to take home with you. But, making agave lemonade yourself at home is even better, and fresher!
While Panera's recipe includes just lemon juice (squeezed from lemons who knows how long ago), my recipe includes both lemon AND lime juice, for an even better, more complex flavor.
Also, Panera adds white granulated sugar to their recipe, along with the agave. But, after testing it both ways, I didn't really see the need for the white sugar in this lime lemonade. Making it with all agave nectar was my favorite!
What does agave taste like?
If you're not familiar with the key ingredient in this agave lemonade recipe, you're probably wondering what the heck agave nectar even tastes like.
It's a unique flavor that is somewhat sweeter than regular granulated sugar. I would compare it most closely to honey, however agave nectar has a thinner, more easily pourable, consistency.
It also has a more neutral, less aggressive flavor than honey. If I don't have honey on hand, I often use agave in homemade salad dressings like my miso ginger dressing and citrus dressing, and in smoothies like my lemon smoothie and carrot cake smoothie.
If you'd like to learn more about agave, The Spruce has a really informative article about how to use agave nectar in drinks and cocktails, including information about buying, mixing, and substituting for agave. It's so good in basil cocktails, too.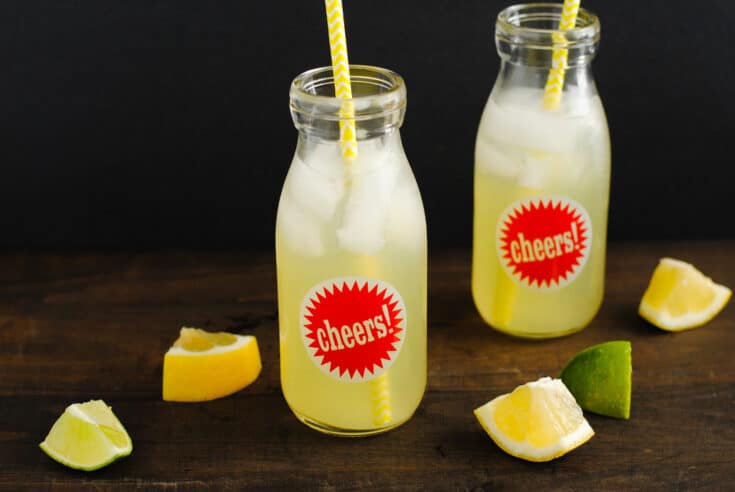 Kick this agave lime lemonade up another notch, if you want!
I love this agave lime lemonade recipe exactly as written in the card below, but if you want to kick it up a few more notches, I have some ideas for you!
First, obviously, add tequila. You know that was coming, right? So good when paired with a fajita bar or Sonoran hot dogs.
But, there are non-alcoholic ways to embellish this agave lemonade recipe, too. Try muddling some strawberries into each glass, in the same way I do for my strawberry Moscow mule. If you have extra strawberries, use them to top a frozen yogurt pie.
If you're even more adventurous, and have rosemary in your garden, stir in some rosemary simple syrup for a really unique treat.
How long does lemonade last?
Homemade lemonade certainly doesn't last very long at my house! The recipe below makes four servings, each about 1-1/4 cups (10 ounces). So, a few meals, and we've drank it all!
However, if you're the only lemonade drinker in your house, don't worry. This homemade agave lemonade recipe will stay fresh in the fridge for up to one week. Keep it in a covered container or airtight jar.
It's delicious served with grilled sockeye salmon and buffalo shrimp pizza.
Psst – if you have extra lemons left over after making this lemonade, try my lemon pancakes!
More refreshing summer drinks:
Fruity and cold, chill out with a round of refreshing beverages this summer.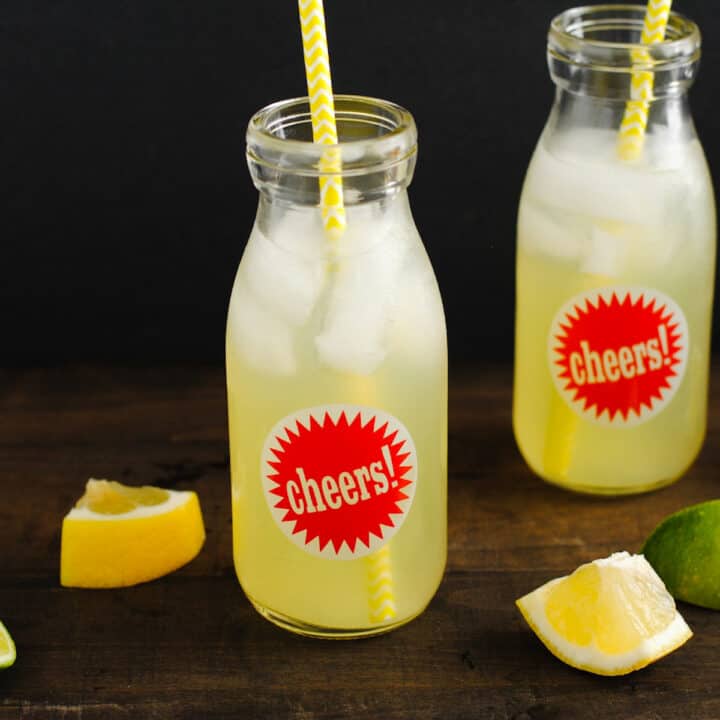 Agave Lemonade
Just three ingredients plus water come together in this agave lemonade recipe. Similar to Panera agave lemonade, but no added white sugar!
Ingredients
1 cup fresh lemon juice
1/2 cup fresh lime juice
1/2 cup agave nectar
3 cups water
Instructions
In pitcher, stir together lemon juice, lime juice and agave nectar. Add water; stir until well combined. Serve lemonade over ice.
Recommended Products
Foxes Love Lemons, LLC is a participant in the Amazon Services LLC Associates Program, an affiliate advertising program designed to provide a means for sites to earn advertising fees by advertising and links to Amazon.com. There is no additional cost to you.
Nutrition Information:
Yield:

4
Serving Size:

1
Amount Per Serving:
Calories:

106
Total Fat:

0g
Saturated Fat:

0g
Trans Fat:

0g
Unsaturated Fat:

0g
Cholesterol:

0mg
Sodium:

9mg
Carbohydrates:

28g
Fiber:

0g
Sugar:

21g
Protein:

0g