Smoked Salmon Platter
Impress party guests with this easy and elegant smoked salmon platter. Assemble everything you see here in just 15 minutes, for a brunch buffet or cocktail party.
Nothing makes my eyes light up at a party like seeing a big spread of appetizers. There's a reason New Year's Eve is one of my favorite days, and it's definitely the savory baked brie, jarcuterie and other New Year's Eve food!
My absolute favorite kind of appetizer spread? The kind that you get to assemble yourself, like my DIY elote cup bar or even individual charcuterie cups. And if your group of friends and family is anything like mine, everybody has different tastes.
Some people don't like onions, others can't get enough. Somebody hates tomatoes, whereas I make my Detroit style pizza recipe with pickled tomato sauce.
I think we can all agree that lots of options never hurt anybody, and that's what I'm giving you today with this smoked salmon platter!
How to serve smoked salmon:
First of all, just like with salmon with pasta and really, all of my salmon recipes, it's all about quality of the fish.
You want to buy a good quality smoked salmon for this smoked salmon platter. If you have a local bagel shop that makes their own smoked salmon or lox, you're probably in for a treat.
FYI – Smoked salmon is cured or brined, then smoked. Lox is cured, but not smoked. They're slightly different, but either one will work on this salmon platter.
You can also ask the seafood person at your grocery store for the best quality smoked salmon or lox that they have (and also pick up some fresh salmon for grilled sockeye salmon for a salmon sandwich for dinner another day).
You can even order it online these days, if you want. If you end up with any extra after serving your smoked salmon appetizer platter, I recommend a smoked salmon BLT, a smoked salmon pizza, or using smoked salmon in place of shrimp to make seafood deviled eggs
For the best flavor, let the smoked salmon come to room temperature for about 30 minutes before serving. Serve this smoked salmon appetizer with forks or a small pair of tongs so that people can pick up the delicate slices.
What to eat with smoked salmon:
There are so many good flavor pairings with smoked salmon! My favorites, that I've included on this smoked salmon platter, are:
Cream cheese – I like the whipped kind, it's easier to spread! Save the block kind for a chocolate cake with cream cheese frosting for dessert.
Sour cream – another "creamy" option besides cream cheese.
Red onion – chopped or thinly sliced red onion adds such a pretty purple color to the platter.
Chives – these grow like crazy in my garden, so I always have them around! I also love chives in pimento mac and cheese.
Capers – I love the salty, briny bite of these.
Hard boiled eggs – I served them chopped on this board, but you can also serve them simply cut in half.
Tomatoes – I chopped up some grape tomatoes. You can also serve thin slices of Roma tomato with this smoked salmon appetizer.
Dill sprigs – smoked salmon and fresh dill is a classic flavor pairing!
Everything Bagel Seasoning – I sprinkle this on smoked salmon in my cottage cheese breakfast bowls, too.
Water crackers – Or whatever kinds of crackers you like. Water crackers are a blank slate for other flavors.
Toasted pumpernickel bread – or rye or baguette slices.
Lemon wedges – I can't ever serve fish without lemon (see also: salmon alfredo)
Sliced cucumbers – I also use cukes to make smoked salmon crostini.
Sliced radishes – they're not everybody's cup of tea, but I love their sharp, peppery bite.
Other items that are delicious to include on a smoked salmon appetizer platter:
Crème fraîche (which is just a really fancy sour cream)
Caviar – also fancy!
Bagels or mini bagels – because I can never resist a bagel and lox.
Pickled red onions – even tastier than fresh, in my opinion!
Avocado – I love avocado paired with smoked salmon in sushi rolls, or just on a cracker!
Fresh fruit, like berries or grapes – just for snacking on alongside the salmon.
Egg salad with pickles – an upgrade option to hard boiled eggs. Love this on an Easter charcuterie board, too.
Serve this lox platter as a make-ahead breakfast board or an appetizer!
This smoked salmon platter is just as easily at home as part of a brunch buffet, as it is in the evening as an appetizer at a cocktail party.
And just like my Thanksgiving charcuterie board and any of my fun charcuterie board ideas, this smoked salmon appetizer platter is that most of the elements that require any sort of preparation can be made in advance.
Eggs can be hard boiled the night before and kept in the fridge until you're ready to serve this smoked salmon appetizer. Onions, cucumbers and radishes can all be sliced and chopped and refrigerated as well.
All that's left to do right before serving this smoked salmon breakfast is arrange it all on a big platter. That should only take about 15 minutes, but nobody will ever guess you pulled this lox platter together that fast. That's my kind of entertaining.
What to serve with a smoked salmon platter:
If you're serving a smoked salmon breakfast, I'd recommend rounding out the spread with something sweet like lemon poppyseed mini cornbread muffins or fruit and cheese kabobs with croissant croutons.
And of course you'll want a brunch cocktail like a bloody mary with an epic garnish for a bloody mary (use some of the everything bagel seasoning as bloody mary rim salt) to go with this lox platter. Lemon smoothies are a great alcohol-free option.
If you're serving a smoked salmon appetizer platter as part of a spread at an evening cocktail party, you can round out the buffet table with prosciutto and cheese pinwheels and phyllo cup appetizers.
Add a round of cherry and prosecco spritzes, and you're ready for a toast!
More Foxes Love Lemons Favorites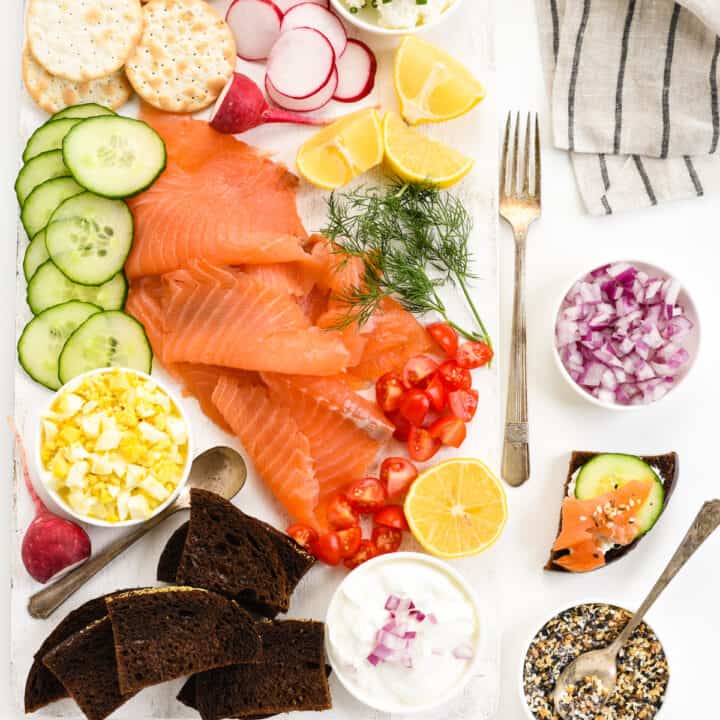 Smoked Salmon Platter
Impress party guests with this easy and elegant smoked salmon platter. Assemble everything you see here in just 15 minutes, for a brunch buffet or cocktail party.
Ingredients
Smoked salmon
Assorted crackers
Toasted pumpernickel bread
Chopped hard boiled eggs
Sour cream
Whipped cream cheese
Capers
Chopped red onion
Chopped tomatoes
Sliced cucumbers
Sliced radishes
Lemon wedges
Dill sprigs
Chives
Instructions
Assemble everything on a large platter and let guests assemble their own crostini.
Notes
Home Chef Tip: Is the flavor of raw red onions too strong for you? See my "How To Tame An Onion's Bite" Culinary School Lesson for a secret for making them less strong.
Recommended Products
Foxes Love Lemons, LLC is a participant in the Amazon Services LLC Associates Program, an affiliate advertising program designed to provide a means for sites to earn advertising fees by advertising and links to Amazon.com. There is no additional cost to you.
Nutrition Information:
Yield:

1
Serving Size:

1
Amount Per Serving:
Calories:

296
Total Fat:

13g
Saturated Fat:

5g
Trans Fat:

0g
Unsaturated Fat:

6g
Cholesterol:

124mg
Sodium:

1871mg
Carbohydrates:

27g
Fiber:

3g
Sugar:

3g
Protein:

18g
Nutrition information is for 2 ounces smoked salmon, 4 crackers, 1 slice of bread, 1/2 hard boiled egg, and a variety of garnishes.