Lemon Creme Brulee
This Lemon Creme Brulee is a rich lemon-infused custard with a crackly torched sugar top. A treat for lemon lovers, this restaurant-style dessert can be prepared in advance and even frozen to enjoy in the future!
I often wonder if anybody feels a bit deceived by the name of this blog. I worry that fellow lemon lovers arrive here, quickly look around, and wonder where all the luscious lemon desserts are.
I've published embarrassingly few; just a Meyer lemon bundt cake here or lemon poppy seed bars there. Oh, and not a dessert, but I thought my lemon margaritas were pretty creative!
But truth be told, I'm unapologetically a savory cook and eater. My love for lemons is mainly an appreciation of how their flavor can brighten and enhance almost any (savory) dish.
I've found that most otherwise boring and bland recipes can be saved by a touch of acidic lemon juice.
My tastebuds have come to crave acid, and now I use a splash of lemon to cut through the richness in homemade gravy, and make a killer homemade lemon tahini salad dressing.
But a few years brack, I had lemon creme brulee at a restaurant, and that tiny little ramekin of custard with burnt sugar on top has been on my brain ever since.
It tasted like the essence of a thousand lemons, balanced by the richness of the cream and the crackle of the torched topping.
I'm re-creating it for home chefs (and people wondering where the luscious lemon desserts are) today!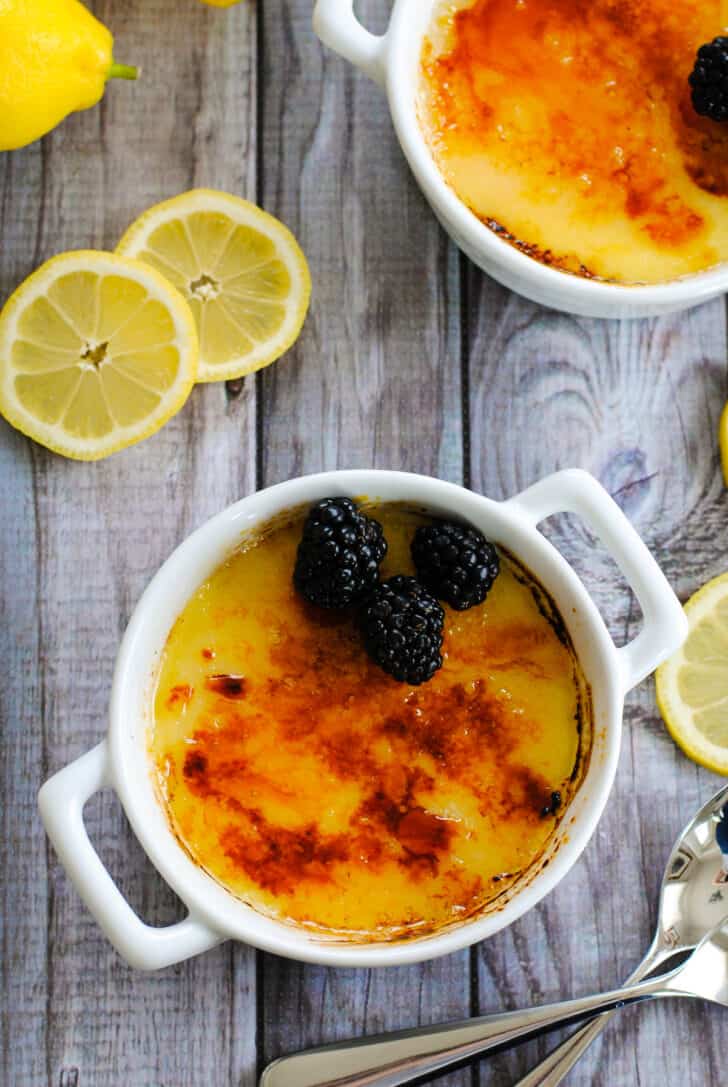 What you'll need for this easy lemon creme brulee recipe:
heavy cream – I use heavy whipping cream for this recipe, and that's it. Some people use a combination of cream and milk, but if I'm splurging and making creme brulee, I like it extra rich.
granulated sugar – you'll need this for both the custard and for sprinkling on top to torch.
egg yolks – you'll need the yolks of 4 large eggs for lemon creme brulee. Serious Eats has a bunch of ideas for what to do with leftover egg whites.
lemon zest – you'll need the zest of 2 fresh lemons. Not the old ones that have been in your fridge for weeks. Get fresh ones!
vanilla extract – this adds flavor to the custard and enhances the lemon taste. I always have it around for vanilla lemonade.
kosher salt – just a pinch. The finished dessert won't taste salty, but it will taste balanced.
fresh fruit to garnish – this is optional, but I love including a few fresh berries on top when serving creme brulee.
blowtorch – you can use a specially made kitchen blowtorch, or just one from the hardware store. I use the full size hardware store kind.
ramekins or creme brulee dishes – you'll need four ceramic ramekins or dishes that are oven safe and will hold at least 5 ounces of liquid for this easy lemon creme brulee recipe.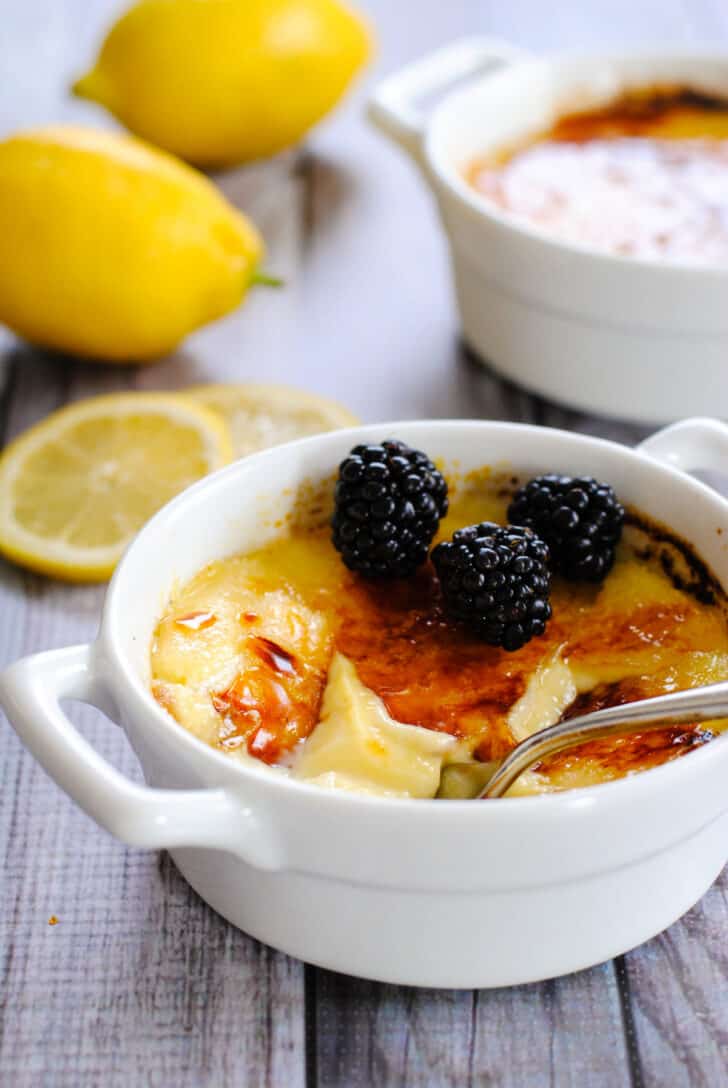 It's easy to halve this recipe to make creme brulee for two.
This recipe makes four servings of lemon creme brulee. But, if you'd prefer just two servings (perhaps for a Valentine's Day date night at home), it's super easy to make a half batch so you have creme brulee for two.
I've done the math for you for a half batch of the custard:
1 cup heavy cream
3 tablespoons granulated sugar
2 large egg yolks
Zest of 1 lemon
1/4 teaspoon vanilla extract
Pinch of kosher salt
And then you'll need an additional 2 tablespoons granulated sugar for topping and torching this easy lemon creme brulee recipe.
Can you freeze creme brulee?
Or, if you want to make all 4 but can't eat them right away, creme brulee is able to be frozen!
To freeze, complete the recipe through Step 5, but instead of transferring to the refrigerator, wrap and transfer to the freezer instead. It's best if you put the wrapped ramekins in a freezer bag, as well.
The custards should keep about 3 months in the freezer.
When ready to serve, thaw in the refrigerator for about 4 to 6 hours, and then sprinkle the tops of the lemon creme brulee with sugar and torch just before serving.
If you love freezer friendly recipes like this easy lemon creme brulee recipe, be sure to check out my homemade pizza dough and cottage cheese lasagna.
More great lemony recipes:
It should come as no surprise that lemon is one of my favorite ingredients, in sweet and savory food, as well as drinks.
Lemon Creme Brulee
This Lemon Creme Brulee is a rich lemon-infused custard with a crackly torched sugar top. A treat for lemon lovers, this restaurant-style dessert can be prepared in advance and even frozen to enjoy in the future!
Ingredients
For the Custard:
2 cups heavy cream
6 tablespoons granulated sugar, divided
4 large egg yolks
Zest of 2 lemons
1/2 teaspoon vanilla extract
Pinch of kosher salt
For the Topping:
1/4 cup granulated sugar
Fresh berries, for garnish (optional)
Instructions
Preheat oven to 300 degrees F; heat large kettle of water to boiling. Place four 5-ounce ramekins in roasting pan.
In small saucepan, heat cream and 3 tablespoons sugar over medium heat 6 to 7 minutes until cream just starts to bubble around edges of pan (do not bring to a full boil).
Meanwhile, in large bowl, whisk egg yolks, lemon zest, vanilla, salt and remaining 3 tablespoons sugar until well combined. While whisking, use ladle to slowly add 3 ladlefuls of hot cream mixture to egg mixture. Gradually whisk remaining cream mixture into egg mixture. Strain mixture through fine mesh strainer into large liquid measuring cup.
Divide mixture between ramekins; place roasting pan in oven. Carefully pour enough boiling water from kettle around ramekins until it comes halfway up sides of ramekins, being careful to not get water in ramekins. Bake 35 to 40 minutes or until custards are just set (they should tremble slightly in the middle, but be set on outer edges).
Use tongs to carefully transfer ramekins to cooling rack; let stand at room temperature 30 minutes. Then, cover with plastic wrap and chill at least 4 hours or up to 2 days before serving.
To serve, sprinkle 1 tablespoon sugar over each custard. Using blowtorch, caramelize top of each custard until sugar bubbles and turns brown (this can also be done under a broiler). Top with berries, if desired, and serve immediately.
Recommended Products
Foxes Love Lemons, LLC is a participant in the Amazon Services LLC Associates Program, an affiliate advertising program designed to provide a means for sites to earn advertising fees by advertising and links to Amazon.com. There is no additional cost to you.
Nutrition Information:
Yield:

4
Serving Size:

1
Amount Per Serving:
Calories:

613
Total Fat:

49g
Saturated Fat:

29g
Trans Fat:

1g
Unsaturated Fat:

16g
Cholesterol:

367mg
Sodium:

125mg
Carbohydrates:

35g
Fiber:

0g
Sugar:

35g
Protein:

10g
This website provides estimated nutrition information as a courtesy only. You should calculate the nutritional information with the actual ingredients used in your recipe using your preferred nutrition calculator. Nutrition information does not include any added garnish.