Baked Ham with Pineapple Sauce
This Baked Ham with Pineapple Sauce is a showstopping centerpiece for your holiday menu. Classic spiral sliced ham is served with a tangy and sweet pineapple sauce.
I have two questions for you today.
First, what are your feelings about an "additional meat" that isn't turkey at Thanksgiving? I'm all for it, but with such a small gathering, it's not something I normally serve, or we'd be drowning in leftovers.
But if I had a large family, I would absolutely serve a ham along with the Cajun turkey or roasted turkey with maple bourbon glaze!
But for now, I'll serve ham on it's own for Christmas and Easter (even sliced up for an Easter charcuterie board), and always with a scoop of classic stuffing recipe and Easter salad or Easter fruit salad.
My second question for you is how do you feel about ham and pineapple together? Again, I'm all for it. I love incorporating sweet fruit into savory recipes, like the classic pork chops and applesauce, or a Brussels sprouts pizza with dried cherries.
I wanted to publish this Baked Ham with Pineapple Sauce for all of the two-meat Thanksgivings out there, and for everybody else to bookmark for the next ham holiday. It goes out to all the Hawaiian pizza lovers, too!
Do you need sauce for ham?:
Whether or not you need sauce for ham is entirely up to you. Just like the glaze in my honey roasted carrots and my honey mustard pork chops, and the dipping sauce for my mini Hasselback potatoes, I think this pineapple ham glaze gives the meat an extra special touch, and adds a bit of brightness to your plate overall.
Using the heating instructions below, your baked ham with pineapple sauce shouldn't turn out dry, but if it does, the sauce adds some moisture to the party, too.
And there's just something about the combination of savory, salty ham and sweet, tart pineapple that I love so much.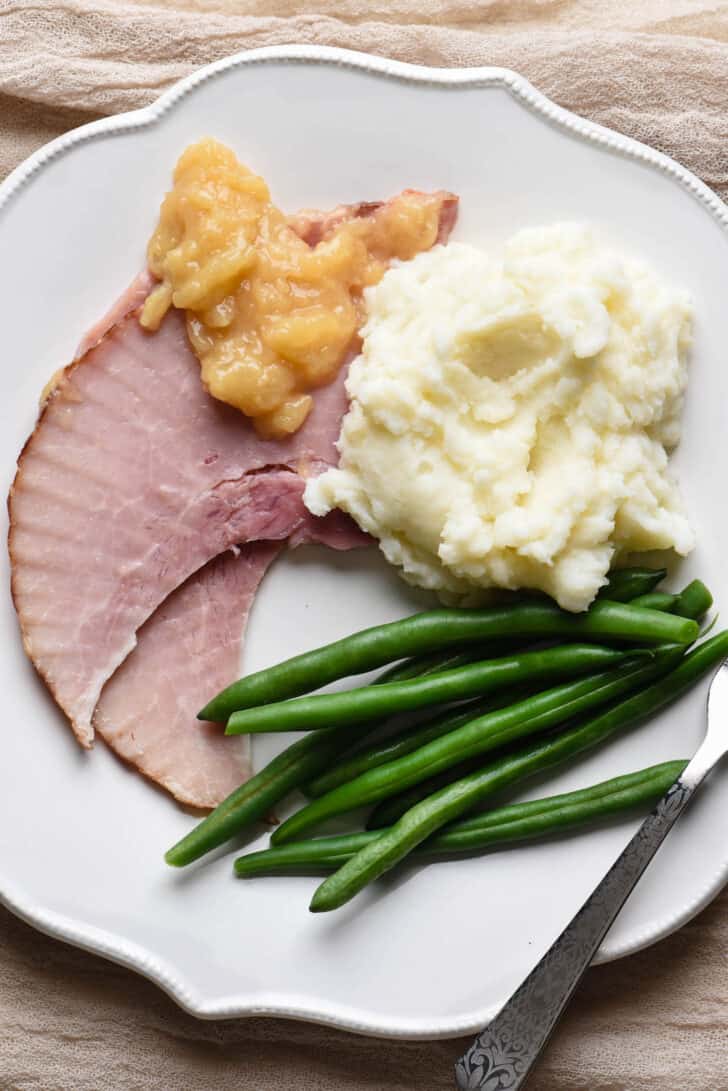 What you'll need to make pineapple ham glaze:
canned crushed pineapple – the kind packed in water (NOT syrup). You don't want to drain this; you'll be using the juices from the can as well for this baked ham with pineapple sauce.
brown sugar – this adds a bit more sweetness and a caramel note.
Dijon mustard – I love Dijon mustard for the sharp kick it adds that counterbalances all of the sweetness. It also gives a kick to my shrimp deviled eggs.
soy sauce – just like it's the secret ingredient in my homemade gravy, it's also the secret ingredient in this pineapple sauce for ham!
apple cider vinegar – this adds acid to the ham sauce recipe, and helps cut through some of the sweetness.
cornstarch – you'll need this to thicken the sauce, just like my Instant Pot sweet and sour chicken. More on that later. Cornstarch is also – believe it or not – the secret ingredient in my heart thumbprint cookies!
butter – I love stirring in a few pats of butter at the end to give the sauce a richer mouthfeel.
salt – because even sweet sauces like pineapple ham glaze need to be seasoned properly.
How to thicken a glaze or sauce:
My favorite way to thicken a glaze or sauce is with cornstarch. Just like my General Tso's meatballs and orange ginger chicken, this ham sauce recipe is thickened with a cornstarch slurry.
A slurry is simply a combination of water and cornstarch that you whisk together before adding to the sauce that you want to thicken. If you add cornstarch on it's own directly to the sauce, it will clump up and make your sauce lumpy, which is why you dissolve it in water first.
Cornstarch also imparts a glossy sheen to sauces it thickens. It is often used to thicken sweet sauces for dessert and pie fillings. And it works great for this baked ham with pineapple sauce!
To thicken this pineapple ham glaze, stir 1 tablespoon cornstarch and 2 tablespoons water together in a small bowl. While stirring your pineapple sauce, slowly add the slurry to the sauce until all of the slurry is incorporated.
To reach full thickening potential and also get rid of any starchy flavor, the sauce needs to come to a boil briefly after the slurry is added. It only needs a moment of boiling, and then you can reduce the temperature of the sauce again, or turn off the heat entirely.
You don't want to boil this pineapple sauce for ham TOO long after adding the slurry, or the cornstarch may break down and lose it's thickening power.
Serve this pineapple sauce for ham spread on top of the ham, or on the side (or both!):
I recommend to brush or spoon about half of the sauce right onto the ham as soon as it comes out of the oven, so it can glaze the ham as it rests.
Then, bring the other half of the pineapple sauce for ham to the dinner table! People can use the additional pineapple ham glaze for spooning over their sliced ham, or . . . dipping dinner rolls into. The combination of a dinner roll, salted butter and this pineapple sauce is *chefs kiss.*
You can make this ham sauce recipe in advance:
Just like you can and should make citrus salad dressing, vanilla bean creme brulee and prep all the ingredients for Christmas salad in the days leading up to your big feast, you can make this ham sauce recipe several days in advance, too!
Prepare the sauce as written below. Allow to cool at room temperature for 30 minutes, and then transfer to an airtight container and refrigerate up to 3 days.
Before serving your baked ham with pineapple sauce, gently warm the sauce on the stove or in the microwave to take the chill off.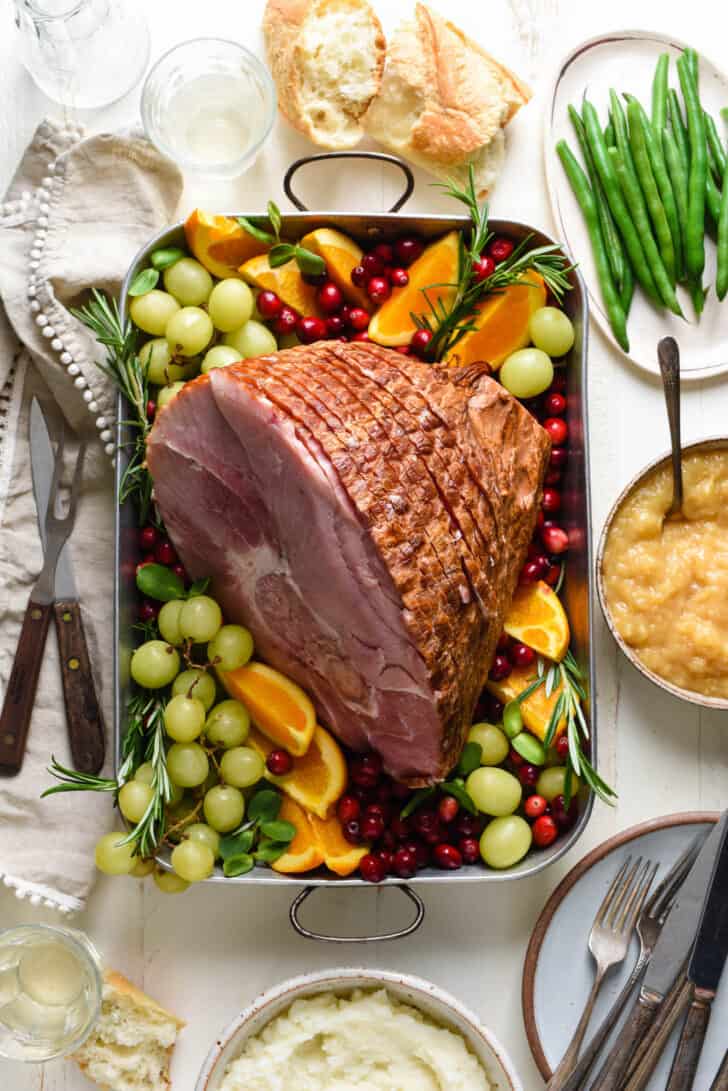 What to do with the leftovers of this baked ham with pineapple sauce:
If you have lots of baked ham with pineapple sauce left over after your celebration, of course you'll want to have ham sandwiches! I like them with yellow mustard and iceberg lettuce, on leftover dinner rolls, or ham and turkey sliders if i'm feeling fancy.
Once you get sandwiched out, I recommend making a batch of ham and potato soup or old fashioned ham and bean soup, that also gets extra flavor from the ham bone (you should save it!).
The soup freezes well, as do my homemade breakfast burritos, which coincidentally also use ham.
And if you STILL have more ham in your fridge, Taste of Home has 70 recipes that use leftover ham that should keep you busy for quite awhile!
Have leftover hard boiled eggs after easter? Try my egg salad with pickles.
Baked Ham with Pineapple Sauce
Total Time:
2 hours
20 minutes
This Baked Ham with Pineapple Sauce is a showstopping centerpiece for your holiday menu. Classic spiral sliced ham is served with a tangy and sweet pineapple sauce.
Ingredients
1 (7 to 8 pound) bone-in fully cooked spiral sliced ham
1-1/2 cups plus 2 tablespoons water, divided
2 cans (8 ounces each) crushed pineapple in juice (undrained)
2 tablespoons brown sugar
1 tablespoon apple cider vinegar
1 tablespoon Dijon mustard
1 tablespoon soy sauce
1 tablespoon cornstarch
2 tablespoons unsalted butter
1/4 teaspoon kosher salt
Instructions
Remove ham from fridge 1 hour before cooking. Preheat oven to 275 degrees F. Place ham in roasting pan flat side down. Add 1 cup water to bottom of pan. Cover pan with foil.
Transfer to oven and bake approximately 15 minutes per pound (2 hours total for an 8 pound ham) or until heated through.
Meanwhile, in medium saucepot, stir together pineapple, brown sugar, vinegar, mustard, soy sauce and 1/2 cup water. Heat to boiling over medium-high heat, then reduce heat to medium-low and simmer 10 minutes, stirring occasionally.
In small bowl, stir together cornstarch and 2 tablespoons water. Stir cornstarch mixture into pineapple mixture and increase heat to medium. Cook, stirring constantly, just until sauce thickens. Remove from heat and stir in butter and salt. Let sauce stand at room temperature until ham is ready.
Remove ham from oven, turn so the sliced side is facing up, and immediately brush with about half of pineapple sauce, getting some sauce between the ham slices if possible. Replace foil and let ham stand 20 minutes before serving.
Slice ham and serve with remaining pineapple sauce.
Recommended Products
Foxes Love Lemons, LLC is a participant in the Amazon Services LLC Associates Program, an affiliate advertising program designed to provide a means for sites to earn advertising fees by advertising and links to Amazon.com. There is no additional cost to you.
Nutrition Information:
Yield:

12
Serving Size:

1
Amount Per Serving:
Calories:

429
Total Fat:

15g
Saturated Fat:

4g
Trans Fat:

0g
Unsaturated Fat:

7g
Cholesterol:

174mg
Sodium:

2746mg
Carbohydrates:

14g
Fiber:

0g
Sugar:

12g
Protein:

59g