Quick-Fix Fancy Shrimp Ramen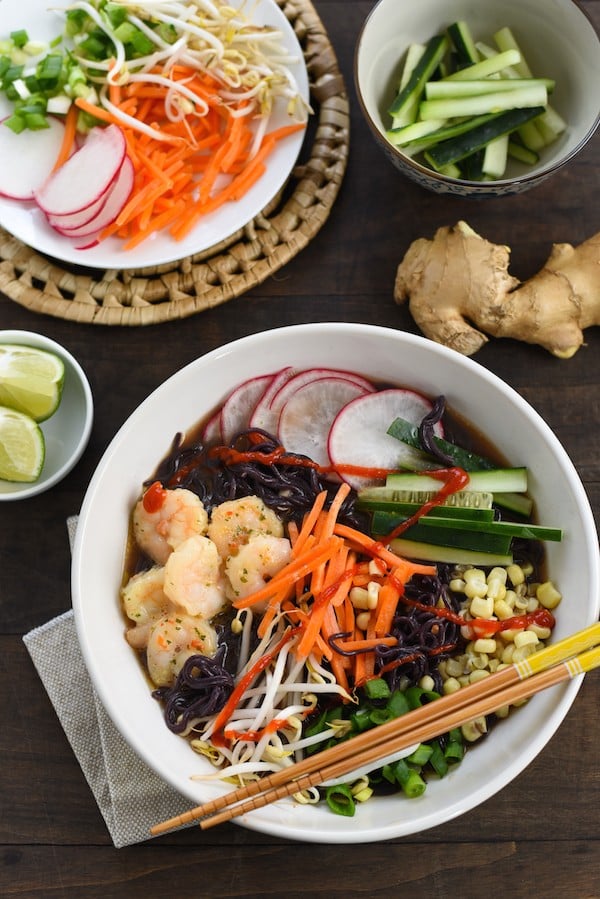 My blog should really have two taglines, but there was only room for one above. The second one is "encouraging people to enjoy the act of cooking at home."
While Jeff and I love going out to our favorite restaurants once (sometimes twice) a week, other than that, we are cooking at home. Even if it's just simple sandwiches and salads, we think the effort we put into it is worth it.
Cooking a meal together gives us a chance to catch up before we go about our evening activities, like more work (ugh) or schoolwork (Jeff is working on a master's degree).
Lately, I've been thinking a lot about how to encourage more people to follow this lead. Two strategies I recommend are prepping ahead, and using a little help from the grocery store when you can.
When you think of a "prep ahead dinner," a colorful bowl of fancy ramen noodles might not come to mind. But I ensure you that with a little bit of prep work on the weekend before you serve this meal, these bowls can come together at dinnertime in about 15 minutes.
Just like with my tomato ramen, all of the garnishes I've used here can be cut 24 hours in advance, and stored in the fridge in plastic bags, or simply on a plate covered with plastic wrap.
Now that we've talked about the "prepping ahead" portion of the event, let's move on to "using a little help from the grocery store." Some people might shy away from this, thinking that all meals made at home need to be 100% homemade.
But in my opinion, if there's an item at your grocery store, like a SeaPak Shrimp & Seafood Co. product, that will save you a little bit of time (and that might mean the difference between cooking at home and going out to eat yet again) by all means – bring that item home.
To quickly add some super flavorful shrimp to these ramen bowls, I used SeaPak Shrimp Scampi. While people generally associate scampi with Italian dishes or even seafood pasta salad, it worked great for this Asian-inspired meal, too.
The quick-cooking shrimp is coated in a butter, garlic and herb sauce that added a huge punch of flavor to this easy meal.
One last note on this recipe: don't shy away from serving noodle bowls like this to kids! If your kids want to just eat a bowl of noodles, shrimp and broth, they definitely can.
But I'm guessing they won't be able to resist choosing a few colorful veggie toppings when given the choice. Garnish these bowls with whatever vegetables your family likes best.
Need ideas for weeknight meals that can be pulled together in a hurry using the techniques I've talked about above? Check out this meal plan that I've put together for inspiration. Also, be sure to enter the GIVEAWAY at the end of this post for a chance to win a year's supply of SeaPak products to help you with YOUR meal planning!
"Enjoying The Act of Cooking At Home" Meal Plan:
Monday: Quick-Fix Fancy Shrimp Ramen (recipe below)
Tuesday: Curried Turkey Pitas
Wednesday: "Appetizer Dinner" – Popcorn Shrimp with Parmesan-Peppercorn Sauce (photo/recipe link below), Spinach & Artichoke Dip Party Flatbread and Almond & Broccolini Salad
Thursday: Slow Cooker Chicken Parmesan Soup
Friday: Out to Eat (everybody needs to go out once in awhile!)
Saturday: Saturday Night Tacos
Sunday: Sweet & Sour Chicken Stir-Fry Casserole
Quick-Fix Fancy Shrimp Ramen
Ingredients
Prep-Ahead Garnishes:
6 green onions, thinly sliced
6 radishes, thinly sliced
2 limes, quartered
2 cups thinly sliced or grated carrots
1-1/2 cups thinly sliced cucumber
1 cup bean sprouts
1  cup corn kernels, thawed if frozen
Sriracha, for serving (optional)
Quick-Fix Fancy Shrimp Ramen:
4 garlic cloves, minced
8 cups less-sodium beef broth (chicken or vegetable broth may also be used)
4 teaspoons rice wine vinegar
1 tablespoon grated fresh ginger
2 teaspoons soy sauce
1 package (4 ramen cakes) forbidden rice ramen (any variety of ramen may be used; discard seasoning packets)
2 packages (12 ounces each) SeaPak Shrimp Scampi
Instructions
Prep the Garnishes: Up to 24 hours before serving, prep all garnishes. Store in fridge in plastic bags, or on plate covered with plastic wrap.
Make the Shrimp Ramen: In large pot, bring garlic, broth, vinegar, ginger and soy sauce to boil. Add ramen and cook according to package directions for boiling water (about 4 minutes), using fork to break up noodle cakes.
Meanwhile, prepare Shrimp Scampi according to package directions.
Divide noodles and broth between 6 serving bowls. Divide Shrimp Scampi over noodles. Serve with Prep-Ahead Garnishes.
You may have noticed that my meal plan above includes an "Appetizer Dinner." This is one of my favorite ways to break up the possible monotony of cooking at home night after night. Instead of serving an entree, I serve a few appetizers and a salad.
This dish uses a little help from the store in the form of SeaPak Popcorn Shrimp. These tender, whole, tail-off shrimp are coated with a crispy Panko breading and come ready to bake. I added my own special touch by whipping up a homemade Parmesan-Peppercorn Sauce.
Click HERE to get the recipe for Popcorn Shrimp with Parmesan-Peppercorn Sauce!
Disclosure: This was a sponsored post written by me on behalf of Seakpak. Sponsored posts help me pay for the costs associated with this blog (groceries…lots of groceries), and help support me as I pursue a career in recipe development and food photography. All opinions are 100% my own.