Roasted Turkey with Bourbon Apricot Glaze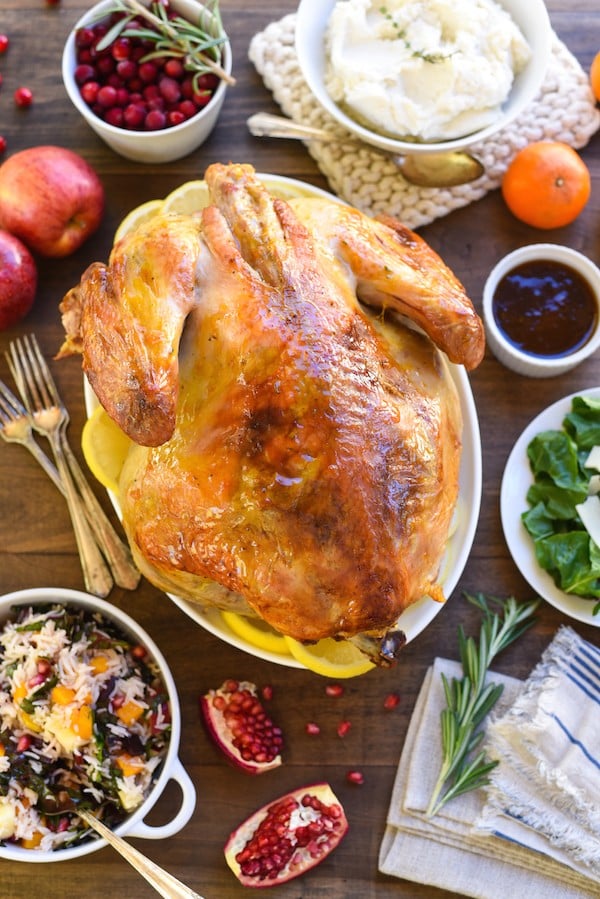 I'll remember 2015 for many reasons. Lots of new nephews were born this year. We bought a new house this year. We renovated the house's kitchen this year. And, I cooked a faux Thanksgiving dinner in an Airbnb this year.
If you've been following the #FLLdreamkitchen hashtag on Instagram, you're aware that the most recent step in the renovation was refinishing the floors throughout the majority of our first floor.
The floors needed to be patched where the wall between the kitchen and dining room used to stand, and until they were refinished, you'd always be able to see the patch job.
So, last week seemed as good of time as any to ship out and just get the refinishing done with.

Respectable hotels in our area are oddly few and far between, and the ones that exist are way too expensive. So, finding an Airbnb house about a mile from our home (for about half the price of a hotel) was such a lucky break.
This house had a fully equipped kitchen, so in the three nights that we were there, we were able to make three home-cooked dinners (NOT in a microwave!), which really renewed our spirits to get through the rest of the renovation.
Of course, one of the dinners was this faux Thanksgiving dinner. Food bloggers generally end up making at least one (if not more) turkey dinner before the actual holiday, so that we can share the recipes with our lovely readers in time for them to plan their own Thanksgiving recipes lists.
Plus, we get to eat two Thanksgiving dinners, which gets an A+ in my book.
Even though the rental house's kitchen was fully equipped, I still didn't feel quite at home, so an easy Thanksgiving dinner was imperative. A JENNIE-O® OVEN READY™ Whole Turkey was a simple solution.
It goes directly from your freezer to your oven – no thawing, rinsing, brining or seasoning required. The directions couldn't be easier to follow, and bonus: there's a gravy packet included.
Because who doesn't want lots and lots of gravy for their mashed taters, am I right? I usually also make gravy from scratch to have more.
I always like to put a spin on a classic in some small way, so I whipped up an easy glaze using bourbon, apricot preserves (also perfect for heart jam cookies), and a few other simple ingredients.
This glaze gets brushed on the bird after it's finished roasting, while it's resting. And you'll have plenty of glaze left over to dollop on your plate for dipping, or use as a sandwich spread with leftover turkey.
Of, if you don't want leftover Bourbon Apricot Glaze, feel free to simply make a half batch. Happy (faux) Thanksgiving!
Be sure to connect with Jennie-O on Facebook, Twitter, Instagram and Pinterest. And if you have any leftover turkey, be sure to check out my Leftover Turkey Chili!
Bourbon Apricot Glaze
Ingredients
1-1/4 cup apricot preserves
1/2 cup bourbon
2 tablespoons fresh lemon juice
2 tablespoons soy sauce
1 tablespoon Dijon mustard
1 teaspoon finely chopped fresh rosemary
Instructions
In medium saucepot, whisk together preservers, bourbon, lemon juice and soy sauce. Cook over medium-high heat 12 to 14 minutes or until reduced to a thin glaze-like consistency, stirring freqently. Remove from heat; stir in rosemary. Let stand 10 minutes (glaze will continue to thicken as it cools). Brush roasted turkey with glaze after it is removed from oven.
Disclosure: As a member of the Jennie-O Switch Circle, this was a sponsored post written by me on behalf of Jennie-O. Sponsored posts help me pay for the costs associated with this blog (groceries…lots of groceries), and help support me as I pursue a career in recipe development and food photography. All opinions are 100% my own.