Blood Orange Sangria
This is a sponsored post written by me on behalf of Frontera Wines. All opinions are 100% mine.
I know, this is my second blood orange recipe this week. 'Tis the season, or so they say. I even used blood oranges to make orange ginger chicken last week.
You know what it's also the season for? Food and drink for the big game!
It's not until next month, but it'll be here before we know it. I'm actually traveling for a photography workshop between now and then, so I want to get my game day menu tested and set in advance. Such a dork.
The food menu will almost assuredly be some combination of chicken wings (probably with an Asian twist), nachos (possibly using my husband's home-smoked pulled pork or brisket), chips and dip (the no-shame-in-this-game store bought kind) and/or maybe a pizza of some sort.
You know, alllllll the good stuff.
The drink menu? That's where it gets tricky. My husband is a beer and brandy old fashioned guy, but I like to change things up (recent favorites are my grapefruit vodka cocktail with rosemary and a bourbon rosemary cocktail).
A little white wine? Why not! The bright acidic nature of a nice glass of Pinot Grigio was just made to pair with salty (sometimes greasy) game day food, in my opinion.
This year, I plan to mix up a batch of Blood Orange Sangria (see also: Blood Orange Margarita).
For this simple yet lovely winter drink, you'll need just four ingredients: Frontera Pinot Grigio, simple syrup (make a homemade batch in 5 minutes), cognac and the juice of a few blood oranges.
The best part? You can mix this up way in advance (even 2 or 3 days early), because the flavor only gets better as it sits in your fridge. How easy is that?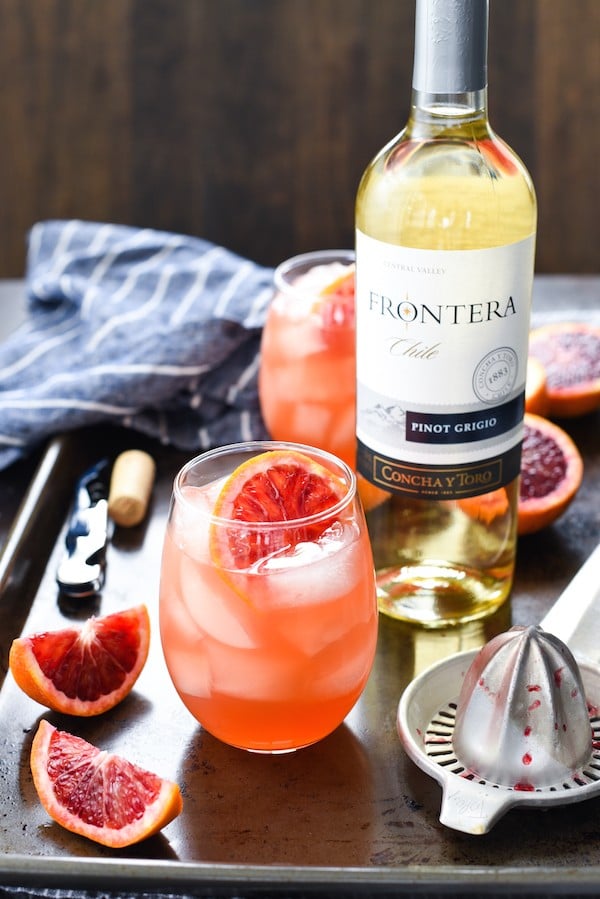 Frontera is America's favorite best-selling wine from South America, and it's an excellent choice for large gatherings.
It is is available in a large range of grape types to satisfy all types of tastes; a total crowd pleaser. Frontera wines taste great and are of exceptional quality, for a very affordable price (woot woot!).
And Frontera's award-winning wines are perfect for wine cocktails like this sangria.
So this year, grab your snacks, and raise a glass of wine on game night!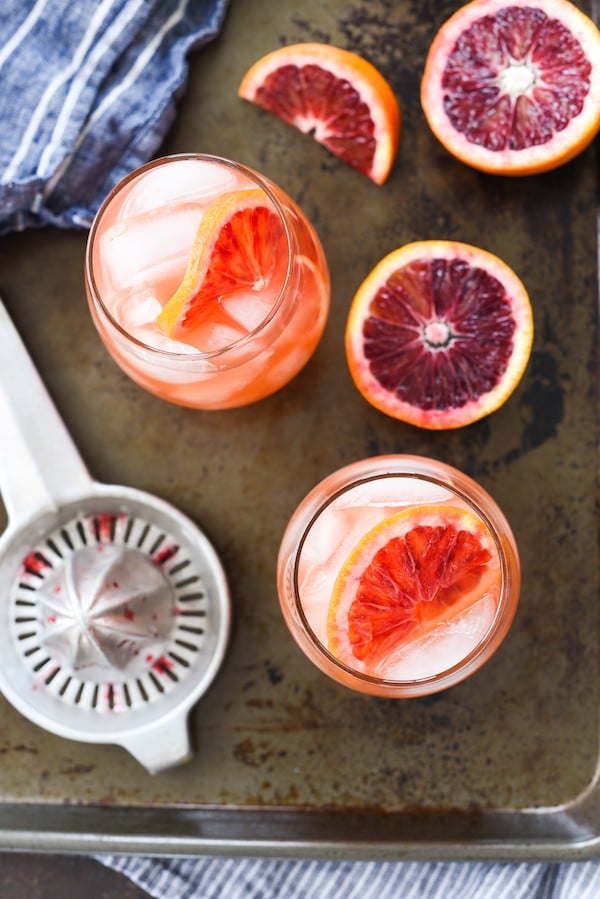 Blood Orange Sangria
Ingredients
1 bottle Frontera Pinot Grigio
10 ounces fresh blood orange juice
4 ounces cognac
3 ounces simple syrup
1 blood orange, thinly sliced
Instructions
In large pitcher, stir together wine, blood orange juice, cognac and simple syrup. Stir in orange slices. Cover and refrigerate at least 1 hour or up to 3 days. Serve over ice.
Notes
Home Chef Tip: To make a small batch of simple syrup, stir together 1/2 cup water and 1/2 cup granulated sugar in small pot. Cook over medium heat 4 to 5 minutes or until sugar is dissolved. Remove from heat; let stand 10 minutes. Transfer to jar or container and refrigerate until completely cool, or up to 5 days. This will make about 4 ounces of simple syrup, plenty for this recipe.