Cardamom Tea Latte
This fragrant Cardamom Tea Latte is as creamy and comforting as a specialty coffeehouse drink. It can be made caffeinated or decaf, so it's perfect any time of day!
There's a ton of memes out there about how you know you're getting older. Like if you remember Saved By The Bell, it's time to start using night cream. Or something like that.
For me, I knew I was getting older when I could no longer drink anything with caffeine after lunch time, or it would affect my sleep.
This made it harder to stop by my favorite coffee shop for a treat like caramel coffee while doing afternoon errands! Until I discovered the tea latte portion of their menu.
With all the warmth and comfort of a typical coffee latte, a tea latte is ideal for a decaf treat. I love something like this in the afternoon, maybe alongside a pear muffin or a oven baked apple for a little snack.
Tea lattes are also good at breakfast if you abstain from caffeine. It's something comforting to sip on while you're cooking bacon in the oven and waiting for it to be ready, or making ice cream French toast. It works equally as well alongside brunch food.
This cardamom tea latte spiked with vanilla bean is my homemade version of my favorite decaf coffee house drink.
How my cardamom tea latte differs from the coffeehouse version:
While the coffeehouse version of a cardamom latte usually involves foamed milk, a decaf tea bag, and a shot of vanilla flavored syrup, most people don't keep flavored coffeehouse syrups at home.
At least, I sure don't, except every once in awhile when I make homemade my caramel syrup recipe so I can make a caramel iced coffee. But I digress.
So I decided to skip the syrups for this cardamom tea latte and flavor a pot of milk with a split vanilla bean (also great for a bourbon smash drink or vanilla bean creme brulee), as well as a few cardamom pods.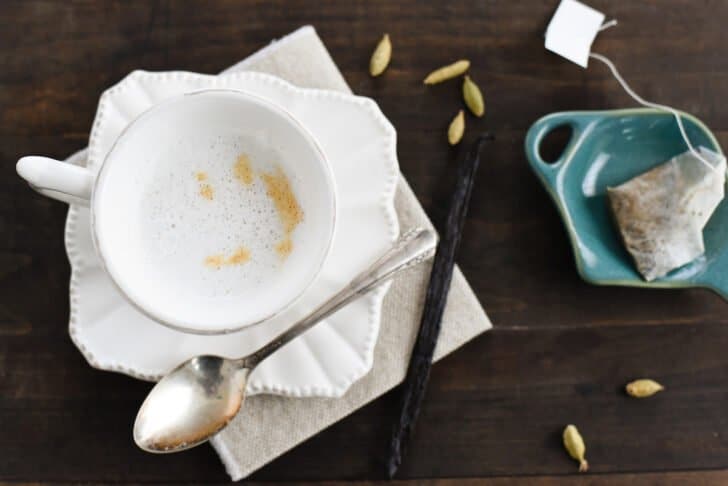 All about cardamom:
If you've never tried cardamom, it has a very unique flavor that can be described as floral, slightly sweet, and a little bit citrusy. There's really no substitute for it that will duplicate it's flavor in this cardamom tea recipe.
I don't cook with it a ton, but I do like a batch of cardamom granola and a cardamom latte here and there.
Cardamom pods can be very expensive, but if you have a store in your area that sells bulk spices, you should be able to score a handful of them for just a couple dollars to use for cardamom tea lattes.
What kind of tea for cardamom latte?
Just like with my tea ice cream, I simply use basic black tea bags for cardamom tea lattes. Fully caffeinated ones in the morning, and the decaf version in the afternoon version of this cardamom tea recipe.
If you wanted to experiment with using a flavored tea in this cardamom latte, you could! You could use a vanilla-scented tea to really amp up the vanilla flavor, or any other flavored tea that you think might work.
Just have fun and experiment with it if you want!
How to make cardamom tea lattes:
First, you'll be heating milk while infusing it with cardamom and vanilla flavor for this cardamom tea recipe.
Simply combine milk, a half of a split vanilla bean (scrape the seeds out of the other half of the bean and use them to make shrimp with vanilla beurre blanc) and some whole cardamom pods in a small pot on the stove.
Heat it until it's just about to boil, but not quite, and then reduce the heat and let it simmer 2 minutes.
Then, I like to strain the milk mixture through a fine mesh strainer for the best texture for this cardamom tea latte. Sometimes, while the milk is heating, some milk solids with kind of curdle on top, and I like to get rid of those.
Once the milk mixture is strained, return it to the warm pot (but off the heat), and use a milk frother or immersion blender to whip the milk until it's kind of foamy.
You don't have to go FULL OMG FOAM like a cappuccino, but I do like a little frothiness for my cardamom latte.
Divide the frothed milk between mugs or large tea cups and add 1 tea bag to each mug. Allow the milk to steep for 2 minutes, and then it's time to drink it up!
Cardamom Tea Latte
Yield:
2 (8 ounce) servings
This fragrant Cardamom Tea Latte is as creamy and comforting as a specialty coffeehouse drink. It can be made caffeinated or decaf, so it's perfect any time of day!
Ingredients
4 whole cardamom pods
1/2 vanilla bean, split in half lengthwise
2 cups (16 ounces) milk
2 black tea bags (regular or decaf)
Instructions
Place cardamom pods on work surface and gently press on them using the heel of your hand and the back of a knife until they are lightly smashed.
In small pot, stir together cardamom, vanilla bean and milk. Heat over medium heat until mixture comes to a bare simmer (just a few bubbles around the edge of the pot but not a rolling boil), then reduce heat to medium-low and simmer 2 minutes.
Strain milk mixture through fine-mesh strainer; discard solids. Return mixture to pot; use milk frother or immersion blender to whip milk until foamy.
Divide frothed milk between mugs or large tea cups; add 1 tea bag to each mug. Steep 2 minutes, then remove tea bags and serve immediately.
Recommended Products
Foxes Love Lemons, LLC is a participant in the Amazon Services LLC Associates Program, an affiliate advertising program designed to provide a means for sites to earn advertising fees by advertising and links to Amazon.com. There is no additional cost to you.
Nutrition Information:
Yield:

2
Serving Size:

1
Amount Per Serving:
Calories:

149
Total Fat:

8g
Saturated Fat:

5g
Trans Fat:

0g
Unsaturated Fat:

2g
Cholesterol:

24mg
Sodium:

105mg
Carbohydrates:

12g
Fiber:

0g
Sugar:

12g
Protein:

8g
Nutrition information was calculated using whole milk. This website provides estimated nutrition information as a courtesy only. You should calculate the nutritional information with the actual ingredients used in your recipe using your preferred nutrition calculator.