Everything Bagel Bloody Mary Rim Salt
Level up your brunch cocktail game with homemade bloody mary mix, lots of fun garnishes, and everything bagel bloody mary rim salt!
After over a year of not eating at restaurants, it's easy to pinpoint what I miss most: brunch!
While carryout pizza and Chinese food is all well and good, carryout eggs benedict and brioche French toast is a definite no-go for me. Those things have to be eaten fresh out of the kitchen (not put in styrofoam, picked up and brought home).
And bloody mary bars. Oh, how I miss bloody mary bars. The kind where the bartender rims a glass with bloody mary salt, pours you a serving of vodka over ice, and then you head to the garnish buffet to top your drink with the bloody mix of your choice, and all the bloody mary garnish ideas you could ever want.
There were cheese cubes, olives, crispy bacon, pickles, celery, etc etc etc.
With many of us putting on a brunch buffet for the moms in our life next weekend, let's treat everybody to a round of bloody marys with a really special touch. Learn about the special rim salt in this post, and see my post about bloody mary skewers to replicate those at home.
First, make a round of brunch drinks with homemade bloody mary mix.
My favorite homemade bloody mary mix is made with fresh lemon juice, tomato juice, vodka, horseradish, Worcestershire sauce, celery seed, salt, pepper and sriracha (or use Tabasco).
If you're not into vodka, you can leave the drink alcohol-free, or try one of these 8 alternatives to vodka in your bloody mary.
Then, choose a bloody mary rim salt recipe.
My favorite brunch restaurant not only has a killer bloody mary garnish bar, but they let you choose which kind of bloody mary rim salt you want. If I recall correctly, the choices include salt and pepper, caraway and Old Bay seasoning.
I like all of those options, but I like using everything bagel mix even more. Which I can do at home, because I can do whatever I want at home (including any bloody mary garnishes I desire)!
Not only is this spice and seed mix good on top of cream cheese on an English muffin, it's good on top of or in just about anything else too, including bloody marys! I also love it sprinkled on top of breakfast fried rice.
The secret ingredient to my everything bagel bloody mary salt.
The not-so-secret ingredient in my everything bagel mix that I use as a bloody mary garnish is CARAWAY SEEDS. Here in the Detroit area, most locally-owned bagel shops include caraway seeds in their seasoning blends.
However, most commercially prepared everything bagel seasoning (like Trader Joe's) does not contain caraway seeds.
Perhaps it's a regional thing, because when I buy bagels in other parts of the country while traveling, I generally do NOT see caraway seeds on top.
Caraway seeds have a distinctive mild anise (licorice) flavor that I really enjoy as a pairing to my homemade bloody mary mix, so I include it in my bloody mary rim salt recipe. If you don't prefer caraway, simple leave it out when you make your mix.
How do you get bloody mary salt to stay on the rim of a glass?
I think the easiest way to rim a glass with salt is by simply rubbing the rim of the glass with a lemon or lime wedge. In a pinch, a piece of damp paper towels works, too!
Really, you're just looking to get the rim of the glass damp, but not soaking wet. After the rim of the glass is damp, simply dip the rim onto a small plate or shallow bowl filled with your desired bloody mary rim salt recipe. Then, add all the bloody mary garnishes you want!
Have fun with these bloody mary garnish ideas.
When it comes to choosing bloody mary garnish ideas, my opinion is that more is more (same with my smoked salmon platter garnishes). Here, not only do I have celery and a big dill pickle, but I also made a quick garnish skewer with lemon, a huge green olive, and a chunk of bell pepper.
Hey, I like my bloodys to be meals in themselves, unless I have a leftover cornbread breakfast casserole in the oven or something!
Other garnish options I love:
pickled onions
cubes of salami or pepperoni
cheese cubes
pickled asparagus
pepperoncini
cherry tomatoes
shrimp
caper berries
More recipes for everything bagel lovers:
A jar of homemade everything bagel seasoning is ALWAYS in my kitchen, because I sprinkle it on practically everything!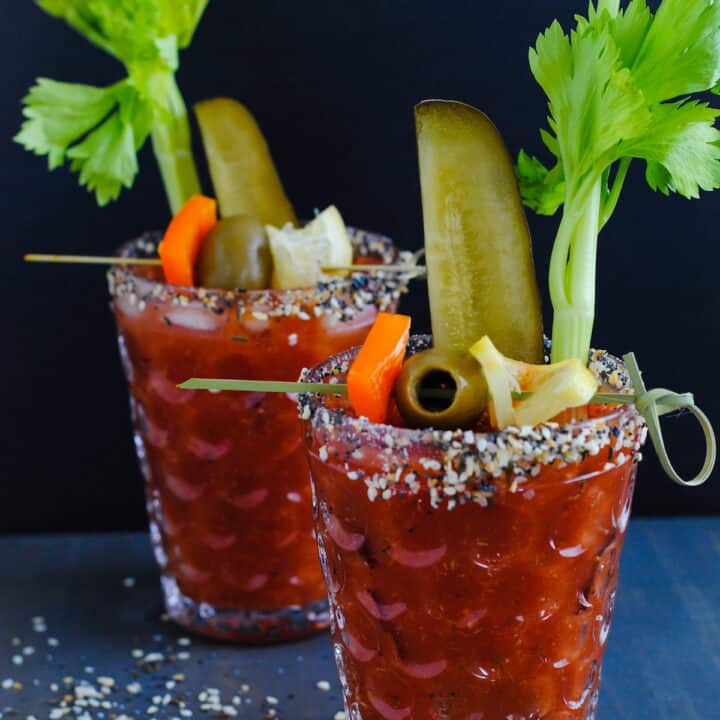 Bloody Marys with Everything Bagel Bloody Mary Rim Salt
Level up your brunch cocktail game with homemade bloody mary mix, lots of fun garnishes, and everything bagel bloody mary rim salt!
Ingredients
For the Bloody Marys:
Juice of 1/2 lemon (save squeezed lemon to use for rimming glasses)
2 cups tomato juice
2 ounces vodka (or more!)
2 tablespoons prepared horseradish
1 teaspoon Worcestershire sauce
1/2 teaspoon celery seed
Pinch of kosher salt and ground black pepper
Splash of sriracha
4 teaspoons Everything Bagel Seasoning
For the Garnishes:
Celery Stalks
Dill Pickles
Chopped Bell Pepper
Green Olives
Lemon Slices
Instructions
Make the Bloody Marys: In small pitcher, stir together lemon juice, tomato juice, vodka, horseradish, Worcestershire sauce, celery seed, salt, pepper and sriracha until well combined.
Pour Everything Bagel Seasoning onto small plate. Rub the rims of two glasses with lemon; dip and twist into seasoning mixture until rims are covered in mixture. Fill glasses with ice; pour Bloody Mary mixture over ice. Garnish as desired and serve immediately.
Recommended Products
Foxes Love Lemons, LLC is a participant in the Amazon Services LLC Associates Program, an affiliate advertising program designed to provide a means for sites to earn advertising fees by advertising and links to Amazon.com. There is no additional cost to you.
Nutrition Information:
Yield:

2
Serving Size:

1
Amount Per Serving:
Calories:

225
Total Fat:

1g
Saturated Fat:

0g
Trans Fat:

0g
Unsaturated Fat:

0g
Cholesterol:

0mg
Sodium:

1283mg
Carbohydrates:

36g
Fiber:

3g
Sugar:

25g
Protein:

4g