Bloody Mary Skewers
Use easy-to-find grocery store ingredients to make Bloody Mary Skewers worthy of a trendy brunch restaurant. You'll want to take a picture of this beautifully garnished cocktail!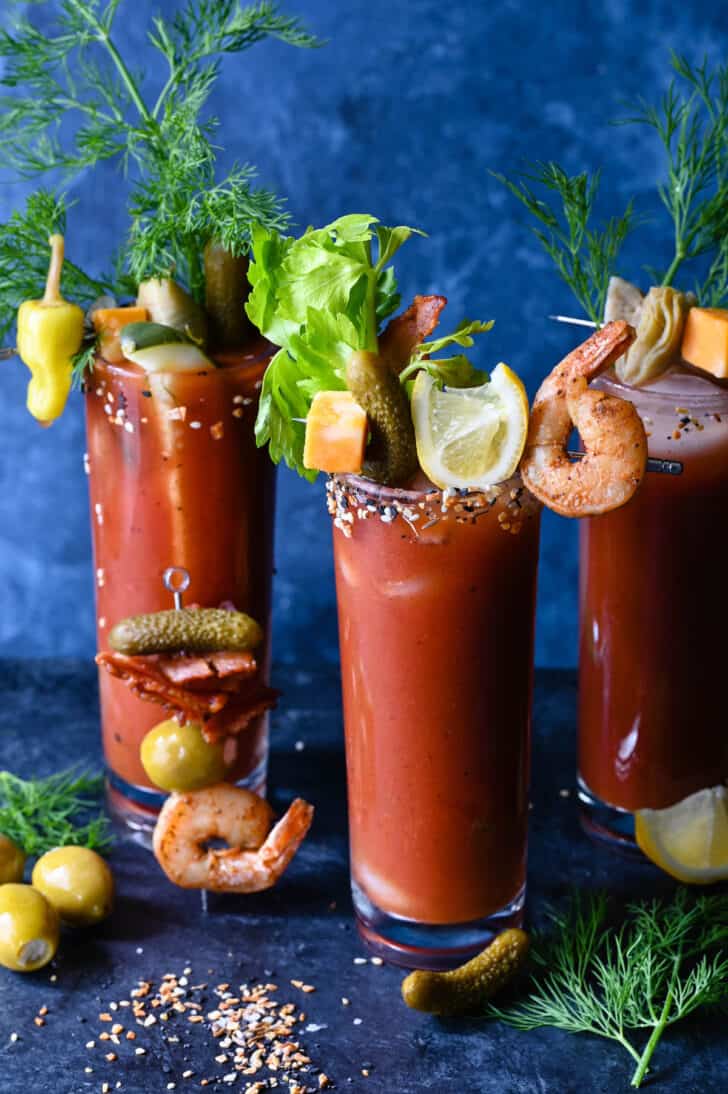 I've only been drinking Bloody Marys for ten years or less, but I already have strong opinions on the best part: the garnishes.
When a lot of trendy brunch food spots have gone all in and garnished their drinks with crazy things like chicken tenders or slices of pizza or whatever in recent years, their only goal has been to go viral on TikTok or Instagram.
I'm not here to go viral. I'm here to make Bloody Mary skewers that taste great while I'm nibbling on my vegetarian quiche and blackberry muffin.
As I'll explain in the post below, the best Bloody Mary garnish skewers are a simple combination of three flavors that our taste buds love.
You can get all of the ingredients needed for these Bloody Mary toppings at your local grocery store. And nobody here will ask you to stick an entire fried chicken on top of your drink. My only request is that you use everything bagel seasoning as bloody mary rim salt. Deal?
The ultimate Bloody Mary Skewers are a combination of three flavors.
In my opinion, the best Bloody Mary skewers are a combination of something cheesy, something meaty, and something pickled. That's it.
Pick one or even two items from each of those categories and you're good to go. And the great news is, there are SO MANY OPTIONS for a garnish for a Bloody Mary in each category.
Heck, a lot of these Bloody Mary toppings you might already have in your fridge!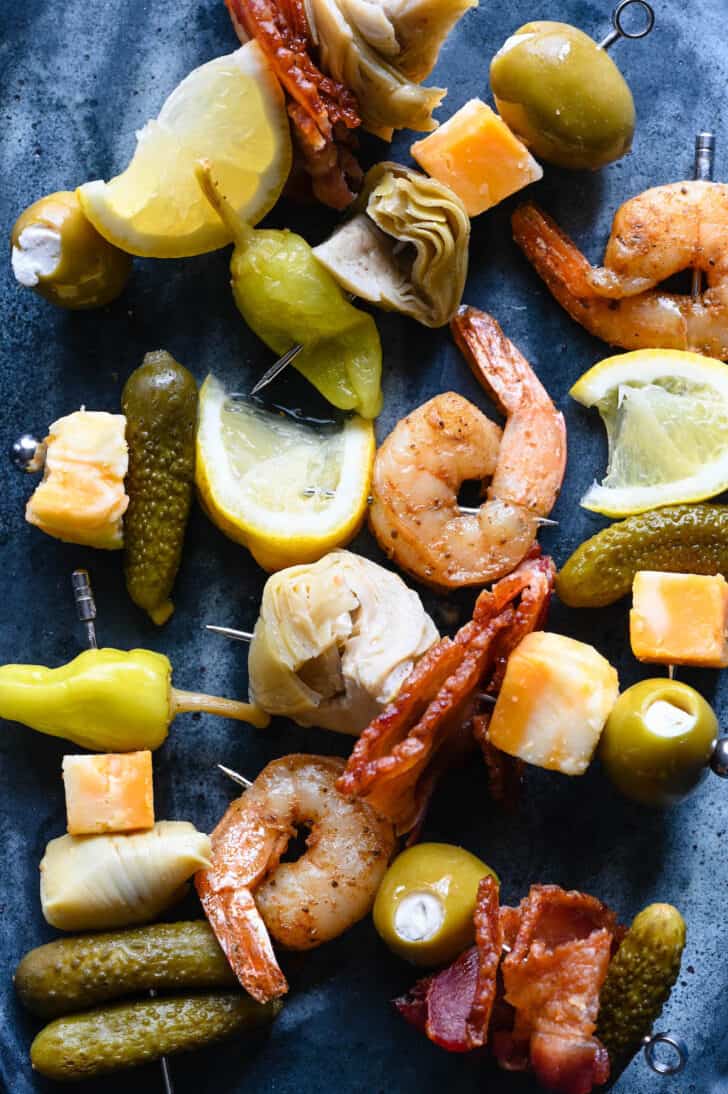 Choose a skewer!
Before we choose our garnishes, it's important that we have something to put them ON. This section contains affiliate links, so I can show you some examples.
Now, while you can go wild and choose tree branch skewers, I like to stick with something much simpler.
For the photos you see here, I used a set of stainless steel cocktail picks. They're just over 4 inches long, so I was able to fit about 4 garnish pieces on each pick, which I thought was the perfect size. At $8 for 20 picks that I can use again and again forever, I felt good about this purchase.
You could also opt for 6 inch skewers or 8 inch skewers so you can fit more garnishes on each pick. The longer ones will be harder to balance on top of a glass, but you could put these Bloody Mary garnish skewers IN the glass, or serve them alongside instead.
If you're having a big gathering and don't to have to worry about getting all of the skewers back, you can opt for something more disposable like bamboo cocktail picks.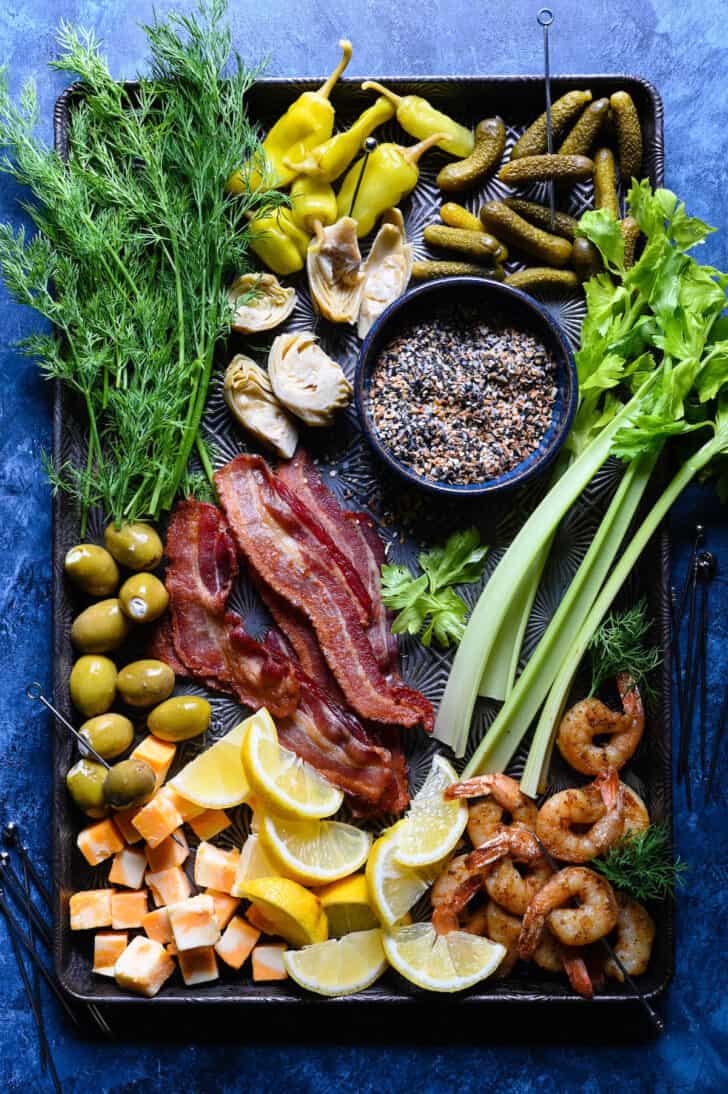 Options for a CHEESY garnish for a Bloody Mary:
So many options for cheese! My personal favorite cheeses for a garnish for a Bloody Mary are Colby Jack or Pepper Jack cubes. A lot of stores will sell these pre-cubed, which makes it so easy.
If not, just buy a block and cube it up for Bloody Mary skewers! Any extra Colby Jack can be shredded for crock pot burrito bowls.
If you're looking for something a little more high end, you can use mini mozzarella balls (also perfect for charcuterie cups) or nice big chunks of feta.
If you're from the Midwest, don't sleep on the cheese curds for your Bloody Mary garnish skewers. Other great cheese options include: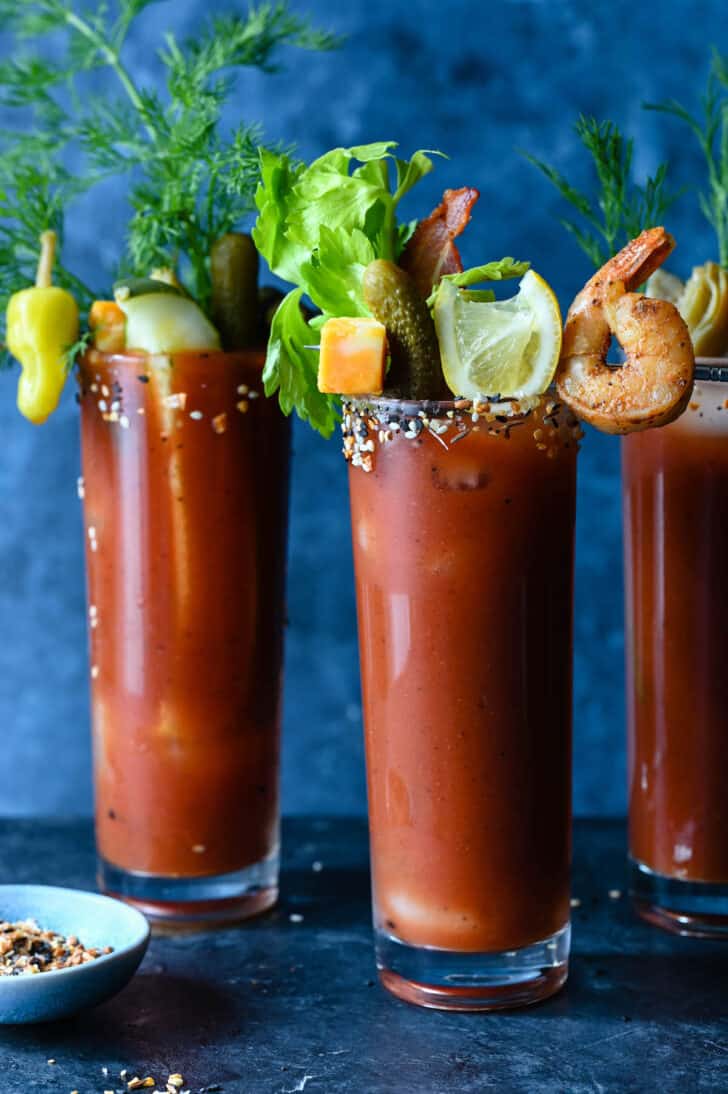 Choose something MEATY for your Bloody Mary garnish skewers:
My first choice for a meaty Bloody Mary garnish, always, will be bacon in the oven. I cook it and then kind of fold it up (it's ok if it breaks a little) and skewer it. You could also make turkey bacon in the oven or turkey bacon in air fryer for a health conscious choice.
Shrimp is my next favorite meaty garnish for Bloody Mary skewers. I simply buy a bag of frozen shrimp, toss it with Old Bay seasoning, and roast it in the oven. See Step 1 of my shrimp deviled eggs recipe card for exactly how to do this.
Other ideas for something meaty:
The best Bloody Mary garnishes that are PICKLED:
This is my favorite category, because I love anything and everything pickled (and brined)! I'll even make pickled egg salad. Thus, pickled items play a big role in the skewers you see in these photos.
My favorite pickled and brined additions to Bloody Mary skewers are cornichon pickles, pepperoncini (pickled mild yellow chili peppers), feta- or blue cheese-stuffed olives, and marinated artichoke hearts.
You might be surprised what you can find when you take a look in the pickle section at your grocery store. Some other garnishes for a Bloody Mary for the pickle lovers like me:
Bloody Mary add ins that don't need to be on a skewer:
Some things that I want to put in my Bloody Marys just don't fit on a skewer very well. Some of these things include:
Can I make Bloody Mary skewers the day before I want to serve them?
Totally! You can make your skewers the night before so you have less prep work to do the morning you want to serve Bloody Marys.
Simply make your Bloody Mary skewers, place them on a plate, cover them with plastic wrap, and put them in the refrigerator.
I highly recommend my sweet potato breakfast casserole and my breakfast muffins recipe as part of your make-ahead breakfast strategy, too!
More Foxes Love Lemons Favorites
Bloody Mary Skewers
Use easy-to-find grocery store ingredients to make Bloody Mary Skewers worthy of a trendy brunch restaurant. You'll want to take a picture of this beautifully garnished cocktail!
Ingredients
4 blue cheese- or feta-stuffed olives
4 Colby Jack cheese cubes
4 cornichons
4 lemon wedges
4 marinated artichoke hearts
4 Old Bay Roasted shrimp (see Step 1 of Shrimp Deviled Eggs recipe card for process)
4 whole pepperoncini
4 slices oven baked bacon, folded over 2-3 times
Everything Bagel Seasoning, for rimming glasses
Bloody Mary mix and vodka of choice
Dill pickles, fresh dill sprigs and celery stalks for additional garnishes, if desired.
Instructions
Thread olives, cheese, cornichons, lemons, artichokes, shrimp, pepperoncini and bacon onto 4 - 8 cocktail picks or small skewers.
Serve skewers with Bloody Marys in glasses rimmed with Everything Bagel Seasoning. Garnish drinks with dill pickles, dill sprigs and celery stalks, if desired.
Recommended Products
Foxes Love Lemons, LLC is a participant in the Amazon Services LLC Associates Program, an affiliate advertising program designed to provide a means for sites to earn advertising fees by advertising and links to Amazon.com. There is no additional cost to you.
Nutrition Information:
Yield:

4
Serving Size:

1
Amount Per Serving:
Calories:

211
Total Fat:

14g
Saturated Fat:

8g
Trans Fat:

0g
Unsaturated Fat:

5g
Cholesterol:

55mg
Sodium:

1501mg
Carbohydrates:

10g
Fiber:

3g
Sugar:

5g
Protein:

13g
This website provides estimated nutrition information as a courtesy only. Nutrition information is only for skewers and does not include any optional ingredients or toppings. You should calculate the nutrition information with the actual ingredients used in your recipe using your preferred nutrition calculator.