Instant Pot Apple Butter
This Instant Pot Apple Butter is what you want to make with all those extra apples this time of year. It's fast, easy and bursting with flavor.
Well, it's official – ever since I rescued my Instant Pot from a basement flood, I've come to appreciate it more than ever. I think my previous hangup in regards to this appliance is that, despite it's name, it's rarely instant. In fact, many recipes I've found take just as long to cook in the Instant Pot as they do on the stove or in the oven.
I can't argue with that – it's just the way it is. By the time the pot comes up to pressure, does it's cooking, and then you release the pressure, well, like I said, nothing instant about it.

But – BUT – I've found it easy to love in the FLAVOR department. In my opinion, cooking under pressure really, well, concentrates the flavor of whatever you're cooking (I particularly love it for Instant Pot short ribs and Instant Pot sweet and sour chicken).
In fact, when I did a side by side taste test of my Instant Pot Lentil Soup compared to the slow cooker version, I loved the Instant Pot one so much more. The flavor was SO intense and robust.
So now, I don't look at this appliance as necessarily being a time saver. Instead, I look at it as being a flavor concentrator. And there's nothing like the concentrated apple flavor of today's recipe!
This super easy instant pot apple butter only requires a few ingredients:
How to make instant pot apple butter:
So easy! Throw the apples (save a few extra apples for stuffed apples!), spices, water, brown sugar, and lemon juice in the Instant Pot and set the cook time for 15 minutes. It will take a little bit of time to come to pressure. Relax and make an apple cider bourbon cocktail while you wait.
Once the cook is complete, let the pressure release on it's own for 5 minutes, and then do a quick release for any remaining pressure.
Then, it's time to whip out your immersion blender and blend it all up. At this point, you'll have applesauce!
This is where you'll use the sauté function to cook the mixture down, evaporate most of the moisture, and end up with a thick, jam-like apple butter.
Tips for making this no peel instant pot apple butter a success:
You read it right – you don't need to peel your apples! The apple peels actually help with thickening the butter when they are pureed. They also add flavor and color (just like the apple peels add to the beauty of my apple rose tart!).
If you don't have an immersion blender, you can transfer the mixture to a traditional blender and then back to the Instant Pot for the sauté.
The sauté is where it gets a bit tricky. You need to make sure you cover the pot with either a clean kitchen towel (but use an old one you don't care about, because it will get dirty) or a splatter guard, if you have one.
When you stir during the sauté, you'll need to be careful, because the apple butter will sputter and splatter. Wear an oven mitt to protect your hand, and use the longest-handled spatula you can find!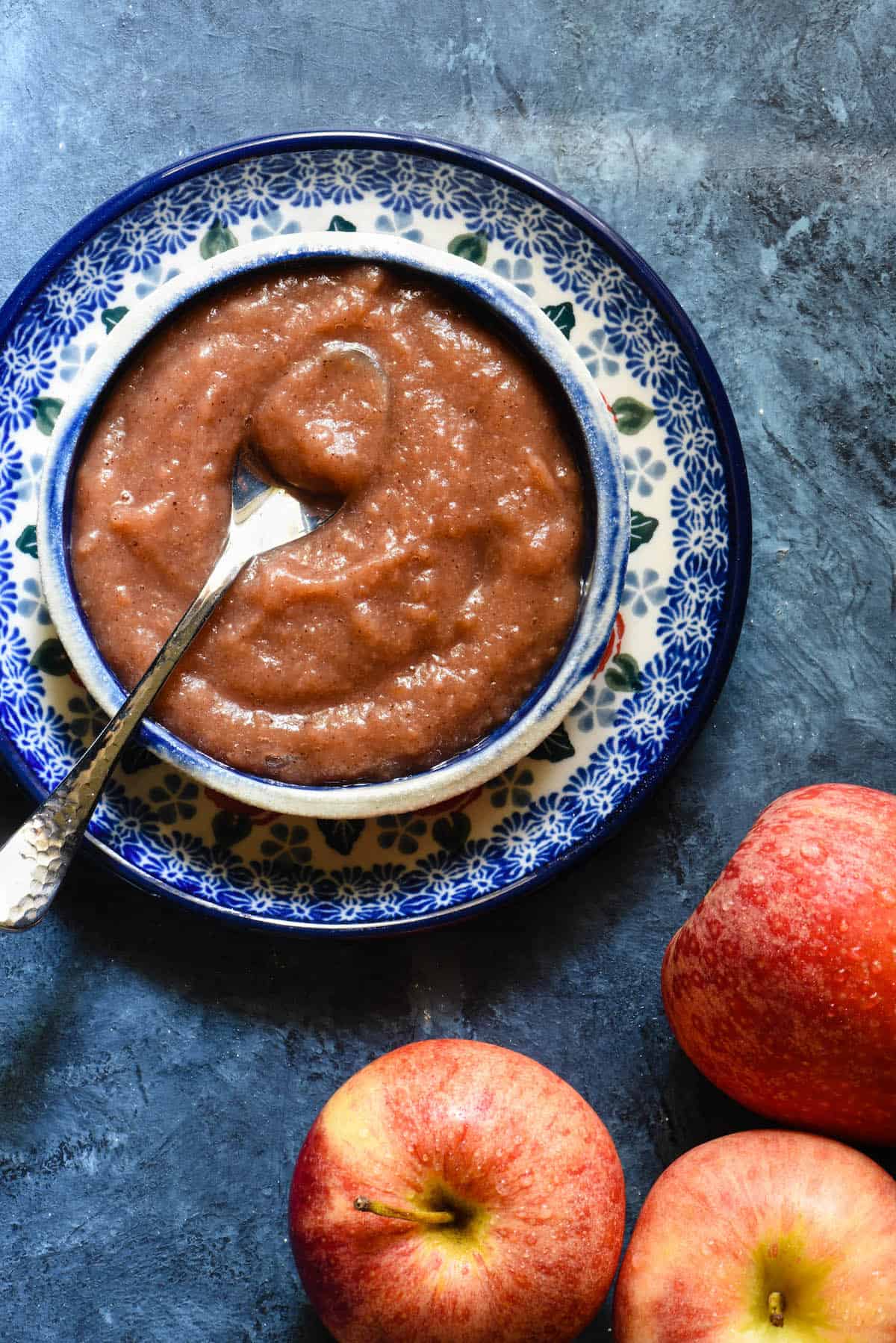 Can I make this instant pot apple butter with no sugar?
Yes! You can omit the brown sugar and still end up with a great (albeit slightly less sweet) end result. You can also substitute honey or molasses in place of the brown sugar.
What to do with apple butter:
Apple butter is the star condiment of my breakfast charcuterie board and autumn butter board. It would be perfect on a Thanksgiving charcuterie board. It's also a delicious substitute for fig preserves for my goat cheese, prosciutto and apple tartines.
You can use it in place of the applesauce in my apple mug cake for a super concentrated apple flavor. My friend Carla makes it shine in her apple butter gooey butter cake. And of course, it's delicious stirred into oatmeal!
Instant Pot Apple Butter
Additional Time:
15 minutes
This Instant Pot Apple Butter is what you want to make with all those extra apples this time of year. It's fast, easy and bursting with flavor.
Ingredients
2 pounds Gala apples, halved, cored and stemmed (not peeled)
1/4 cup water
1 tablespoon fresh lemon juice
1 tablespoon light brown sugar
1/2 teaspoon ground cinnamon
1/4 teaspoon ground ginger
1/4 teaspoon ground nutmeg
Pinch kosher salt
Instructions
In bowl of 6-quart Instant Pot, stir apples, water, lemon juice, brown sugar, cinnamon, ginger, nutmeg and salt until well combined. Secure lid and set Pressure Release to Sealing. Select Pressure Cook or Manual Setting and set cooking time for 15 minutes at high pressure (pot will take about 10 minutes to come to pressure before cooking time begins).
When cooking time ends, let pressure release naturally for 5 minutes, then move Pressure Release to Venting to release remaining steam.
Using immersion blender, carefully blend apples in Instant Pot until very smooth (you will have applesauce at this point!).
Leave applesauce in Instant Pot and select Sauté setting. Cover pot with clean kitchen towel or splatter guard and cook 10 minutes, stirring and scraping bottom once halfway through.
The goal of sautéing is to get the applesauce to reduce down to a thick and smooth apple butter (like a thick jam consistency). Mixture will reduce by half (from about 3 cups to about 1-1/2 cups). Depending on how juicy the apples were to begin with, you may need to sauté for an additional 5 minutes. Watch the mixture extremely closely during this time to prevent burning.
When mixture is very thick and smooth, transfer to airtight container and let cool at room temperature, uncovered, 30 minutes. Transfer to refrigerator and chill at least 4 hours or up to 2 weeks.
Recommended Products
Foxes Love Lemons, LLC is a participant in the Amazon Services LLC Associates Program, an affiliate advertising program designed to provide a means for sites to earn advertising fees by advertising and links to Amazon.com. There is no additional cost to you.
Nutrition Information:
Yield:

12
Serving Size:

2 tablespoons
Amount Per Serving:
Calories:

48
Total Fat:

0g
Saturated Fat:

0g
Trans Fat:

0g
Unsaturated Fat:

0g
Cholesterol:

0mg
Sodium:

12mg
Carbohydrates:

11g
Fiber:

2g
Sugar:

9g
Protein:

0g