Instant Pot Salmon and Mashed Potatoes
This Instant Pot Salmon and Mashed Potatoes recipe gives you a protein and a side dish, in ONE pot, with a three minute cook time. Does it get any easier than that?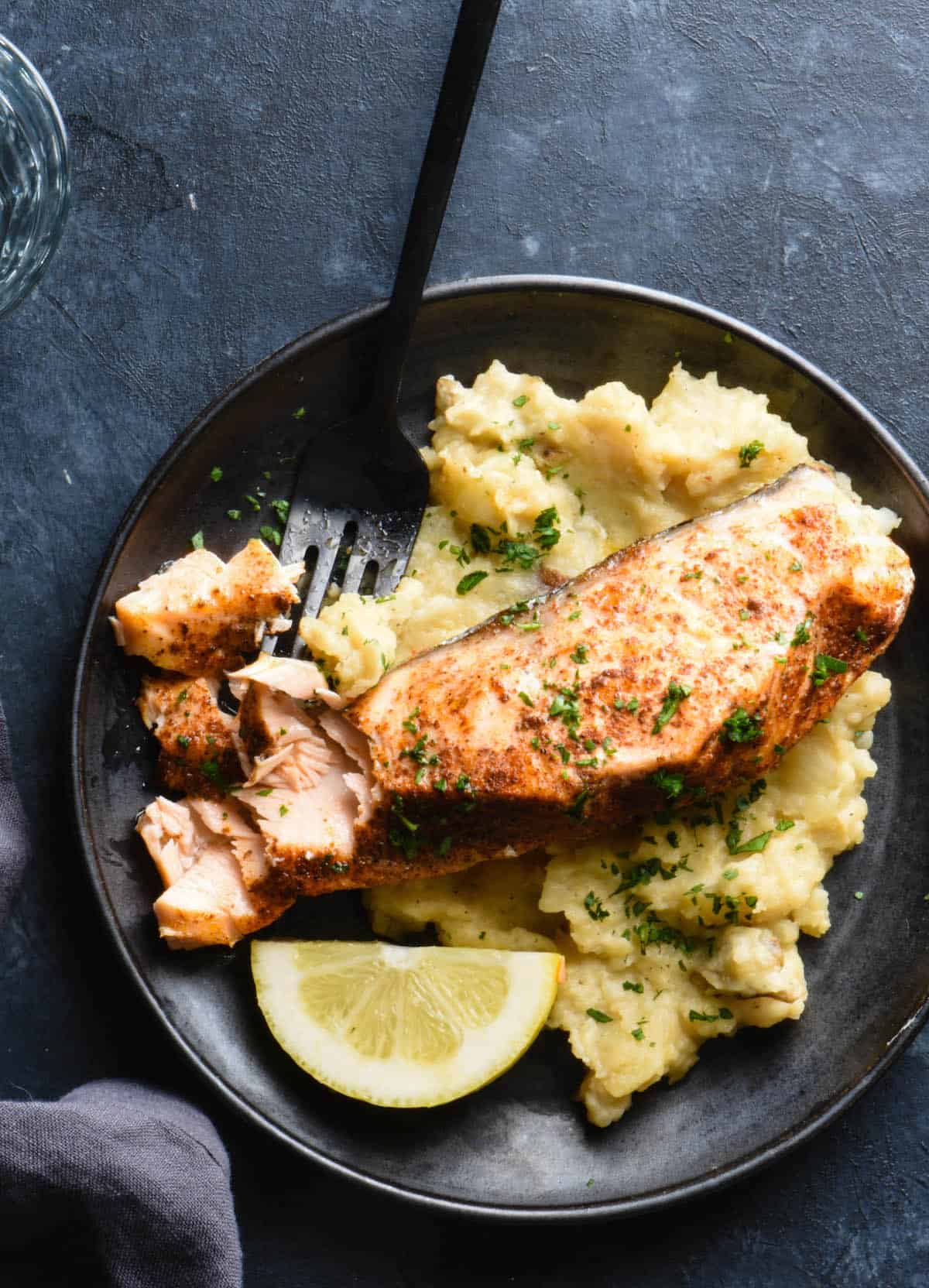 OK friends, I think just one more Instant Pot recipe and then I'll be done for now. As you know, I heroically rescued my Instant Pot from a basement flood this summer, and since then, I've been on some weird mission to prove it's worthiness as an appliance (Instant Pot short ribs and Instant Pot sweet and sour chicken being two of my favorites).
I must admit that I have discovered I love how intensely flavorful it makes most recipes. But I've also lamented that it's anything BUT instant in a lot of scenarios.
To round out my trifecta of Instant Pot recipes for the year, I wanted to create a recipe that truly IS instant, yet still properly cooked and delicious.
Since my salmon pasta, salmon stuffed with crab and salmon pesto pasta recipes are some of the most popular recipes on this site, I knew I wanted to try a salmon dish.
This Instant Pot Salmon and Mashed Potatoes cooks so fast you may not even have time to unload the dishwasher before it's done! The salmon and potatoes are both perfectly tender but not overcooked, and the whole thing is just a plate of deliciousness.

Why this is one of the best instant pot salmon recipes:
Because it makes a protein and a side dish in one pot! This was my first time using the cooking rack that came with the instant pot to make two separate things at once, and it went even better than I could have imagined.
I can't think of any other possible way to cook both mashed potatoes AND salmon and truly only have one pot to wash. It's also just a great, quick way to make mashed potatoes, especially if you want to turn them into something like mashed potato cakes.
But for this recipe, without the Instant Pot, I would probably roast the salmon on a sheet pan (wash the pan), boil potatoes in a pot (wash the pot), drain the potatoes (wash the colander AND I HATE WASHING COLANDERS for some reason), then return the potatoes to the pot for mashing.
This salmon recipe eliminates the need for a second pan and a colander, unless you also want to make my easy gravy recipe to go on the mashed potatoes, which is entirely optional.
How to cook salmon in instant pot:
First, you'll be placing cut up potatoes in the bottom of the pot, with a little bit of butter, salt and pepper, and water. Then, place the rack right on top of the potatoes.
Spray the rack with nonstick spray, and place your salmon fillets on the rack. Put the lid on the pot, set it to Sealing, and program it to cook for 3 minutes.
It will take some time to come up to pressure, but not very long. I didn't time it, but I believe it was even less then 10 minutes. Then, the pot will cook for 3 minutes.
Do an instant steam release and you're almost ready to eat! Carefully remove the salmon on it's rack (add a smear of pesto if you'd like, like my baked pesto salmon or even my bourbon glaze recipe for salmon). Add butter and half and half to the potatoes and mash them.
Scoop your mashed potatoes onto plates, top with salmon, and it's dinner time!
What to serve with salmon:
Since you already have one side dish, you probably just need a non-starchy veggie to round out this meal. Air fryer brussels sprouts, asparagus with goat cheese, and green beans and tomatoes would all be excellent options.
You could also go the salad route with a tomato beet salad or winter citrus salad, both of which I love serving with my grilled sockeye salmon and salmon piccata as well.
You can also use just the salmon portion of this recipe (skip the potatoes) to use for salmon alfredo, instead of my simple salmon recipe.
Instant Pot Salmon and Mashed Potatoes
Additional Time:
10 minutes
This Instant Pot Salmon and Mashed Potatoes recipe gives you a protein and a side dish, in ONE pot, with a three minute cook time.
Ingredients
2 (5-6 ounce each) skin-on center-cut salmon fillets
1/2 teaspoon chili powder
1/2 teaspoon salt, divided
1/4 teaspoon ground black pepper, divided
Nonstick cooking spray
1/2 pound russet potatoes (2 small potatoes), scrubbed and cut into 1-inch pieces
1/4 cup water
2 tablespoons unsalted butter, divided
2 tablespoons half and half
Chopped fresh parsley and lemon wedges, for serving
Instructions
Rub tops and sides of salmon fillets with chili powder, 1/4 teaspoon salt and 1/8 teaspoon ground black pepper. Spray Instant Pot cooking rack with nonstick spray and place salmon fillets on rack.
Place potatoes, water, 1 tablespoon butter and remaining 1/4 teaspoon salt and 1/8 teaspoon pepper in bowl of 6-quart Instant Pot. Place rack with salmon over potatoes. Secure lid and set Pressure Release to Sealing. Select Pressure Cook or Manual Setting and set cooking time for 3 minutes at high pressure (pot will take about 10 minutes to come to pressure before cooking time begins).
When cooking time ends, move Pressure Release to Venting to release steam.
Carefully remove rack with salmon and set aside. Add half and half and remaining 1 tablespoon butter to Instant Pot and select Sauté setting. Use potato masher to mash potatoes until smooth and creamy.
Divide mashed potatoes and salmon between two plates and sprinkle with parsley. Serve with lemon wedges.
Notes
Home Chef Tip: It's kind of hard to get the rack out after the cook time, because the rack is so hot! I used tongs to help lift the rack, and then used a pot holder to grab the hot rack. Be careful, please!
Recommended Products
Foxes Love Lemons, LLC is a participant in the Amazon Services LLC Associates Program, an affiliate advertising program designed to provide a means for sites to earn advertising fees by advertising and links to Amazon.com. There is no additional cost to you.
Nutrition Information:
Yield:

2
Serving Size:

1
Amount Per Serving:
Calories:

481
Total Fat:

28g
Saturated Fat:

11g
Trans Fat:

0g
Unsaturated Fat:

15g
Cholesterol:

107mg
Sodium:

647mg
Carbohydrates:

30g
Fiber:

4g
Sugar:

3g
Protein:

29g