Grill-Roasted Antipasto
Fill a foil packet with olives, peppers, nuts and salami and throw it on the grill! This Grill-Roasted Antipasto will be the easiest summer appetizer you'll ever make!
More and more lately, I've been gravitating towards incredibly simple appetizers on restaurant menus. There's this Spanish tapas place in Detroit that I love, and one of my favorite dishes there is a simple bowl of warmed, roasted olives.
It's certainly not the flashiest appetizer on the menu, but I know that it will be delicious and satisfying each and every time. It goes to show that when you start with simple, high-quality ingredients, you don't need to do much to them.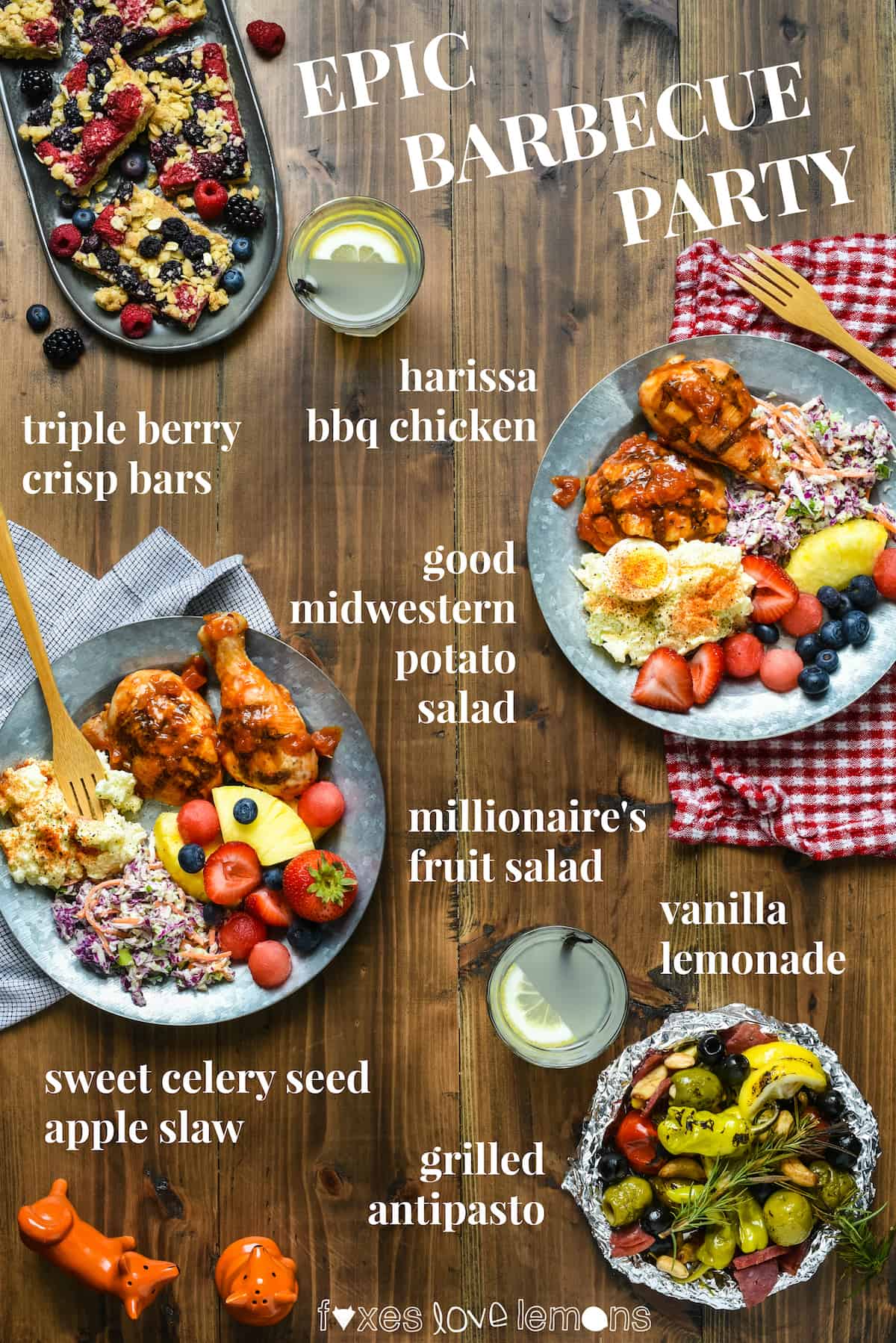 I decided to use the inspiration from that restaurant dish to create a "home chef" version for this Epic Barbecue Party. And hey, it's a party, so I maybe got a little fancier and adding a few things besides olives.
Like I said, the key to a dish like this is to start with high-quality ingredients. When I'm shopping for olives, peppers or pickled veggies, I know that I can always turn to Lindsay to deliver the flavors I'm looking for.
This Grill-Roasted Antipasto starts with a solid base of Spanish Queen Olives Stuffed with Garlic, California Black Olives, Whole Golden Greek Pepperoncini and Sweet Cherry Peppers. You can actually just stop there and have a really solid antipasto course, but I added a few other things I happened to have around, like some salami, roasted garlic cloves, marcona almonds, a few slices of lemon, and a rosemary sprig from my garden.
Who wants to use the oven on a hot day? Not this girl. Luckily, any outdoor grill can be treated pretty much like an oven, making this "grill roasted" appetizer super simple to whip up outside. Just wrap everything up in a foil packet and throw it on a preheated grill. From there, you can decide how long you want to cook it. Cook 5 to 6 minutes to simply warm everything through, or cook a little longer than that to get a bit of char on some of the olives and peppers. Totally up to you!
Psst – if you have extra rosemary (you will!) – try out something new with my lemon and bourbon sour rosemary cocktail.
Whether sharing a delicious meal, entertaining friends and family or adding some unexpected fun into special moments, Lindsay's mission is to help bring fun and flavor to our lives. For more information, please connect with Lindsay on Facebook, Twitter, Instagram and Pinterest.
Grill-Roasted Antipasto
Fill a foil packet with olives, peppers, nuts and salami and throw it on the grill! This Grill-Roasted Antipasto will be the easiest summer appetizer you'll ever make!
Ingredients
1/2 lemon, halved and thinly sliced
4 ounces soppressata or other fully-cooked salami, cut into 1-inch pieces
1/2 cup Lindsay Naturals California Black Olives
1/2 cup Lindsay Spanish Queen Olives Stuffed with Garlic
1/2 cup Lindsay Sweet Cherry Peppers
1/2 cup Lindsay Whole Golden Greek Pepperoncini
1/4 cup marcona almonds
1/4 cup roasted garlic cloves
1 sprig rosemary
Grilled bread, for serving (optional)
Instructions
Preheat grill for direct grilling over medium heat.
Place a large sheet of heavy-duty foil or a double layer of regular foil on work surface. Place lemon, salami, black olives, green olives cherry peppers, pepperoncini, almonds, garlic cloves and rosemary in center of foil. Bring the short ends of the foil together and fold several times to seal. Fold in the sides to finish forming packet.
Transfer packet to grill and cook 5 to 6 minutes to simply warm everything through, or 10 to 12 minutes to lightly char the olives and peppers. Serve warm, with grilled bread, if desired.
Notes
Home Chef Tips:
Grilling times may vary, depending on your grill. Remove packet from grill and, using pot holders, carefully unwrap packet to check on antipasto when you think it's ready. If it's not warm or charred enough for you, carefully re-seal packet and continue grilling.
Roasted garlic cloves can usually be found at the olive bar in gourmet grocery stores.
Epic Barbecue Party Recipe Schedule:
Other Barbecue & Picnic Ideas:
Making one of these recipes? Please let me know by sharing a photo on social media with the hashtag #FLLEpicBarbecue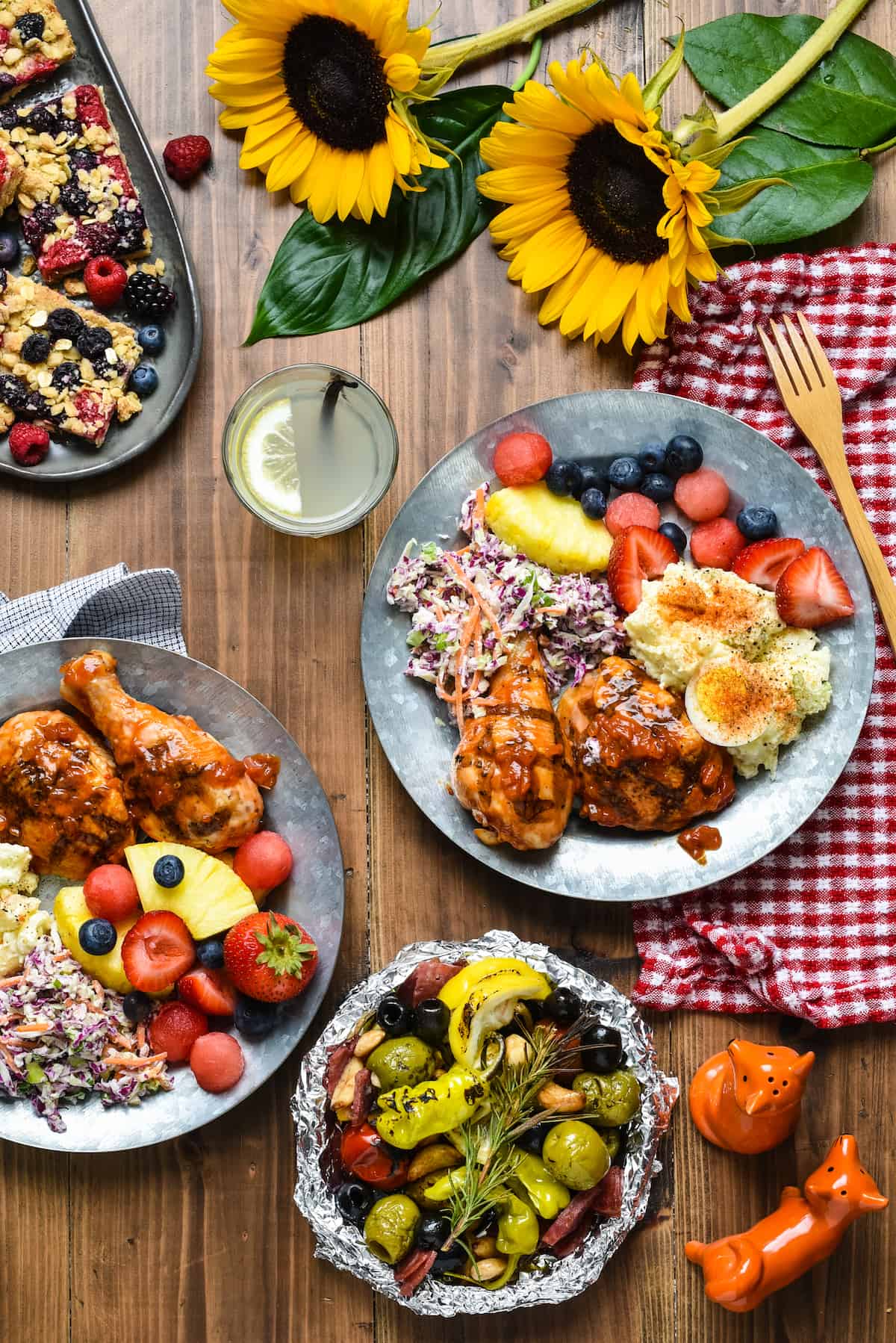 Disclosure: This was a sponsored post written by me on behalf of Lindsay Olives. Sponsored posts help me pay for the costs associated with this blog (groceries…lots of groceries), and help support me as I pursue a career in recipe development and food photography. All opinions are 100% my own.