Holiday Baked Brie
We're almost in full holiday mode around here. Greek Christmas cookies have been baked and wrapped up for their recipients. A charcuterie chalet is being discussed. Jeff is wrapping gifts in beast mode, because that's his specialty.
Izzy is falling asleep to the sounds of Christmas carols in the house, because that's what dogs do. And I'm still here blogging, because I have a few more recipes I want to share with you friends before the holiday!
This Holiday Baked Brie is the most stupid-easy last minute appetizer for last minute people. Brie is a soft cow's milk cheese with a deliciously buttery taste (see also: Savory Baked Brie).
Don't have one of those fancy earthenware brie bakers you see in all the kitchen catalogs? Yeah, I don't have one either. Just grab a baking pan and plop a piece of parchment paper onto it.
Lovingly rest your small wheel of brie onto the parchment, and then drizzle it with a few tablespoons of honey. Bake for just 5 to 7 minutes until the inside is nice and ooey gooey.
Top with sautéed mushrooms, pistachios and pomegranate arils. Take to the table, serve with crackers or toasted bread, and prepare for plenty of "oohs" and "ahhs."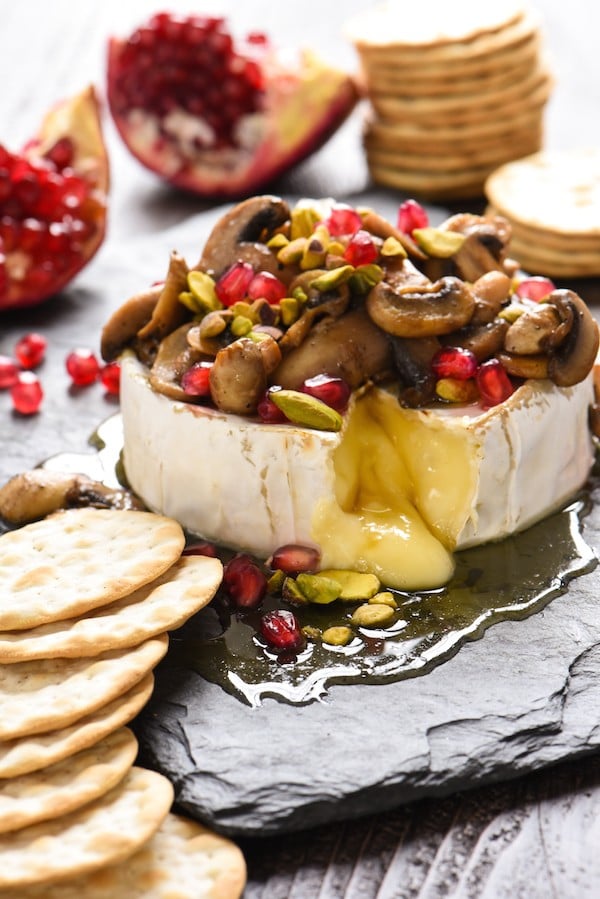 Holiday Baked Brie
Ingredients
2 tablespoons unsalted butter
8 ounces button mushrooms, sliced
Kosher salt and ground black pepper
8 ounce brie round
3 tablespoons honey
1/4 cup pomegranate arils
1/4 cup shelled pistachios
Crackers or toasted bread for serving
Instructions
Preheat oven to 350 degrees F. In large skillet, heat butter over medium-high heat. Add mushrooms; cook 8 to 10 minutes or until deep golden brown, stirring frequently. Season with salt and pepper; remove from heat.
Place brie on parchment-lined rimmed baking pan; drizzle with honey. Transfer to oven and bake 10 to 12 minutes or until inside of cheese is softened, but outside remains intact.
Transfer brie to serving platter; top with pomegranate arils, pistachios and mushrooms. Serve immediately with crackers or bread.
Notes
Home Chef Tip: To get deeply golden brown sautéed mushrooms, use the largest skillet you can get your hands on. A crowded skillet means the mushrooms will steam instead of getting nice and brown. Also - hold off on the salt until the end. Salt too early, and you'll draw the moisture out of the mushrooms, which again means steaming, not browning.