Phyllo Cup Appetizers
Update your holiday snack spread with these phyllo cup appetizers filled with cheese, apples and bacon. They're a savory modern take on a cheeseball and crackers.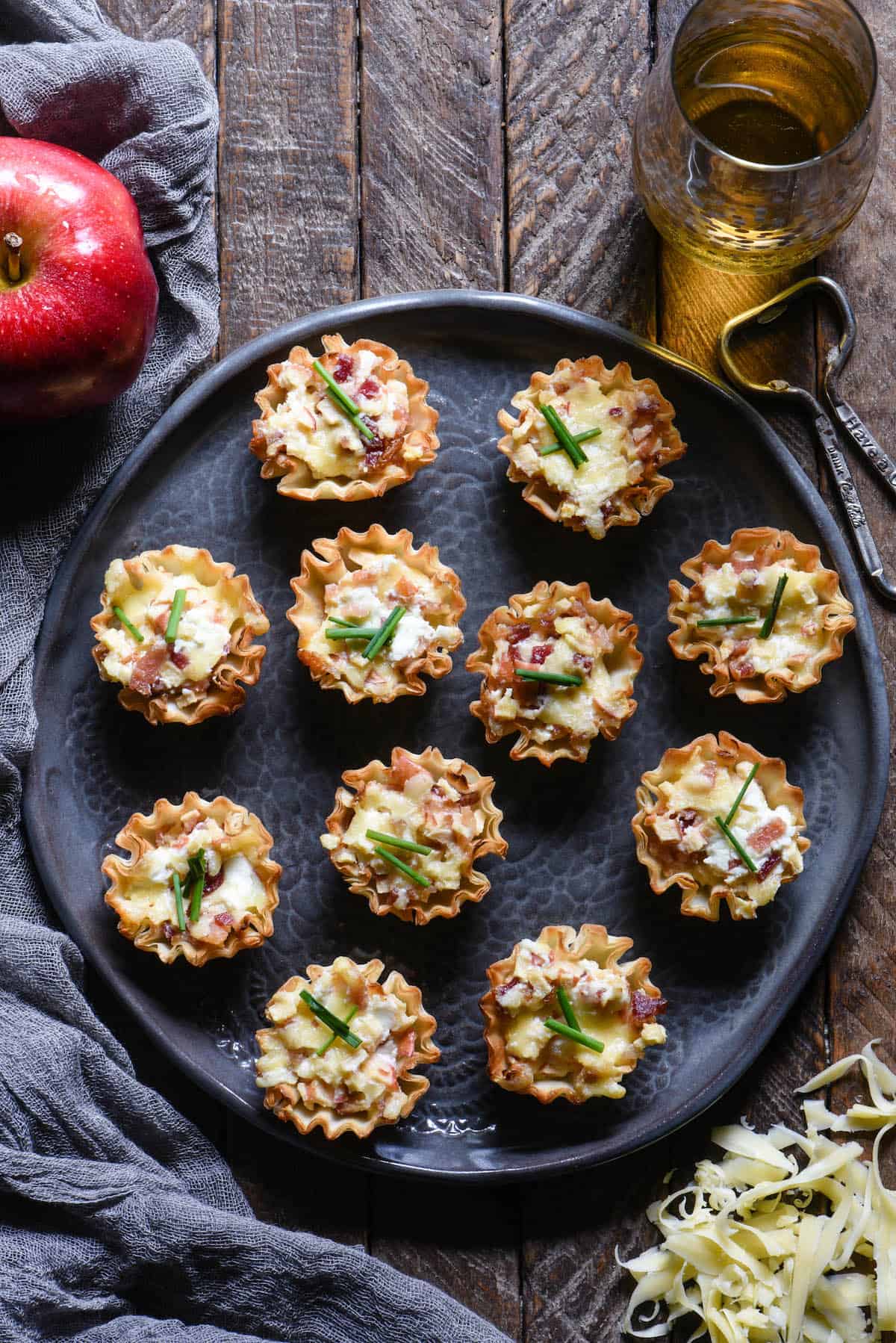 I don't know about you, but I don't have a huge walk-in pantry like you see in home magazines, stocked to the ceiling with boxes of fancy crackers and jars of homemade preserves.
But even in my little pantry cabinet and fridge, there are a few things that I like to keep on hand for quick snacks that seem fancy, but are so easy.
While in October, it's ingredients to make Halloween eggs and other Halloween food ideas, MOST of the year, it's really just rosemary simple syrup for cocktails, Marcona almonds, good olives, fresh fruit, smoked salmon and a few good cheeses and cured meats for jarcuterie or individual charcuterie cups that make the list.
Especially for the Thanksgiving – New Years holiday season (or as it's known in our house, snacking season), several of these items are almost always in my fridge. Or, in a pinch, just the ingredients for homemade spicy potato chips or a some food board ideas.
Another item right there at the top of that ingredient staples list is mini phyllo cups. And these phyllo cup appetizers filled with cheese, bacon and apples are one of my favorite ways to serve them. Make a round of my whiskey mule recipe and you've got a party!
What are phyllo shells, and why are they so great for appetizer cups?
Phyllo shells are small edible cups made with layers of phyllo dough, which is a light and flaky unleavened dough used in Greek and Middle Eastern cuisines.
People are most often familiar with phyllo dough in baklava and flaky spinach pie.
Phyllo shells are a favorite of mine for appetizer cups because they are SO adaptable. They can be filled with any variety of filling to make phyllo cup appetizers, from sweet to savory or somewhere in between.
I use them to make my mini baklava bites phyllo cup recipe, and just about every flavor of appetizer under the sun. Food Network has a roundup of Phyllo Shells 15 Ways that has a ton more great ideas.
The savory little bites I've made here are also terrific as part of a brunch food buffet. Don't forget to make a round of caramel iced coffee using my homemade caramel syrup recipe for your brunch, too!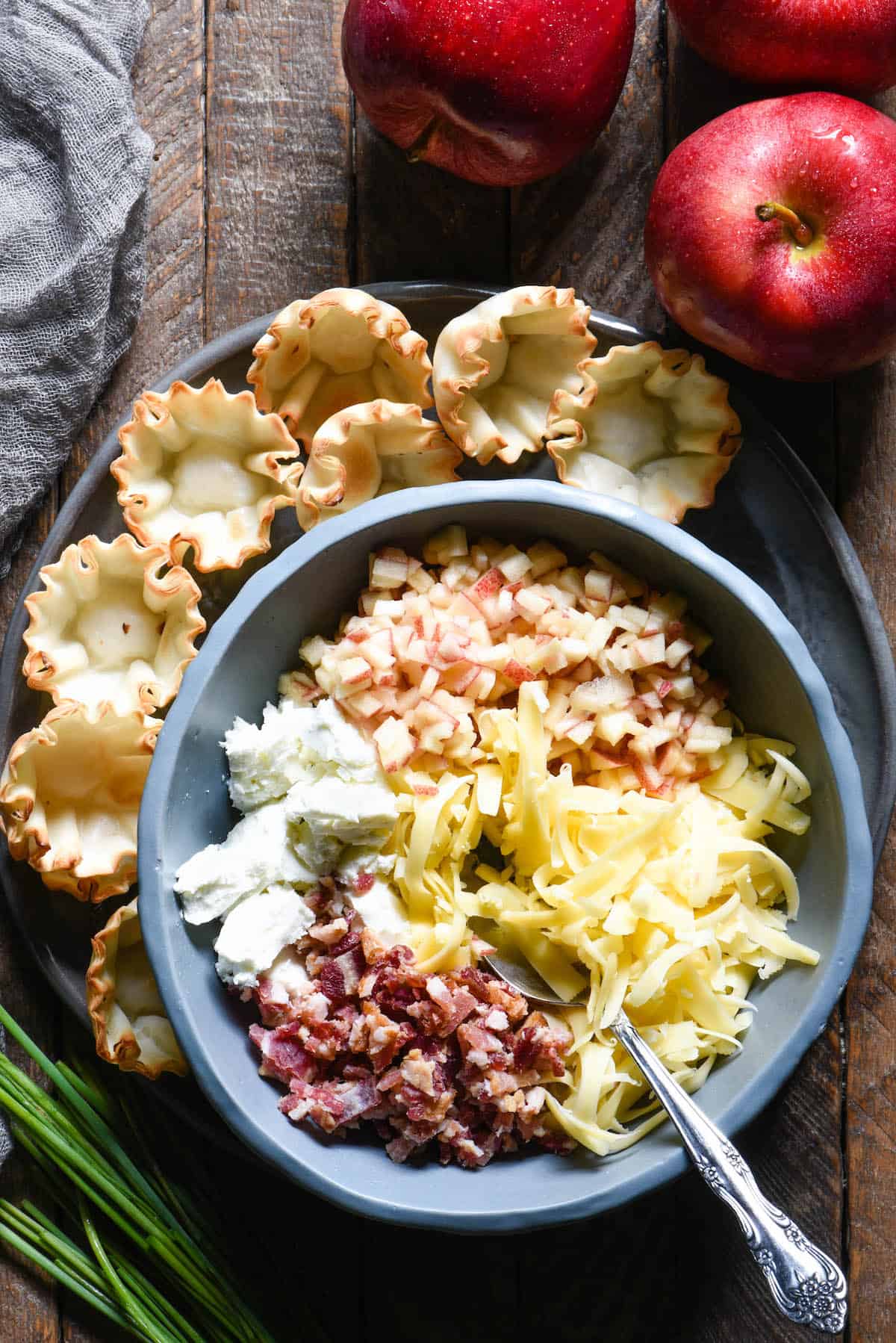 Where to find the shells for this phyllo cup recipe:
These little edible cups that I use for phyllo cup appetizers (usually called "phyllo shells" or "mini fillo shells" on their box) are most often found in the freezer section of any grocery store (look near the puff pastry and other frozen pastry items).
I've also occasionally seen stores keep them at room temperature during the holiday season when they sell quickly, since phyllo cup recipes are popular that time of year.
If you can't find them at your store, be sure to ask, because some stores keep them in truly oddball locations.
How to store the shells for these phyllo cup appetizers:
You can store unfilled phyllo cups at room temperature for a few days once you bring them home, or freeze them for longer freshness if you're not ready to make a phyllo cup recipe yet.
If you've stored your phyllo cups in the freezer after purchasing them, simply put them on your counter as you are cooking bacon in the oven (or turkey bacon in the oven or turkey bacon in an air fryer) and prepping your filling for these appetizer cups, and they'll be at room temperature and ready to eat by the time you're ready to fill them.
Phyllo cups can be served straight from the box, or baked if you want. Like I said, SO easy. You can practically make these phyllo cup appetizers with an apple cider bourbon drink in one hand.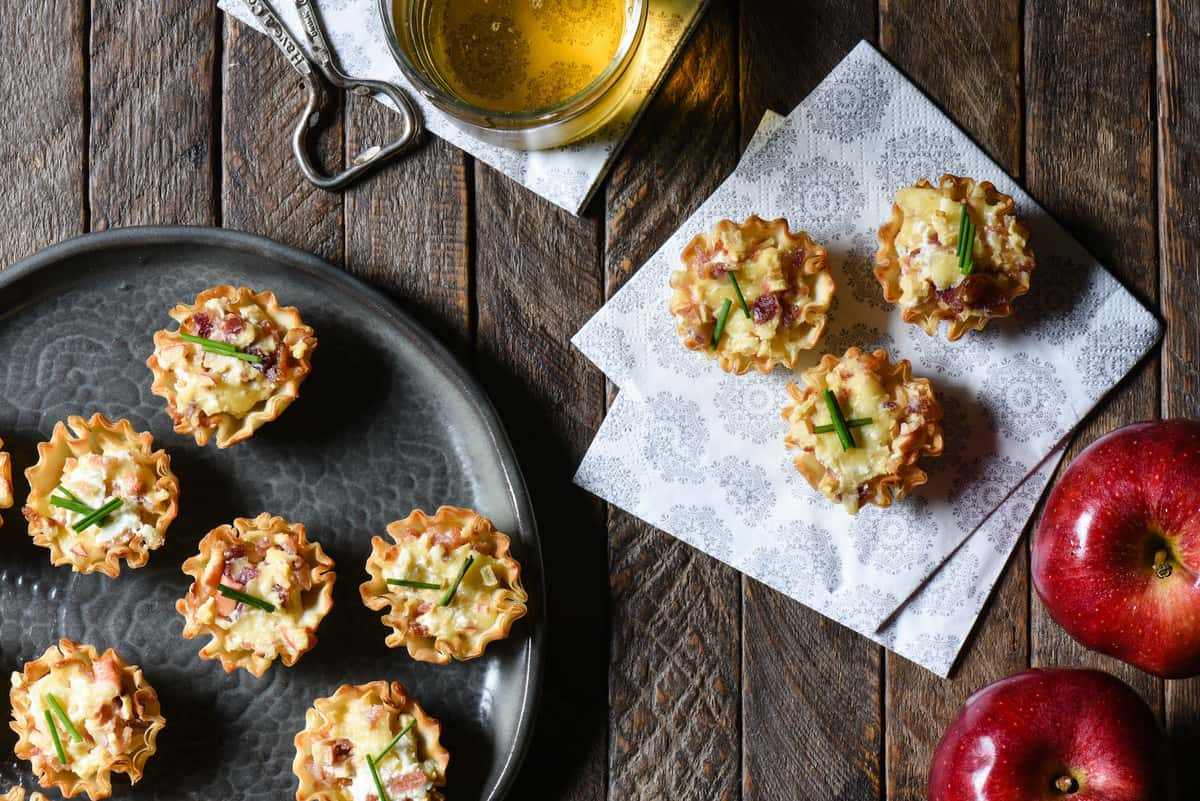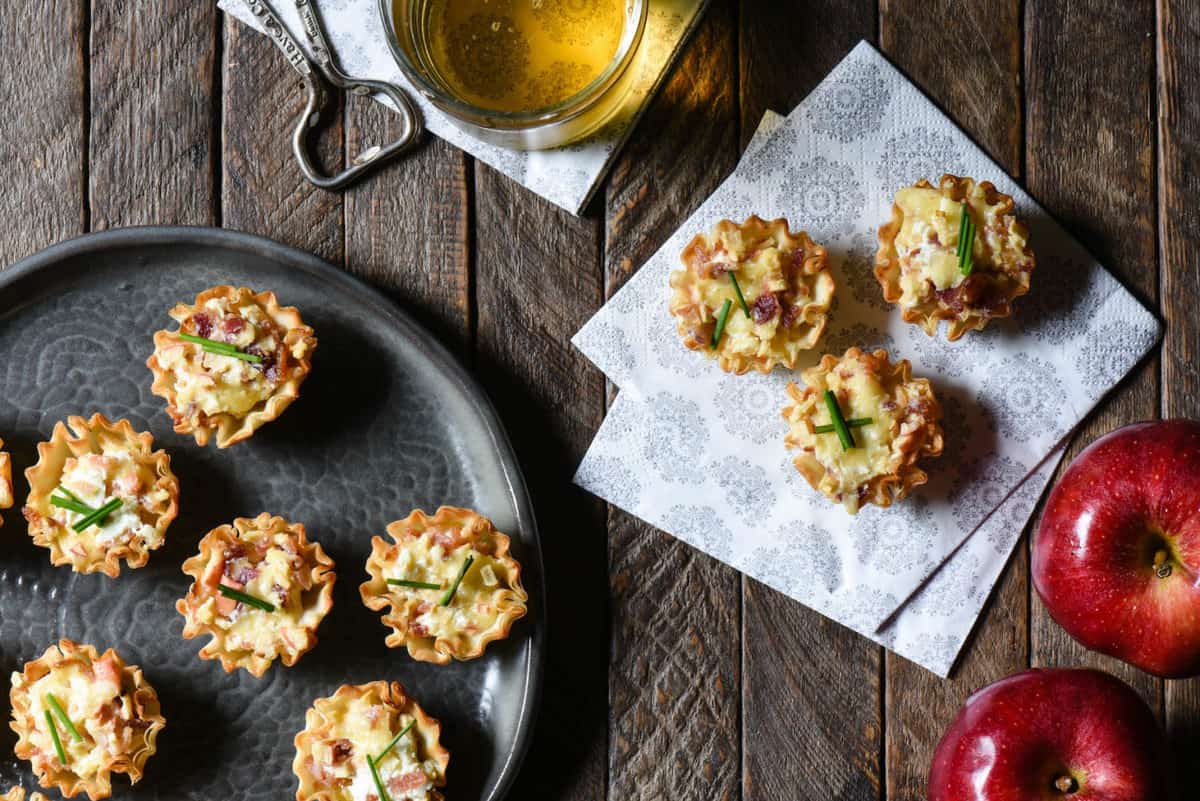 This phyllo shell recipe is a modern take on a cheeseball.
These cheese, apple and bacon phyllo cup appetizer cups are my modern take on a cheeseball and crackers. In fact, all of the elements of a really fancy cheeseball are included – bacon, goat cheese, and gouda cheese. And the crunchy phyllo shells mimic crackers.
Updating the appetizer section of your Thanksgiving recipes list with this phyllo cup recipe couldn't be easier. You could even add them to your Thanksgiving charcuterie board.
To make these phyllo cup appetizers, grab a bowl and simply stir together some cooked and crumbled bacon, goat cheese, gouda cheese (also my fav cheese for vegetarian quiche and mushroom tacos), a dash of hot sauce, and some chopped Gala apple (also my apple of choice for baked apples in the oven and Instant Pot apple butter).
Scoop the mixture into phyllo cups, and if you're really in a time crunch, you CAN serve these bites at room temperature. But, I like to pop them into the oven so the cheese gets all golden brown and melty.
The warm, gooey cheese is a big payoff for just 15 minutes in the oven for these phyllo shell appetizers.
Your holiday guests will be coming back for seconds and thirds of these savory-sweet little bites, I promise (especially if they have a brandy old fashioned or apple cider mule to wash them down)! If you think you only need one box of phyllo cups, you better buy two and make a double batch, just to be safe!
Phyllo Cup Appetizers
Update your holiday snack spread with these phyllo cup appetizers filled with cheese, apples and bacon. They're a savory modern take on a cheeseball and crackers. 
Ingredients
1 box (1.9 oz) phyllo shells (15 pieces)
2 slices oven baked bacon, finely chopped
1/2 small Gala apple, finely chopped
2 ounces goat cheese, softened
2 ounces Gouda cheese, shredded
Dash hot sauce
1 tablespoon chopped fresh chives, chopped
Instructions
Preheat oven to 350 degrees F. If phyllo shells are in freezer, place on counter to bring to room temperature while you prepare the filling.
In medium bowl, stir bacon, apple, goat cheese, Gouda and hot sauce until well combined.
Place phyllo shells on rimmed baking pan. Divide cheese mixture between phyllo shells. Transfer to oven and bake 15 minutes or until light golden brown.
Garnish with chives and serve immediately.
Recommended Products
Foxes Love Lemons, LLC is a participant in the Amazon Services LLC Associates Program, an affiliate advertising program designed to provide a means for sites to earn advertising fees by advertising and links to Amazon.com. There is no additional cost to you.
Nutrition Information:
Yield:

15
Serving Size:

1
Amount Per Serving:
Calories:

113
Total Fat:

9g
Saturated Fat:

5g
Trans Fat:

0g
Unsaturated Fat:

3g
Cholesterol:

23mg
Sodium:

166mg
Carbohydrates:

6g
Fiber:

0g
Sugar:

1g
Protein:

3g