Cajun Salmon Pasta
Cajun Salmon Pasta brings penne, roasted salmon, mushrooms, zucchini and sundried tomatoes together in a creamy, zesty sauce that will transport you to New Orleans!
While the heartbreak of the pandemic has closed several of my favorite restaurants, others luckily remain open. But even some of those that have been able to hang on are still operating with a limited menu due to staffing issues.
Our local Cajun and Creole restaurant is an example of this. They used to have a very delicious Cajun shrimp pasta on the menu, but these days only focus on po' boy sandwiches.
So, since I'm always looking for ways to add to my library of salmon recipes, I decided to try my hand at Cajun Salmon Pasta at home.
Just like my creamy salmon pasta and pesto salmon, this seafood dish is a breeze to prepare on a weeknight, but will make you feel like you're enjoying a special restaurant meal!
What you'll need for creamy Cajun salmon pasta:
salmon – you will need 3/4 pound of salmon for this recipe, and there is more information about how to choose the right kind of salmon in the section below.
Cajun seasoning – you can make homemade Cajun seasoning, or simply buy a jar of it pre-mixed. Sometimes I'll use Cajun seasoning instead of Old Bay in my crab stuffed salmon recipe, too.
pasta – I like penne pasta for this recipe, but just like with my lamb bolognese, any noodle you like best is great. Fusilli, like I used for salmon pesto pasta, is another perfect shape.
butter – using butter to saute the vegetables adds delicious flavor to this recipe.
mushrooms – I used sliced baby Bella mushrooms, but any type of mushroom works well in blackened salmon pasta, and chicken stroganoff and savory oatmeal, too!
zucchini – I used one medium zucchini from my garden. Summer squash is also good!
sundried tomatoes – buy the kind packed in oil, so you can use both the tomatoes and the oil from the jar for extra flavor!
garlic – I wouldn't think of making a creamy seafood pasta without lots of garlic!
shallot – I love the subtle flavor of shallot in this Cajun pasta with salmon. A small amount of yellow onion can be substituted if you do not have a shallot.
cream – there's really no substitute for classic heavy whipping cream if you want a rich, delicious sauce. Using half and half would mean a much thinner sauce for this blackened Cajun salmon pasta.
chicken stock – this adds more liquid to the sauce and also provides some flavor, too.
lemon juice – the acidic brightness of lemon juice is a classic when paired with seafood. Buy an extra lemon for a lemon smoothie!
salt and pepper – non-negotiable!
Parmesan cheese – I love a sprinkle of Parmesan added at the end for a special touch. Extra Parm can be used to make mashed potato cakes.
parsley – a little bit of fresh parsley really makes any dish look like a restaurant dish (check out my roasted acorn squash slices to confirm), but this is optional.
How to buy the best fish for Cajun pasta with salmon:
While for recipes like salmon sandwiches and my recipe for bourbon salmon, I purchase thick, individual fillets of salmon (so, 4 separate fillets for 4 servings), I love the ease of roasting a larger fillet of salmon for Cajun pasta with salmon, since I'm just going to break it into chunks anyway.
At the grocery store, butcher, or seafood market, ask them for a fillet of salmon with the skin on, about 3/4 of a pound to a pound.
You can use any variety of salmon you like best for this blackened salmon pasta, whether that's Atlantic salmon, sockeye salmon, or something else.
Food & Wine's Guide to Every Type of Salmon You Can Buy will help you learn the differences before you're ready to make this creamy Cajun salmon pasta recipe.
Tips for making this blackened salmon pasta recipe successful:
So, just like in my salmon alfredo recipe, you're going to be cooking three things at once (fish, pasta, sauce) in this creamy Cajun salmon pasta recipe, but I know that you can do it. Don't worry.
Have your oven preheated and a pot of water fully boiling before you begin to make blackened Cajun salmon pasta.
First, get your salmon into the oven. All you're doing here is putting the fish on a pan, sprinkling it with Cajun seasoning, and popping it into the oven. Set a timer and forget about it for awhile.
Next, get your pasta cooking: dump some penne into the pot of boiling, salted water, and again: set it and forget it (well, maybe give it a stir or two if you remember).
Then it's time to cook the vegetables. First, saute the mushrooms, then add the zucchini to the skillet. When they're tender, transfer them to a bowl.
You'll then start your sauce for the blackened salmon pasta by adding the sundried tomatoes and their oil, and garlic and shallot to the skillet you used for the vegetables.
After a minute, add the cream, chicken stock, lemon juice, salt, pepper and remaining Cajun seasoning. You'll cook this mixture 5 to 6 minutes or until it thickens into a, well, sauce. If this finishes before your pasta and salmon, just keep it warm on the lowest heat possible.
When your pasta is done cooking, drain it well, and pour it into the skillet with the sauce. Add the mushrooms and zucchini back to the skillet, too. Toss everything together until it's well combined.
At this point, your salmon should be done cooking, too! Take it out of the oven, break the salmon into big chunks, and arrange it over the pasta.
Sprinkle with Parmesan cheese and parsley, and it's time to eat this Cajun pasta with salmon!
Can this dish be reheated or frozen?
While I love recipes where leftovers can be reheated for lunch the next day, this blackened Cajun salmon pasta recipe is one that is best eaten immediately (just like my Greek yogurt pasta and lemon caper pasta).
Does "reheated fish pasta" sound good to anybody? I also don't recommend freezing this blackened salmon pasta.
So, while this Cajun pasta with salmon as written below would serve a family of four (or a double date at home!), if you're serving just two people, I'd recommend cutting the recipe in half.
If you're looking for a salmon recipe that can be frozen and reheated, check out my salmon cakes! They're made with fresh, flavorful ingredients and are easy to prepare.
If you'd like a pasta sauce that freezes well, I recommend a batch of bolognese, which can be found with my rigatoni meat sauce and fettuccine bolognese recipes. Cook the noodles fresh when you're ready to eat!
Or, make my cottage cheese lasagna or best veggie lasagna recipe and freeze slices of it. And my pimento mac and cheese freezes well, too!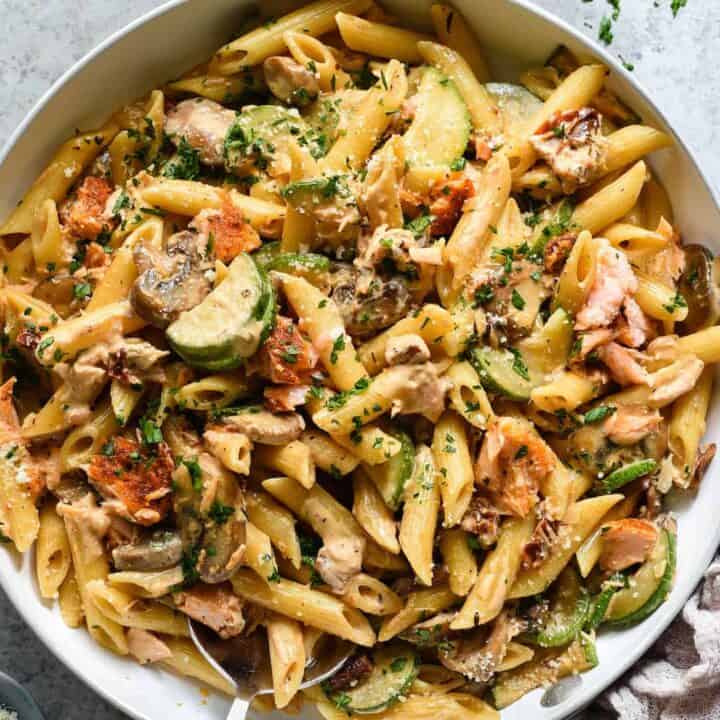 Cajun Salmon Pasta
Cajun Salmon Pasta brings penne, roasted salmon, mushrooms, zucchini and sundried tomatoes together in a creamy, zesty sauce that will transport you to New Orleans!
Ingredients
Nonstick cooking spray
3/4 pound salmon fillets
2-1/2 teaspoons Cajun seasoning, divided
12 ounces penne pasta
2 tablespoons unsalted butter
8 ounces sliced baby Bella mushrooms
1 medium zucchini, thinly sliced
1/3 cup chopped oil-packed sundried tomatoes, plus 1 tablespoon oil from the jar
3 garlic cloves, minced
1 shallot, finely chopped
1-1/2 cups heavy cream
1/2 cup chicken stock
1 tablespoon fresh lemon juice
1/2 teaspoon kosher salt, plus more for pasta water
1/4 teaspoon ground black pepper
1/4 cup grated Parmesan cheese
2 tablespoons finely chopped parsley (optional)
Instructions
Preheat oven to 400 degrees F and heat large pot of water to boiling on stove. Spray small rimmed baking pan with nonstick spray. Place salmon, skin side down, on prepared pan and sprinkle with 1 teaspoon Cajun seasoning. Bake 12 minutes or until salmon is almost opaque throughout and internal temperature reaches 145 degrees F.
Meanwhile, salt pot of boiling water and cook penne according to package instructions.
Meanwhile, heat butter in large high-sided skillet over medium heat. Add mushrooms and cook 3 to 4 minutes or until light golden brown, stirring occasionally.
Add zucchini to skillet and cook 4 to 6 minutes longer or until zucchini is tender. Transfer mushrooms and zucchini to medium bowl.
Return skillet to heat and add sundried tomatoes and their oil, garlic and shallot to skillet. Cook 1 minute, stirring constantly. Add cream, stock, lemon juice, salt, pepper and remaining 1-1/2 teaspoons Cajun seasoning. Heat to boiling over medium heat, then reduce heat to medium-low and cook 5 to 6 minutes or until mixture is thickened to a thin sauce consistency, stirring frequently. Reduce heat to low.
Drain penne and add to skillet. Add mushrooms and zucchini and toss until everything is well combined. Cook over low heat 1 to 2 minutes or until everything is warmed through, stirring occasionally.
Remove salmon from oven. Slip spatula between salmon skin and flesh to remove skin; break into large chunks over penne. Serve garnished with Parmesan cheese and parsley.
Recommended Products
Foxes Love Lemons, LLC is a participant in the Amazon Services LLC Associates Program, an affiliate advertising program designed to provide a means for sites to earn advertising fees by advertising and links to Amazon.com. There is no additional cost to you.
Nutrition Information:
Yield:

4
Serving Size:

1
Amount Per Serving:
Calories:

780
Total Fat:

55g
Saturated Fat:

28g
Trans Fat:

1g
Unsaturated Fat:

23g
Cholesterol:

176mg
Sodium:

1101mg
Carbohydrates:

41g
Fiber:

4g
Sugar:

8g
Protein:

32g
This website provides estimated nutrition information as a courtesy only. You should calculate the nutritional information with the actual ingredients used in your recipe using your preferred nutrition calculator.