Really Good Thanksgiving Salad Recipe
If you believe that every Thanksgiving menu needs a bright and fresh salad, this Really Good Thanksgiving Salad recipe is for you! Greens, Parmesan cheese and the best harvest produce, tossed with a simple maple vinaigrette.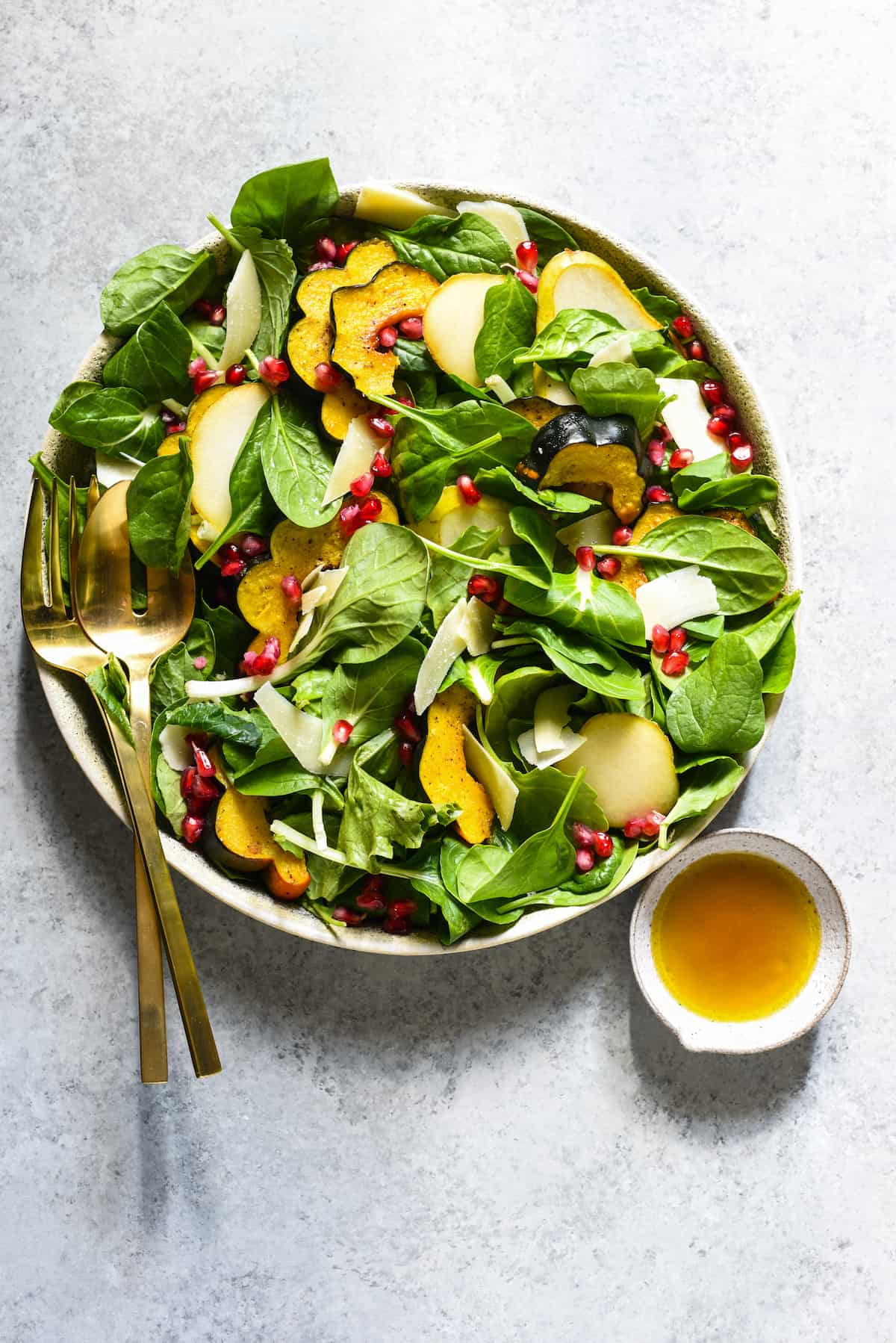 Hey friends! When you're figuring out what Thanksgiving recipes you're going to make, do you include a salad? I feel like the addition of a green salad for Thanksgiving dinner (and a Christmas Salad a month later) is a tradition in some families, while others could take or leave it.
Sure, there are already plenty of side dishes on the table, including lemon maple Brussels sprouts, balsamic green beans and old fashioned bread stuffing.
In our house, some years a salad shows up on the table, and other years it does not. Sometimes we'll do a soup like sweet dumpling squash soup instead.
But when I do want to offer a green salad, this Thanksgiving salad recipe is what I make.
The meal isn't complete without the best Thanksgiving salad.
For me, a holiday menu usually isn't complete without a salad for Thanksgiving dinner, and I've made this same really good Thanksgiving green salad recipe year after year.
When there are lots of rich, heavier dishes on the table (hello corn casserole with cheese and Cajun turkey), I find that a light and fresh salad with an acidic dressing really helps to balance everything out.
Even if not everybody at the table chooses to partake in my Thanksgiving salad idea (same story with my Thanksgiving fruit salad and Christmas fruit salad), I like having it there. I'll always have a scoop to my plate!
This Thanksgiving salad idea is sweet, savory and simple.
I keep this best Thanksgiving salad recipe simple by starting with a big bowl of baby spinach (also perfect in salmon spinach pasta). You could also use arugula, thinly sliced kale, mixed greens, or even butter lettuce.
From there, it's just a matter of choosing some of my favorite fall harvest ingredients, like roasted acorn squash slices, pears and pomegranate arils.
Just like my Easter fruit salad, his salad for Thanksgiving dinner is super adaptable to whatever produce you like best. Butternut squash and apples would be just as delicious!
A sprinkle of Parmesan cheese shavings add saltiness. Or, you could use Pecorino Romano, like I did in my Easter salad, for an extra sharp bite. Even leftover goat cheese from my cranberry appetizer would be great here.
How to cut acorn squash:
This really depends on how motivated I'm feeling. The photos of the best Thanksgiving salad recipe included in this post have "half moons" of acorns squash, which are the easiest to cut.
To make half moons, simply cut a raw acorn squash in half lengthwise, scoop out the pulp and seeds, and then slice the squash crosswise into 1-inch-wide pieces.
OR, if you want to get super fancy, you can make roasted rings of acorns squash, as seen in the photo below.
To cut rings, slice an entire acorn squash into 1-inch-wide pieces, crosswise. Then, use a small round cookie cutter to cut out the seeds and pulp.
You'll be left with acorn squash slices that kind of look like little flowers. Super cute!
What kind of dressing for a Thanksgiving salad recipe?
This best Thanksgiving salad recipe is lightly dressed in a homemade apple cider vinegar and maple syrup vinaigrette.
This dressing can be made in advance! Keep it in an airtight container at room temperature for up to 3 days.
One less thing to do on Thanksgiving, right?
Other great salad dressing options would be homemade citrus salad dressing or lemon tahini dressing. These can also be made ahead, but these ones should be kept in the refrigerator.
How to keep the pears fresh until you're ready to serve this salad for Thanksgiving dinner:
This part is optional for your Thanksgiving green salad, really. It depends on your tolerance for sliced pears that will brown during a long feast.
I find that pears tend to brown even quicker than sliced apples, so I like to take a quick step to prevent the browning.
There are so many ways to prevent pears from turning brown, and everybody seems to have their own favorite method.
The Cookful has an article on 10 ways to stop apples from browning (which is also perfect for pears) and I bet you've already tried some of them.
A lemon juice solution is a classic method for a reason. And the salt water method seems to have it super fans.
I usually have citric acid around for food styling, so I generally reach for that (it's also super handy to have on hand to descale a coffee maker!).
To use citric acid to prevent fruit from browning, I prepare a quart of cold water in a large bowl, and stir in 2 teaspoons of citric acid until it is dissolved. Then, as I slice my pears, I transfer them to the bowl of citric acid water.
When everything is sliced and in the bowl, I use my hands to scoop the sliced pears out of the bowl and onto a clean kitchen towel. I pat the pears dry and they're ready to use!
Whatever method you choose, you'll probably want to do something to keep your sliced pears fresh in this Thanksgiving salad idea throughout a long, leisurely Thanksgiving dinner.
How can I prepare this Thanksgiving green salad in advance?
I'm a BIG fan of prepping for Thanksgiving in advance, so there's less to do the day of, and this best Thanksgiving salad recipe is no exception.
As I mentioned above, the dressing can be made up to 3 days in advance.
In addition, you can roast the squash in advance. I would under-roast the squash (roast it just 20 to 25 minutes instead of 30). Allow it to cool and then keep it in a covered container in the fridge.
When you're ready to serve the salad, you can microwave the squash or pop it into the oven for a minute or two to finish cooking it.
If you're using a fresh pomegranate for this Thanksgiving green salad, the arils can be taken out of it in advance, and refrigerated (but personally, I usually just buy the little cups of pomegranate seeds, because it's so much easier). Any extra pomegranate arils can be used to garnish a Thanksgiving charcuterie board or my lamb lollipop recipe.
On the day of the big feast, prepare the sliced pears and toss everything together and you're ready to go!
Psst – this salad is also the perfect accompaniment to leftover turkey chili or even fettuccine bolognese.
More Foxes Love Lemons Favorites
Really Good Thanksgiving Salad Recipe
If you believe that every Thanksgiving menu needs a bright and fresh salad, this Really Good Thanksgiving Salad recipe is for you! Greens, Parmesan cheese and the best harvest produce, tossed with a simple maple vinaigrette.
Ingredients
Nonstick cooking spray
Kosher salt and ground black pepper
1 medium acorn squash, halved, seeded and cut into 1-inch slices
2 tablespoons maple syrup
1 tablespoon apple cider vinegar
2 tablespoons extra virgin olive oil
1 package (5 ounces) baby spinach
1 pear, cored and thinly sliced
1/4 cup pomegranate arils
1/4 cup shaved Parmesan cheese
Instructions
Preheat oven to 425 degrees F. Lightly spray rimmed baking pan with cooking spray. Place squash slices on prepared pan and season with salt and pepper. Transfer to oven and cook 25 to 30 minutes or until golden brown and tender, turning once halfway through. Remove from oven and let cool.
Meanwhile, in large bowl, whisk together maple syrup and vinegar. While whisking, slowly drizzle in oil until all oil is incorporated.
To serve, add greens to bowl with dressing and toss until well combined. Arrange greens on serving platter; top with pear, pomegranate arils, cheese and squash. Serve immediately.
Recommended Products
Foxes Love Lemons, LLC is a participant in the Amazon Services LLC Associates Program, an affiliate advertising program designed to provide a means for sites to earn advertising fees by advertising and links to Amazon.com. There is no additional cost to you.
Nutrition Information:
Yield:

6
Serving Size:

1
Amount Per Serving:
Calories:

125
Total Fat:

6g
Saturated Fat:

1g
Trans Fat:

0g
Unsaturated Fat:

4g
Cholesterol:

4mg
Sodium:

196mg
Carbohydrates:

17g
Fiber:

4g
Sugar:

8g
Protein:

3g