White Claw Cocktail (Gin & Seltzer with White Claw)
Love White Claw but want to take it to the next level with a mixed drink? Add a few simple ingredients to make this refreshing cucumber and lime White Claw cocktail that you'll want to sip all summer!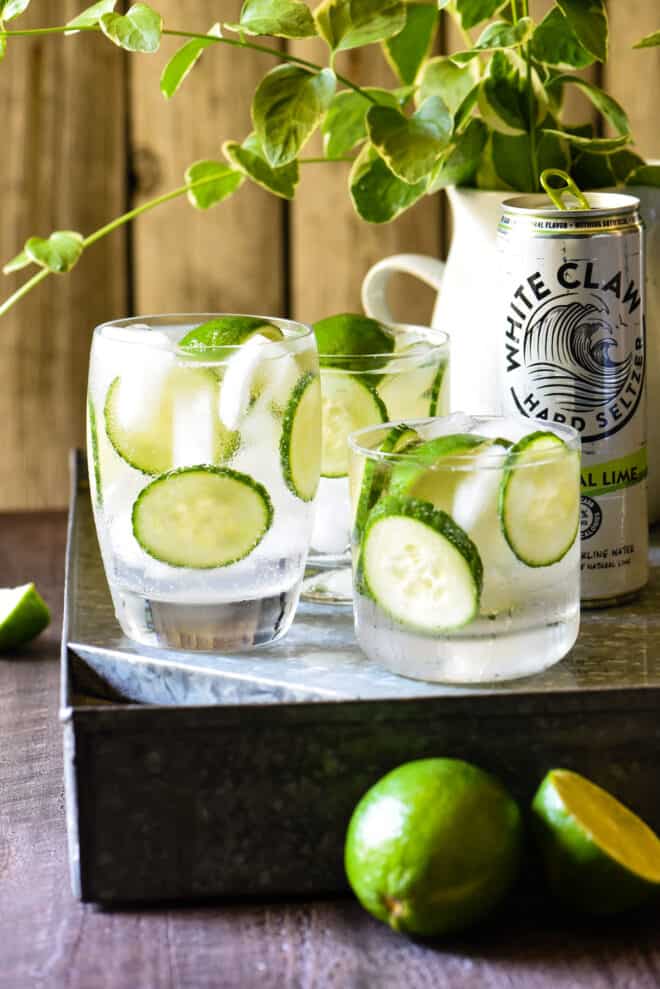 I'm sure you're aware that White Claw hard seltzer is all the rage right now, and has been for awhile. It seems like everywhere I go, somebody is drinking a can of it. People can't get enough!
And while I drink non-alcoholic seltzer daily and sparkling mango lemonade using seltzer), White Claw on it's own was honestly not my favorite (give me a lemon bourbon rosemary cocktail any day, though).
And of course, I didn't discover that until I already had a full case of it chilling in my fridge.
So, if you love White Claw straight from the can, I'm happy for you. Go forth and enjoy your summer with a Claw in hand.
But, if you're like me, you might enjoy a cocktail, like a gin and seltzer made with White Claw, a little bit more. This cucumber and lime White Claw cocktail might become your favorite drink this summer!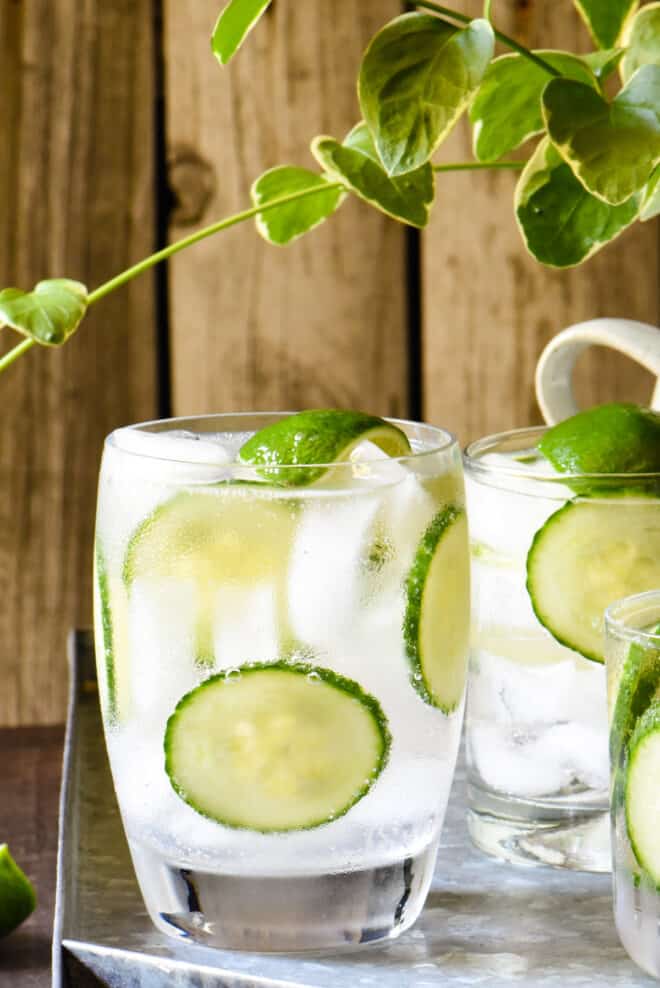 How to make a White Claw cocktail:
This White Claw mixed drink comes together really quickly, making it an awesome option for entertaining this summer, maybe alongside some slow cooker ribs and spicy potato chips.
First, simply muddle some sliced cucumber and lime juice until the cucumbers get a bit broken up and release all of their flavor. You're not looking to mash them into oblivion, just a light muddle is fine (just like with my basil cocktail and grapefruit mule).
Next, stir in some gin. Finally, top this gin and seltzer cocktail with lime White Claw. Garnish with a few extra cucumber slices and a lime wedge, and your White Claw cocktail is ready to enjoy. Cheers!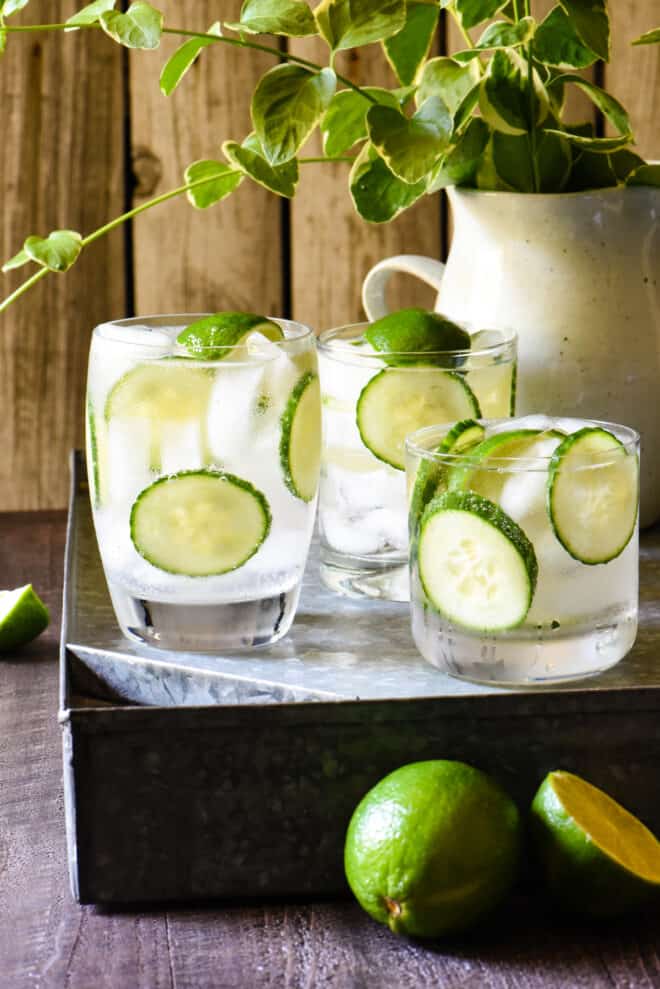 What type of gin should I use for this gin and seltzer?
Well, you have a few options when it comes to the gin to use in this White Claw cocktail.
Bon Appetit does a great job outlining The 4 Types of Gin and What They Even Are, which will help you choose the perfect gin for just about any type of cocktail you'd like to make, including this gin and seltzer combo.
Personally, I have three different brands of gin in my liquor cabinet – one that pair wells with cucumber (Hendricks), one that pairs well with lime (Bombay Sapphire), and a neutral one that enjoys mingling with both (Plymouth).
Bombay Sapphire (which is a London Dry gin) is my first choice for this White Claw mixed drink. Beefeater and Tanqueray are other well-known brands of London Dry gin.
But because there's cucumber in this White Claw mixed drink, Hendricks gin is also a great choice.
Serve some snacks with this White Claw mixed drink!
You can never go wrong with melted cheese and bread, so my savory baked brie is always a crowd pleaser with a round of gin and seltzers (or agave lemonade or honey lemonade for the non-drinkers). The cheese is topped with basil pesto and roasted garlic, and it's the stuff dreams are made of.
My air fryer turkey meatballs can be served as an appetizer or a party snack, and they're great with White Claw cocktails. Don't forget to make the yogurt dipping sauce – it's my favorite part!
Or, for some Asian flair, try my General Tso's meatballs or wonton nachos.
If you're in the mood for seafood, check out my crabby snacks recipe! Originally inspired by a movie, these crab and avocado crostini are just plain tasty, and delicious alongside a White Claw mixed drink.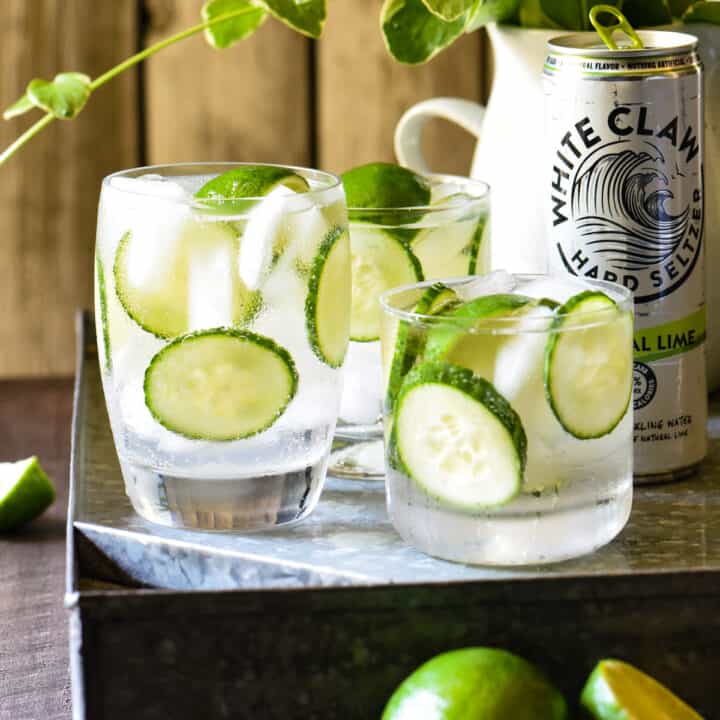 White Claw Cocktail
Love White Claw but want to take it to the next level with a mixed drink? Add a few simple ingredients to make this refreshing cucumber and lime White Claw cocktail that you'll want to sip all summer!
Ingredients
6 slices English cucumber, plus extra for garnish
1 lime, halved
2 ounces gin
1 can Lime White Claw
Instructions
In cocktail beaker or large glass, muddle cucumber slices and juice of 1/2 lime until cucumber is lightly crushed. Add gin and stir until well combined.
Fill two double old fashioned glasses with ice; divide gin mixture between glasses. Top each glass with White Claw and garnish with additional cucumber slices, if desired. Cut remaining lime half into two wedges; garnish drinks with lime wedges and serve immediately.
Recommended Products
Foxes Love Lemons, LLC is a participant in the Amazon Services LLC Associates Program, an affiliate advertising program designed to provide a means for sites to earn advertising fees by advertising and links to Amazon.com. There is no additional cost to you.
Nutrition Information:
Yield:

2
Serving Size:

1
Amount Per Serving:
Calories:

109
Total Fat:

0g
Saturated Fat:

0g
Trans Fat:

0g
Unsaturated Fat:

0g
Cholesterol:

0mg
Sodium:

5mg
Carbohydrates:

13g
Fiber:

3g
Sugar:

4g
Protein:

2g