Egg Salad with Pickles (Pickled Egg Salad)
Egg Salad with Pickles is a versatile, irresistible recipe, great for meal prepped lunches throughout the week or as part of a brunch buffet. Serve on croissants, bread, or just with a fork!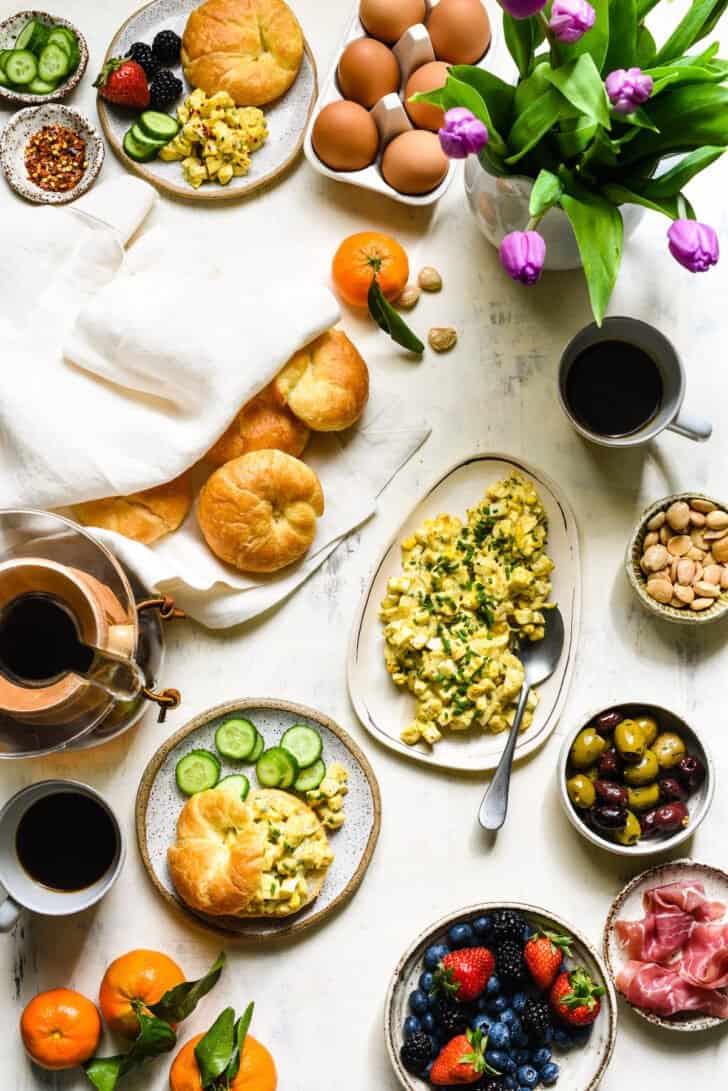 Do you eat hard boiled eggs all year around, or mostly just after dyeing the eggs for Easter (and then shrimp deviled eggs)? I've always loved them at any time of year, and I've started packing them in my daughter's lunchbox, too.
I'll generally make a batch of them at the start of the week for easy snacking throughout the week. Just peel, sprinkle with salt and pepper or everything bagel seasoning, and eat.
But once in awhile I want to go beyond peel-and-eat, and that's when I make this Egg Salad with Pickles. It's a super versatile recipe, great for preparing on Sunday and eating for lunches throughout the week, or as part of a smoked salmon platter on an epic brunch menu for Easter or Mother's Day.
Whether it's served as a pickled egg sandwich on croissants or bread, or just eaten with a fork, this is the best egg salad recipe with pickles. And it's for true pickle lovers, as the eggs are pickled AND there's chopped pickles in the salad!
What you'll need for egg salad with pickles:
eggs – and actually, older eggs are easier to peel once they're boiled. So use the carton that you bought a week ago, not yesterday, if possible.
vinegar – I like the combination of flavors of apple cider vinegar and rice vinegar (which I also use in miso dressing), but you could use all of one or the other. You could also use entirely white vinegar to pickle the eggs. Save the balsamic for balsamic glaze!
sugar – you'll need just a spoonful to sweeten the pickling liquid.
salt – to season the pickling liquid.
pickles – we'll be adding finely chopped pickles to the egg salad. More on pickle choice below!
mayonnaise – the creamy addition to any great egg salad.
mustard – to add tang to the egg salad dressing. I like whole grain Dijon mustard for egg salad with pickles, as well as honey mustard pork chops and maple Brussels sprouts, but you can also use regular Dijon or classic yellow mustard. If using yellow mustard, cut the amount in half and use just 1 tablespoon.
black pepper – to add a little kick to the pickled egg salad.
fresh chives – this adds a green, herby freshness to this egg salad recipe with pickles and makes the dish look beautiful on a brunch buffet. Any extra chives can be used to make pimento mac and cheese.
How to eat pickled eggs:
There are so many ways to eat pickled eggs. You can enjoy them on their own, as a snack or use them to make deviled eggs. And they're delicious sliced and served on top of avocado toast or grilled avocado crostini.
But my favorite way to enjoy them is to make pickled egg salad.
The recipe below is as simple as hard-boiling the eggs, then peeling them and storing them in a simple pickling solution overnight. Then, the eggs are chopped and mixed with chopped pickles, mayo, mustard and chives.
That's it. It's so, so easy, but the one extra step of pickling the eggs gives this salad a tangy, unique twist.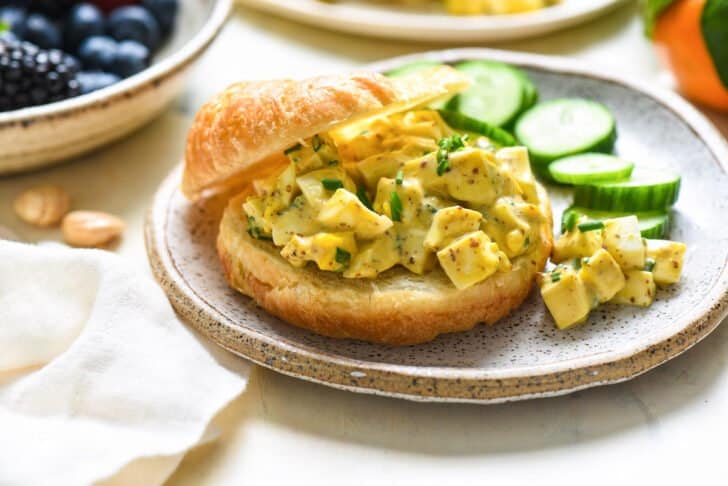 What kind of pickles in egg salad?
I bought a jar of whole kosher dill pickles and finely chopped them for this egg salad with pickles. This is also what I use in my tartar sauce recipe. You can also use baby dill pickles or even dill pickle spears (all great choices for bloody mary skewers too).
If you like a sweet pickle, try this pickled egg salad with chopped up cornichons (also so good in individual charcuterie cups)!
And in a pinch, if you have bread and butter pickles on hand from making cheeseburger pizza, you can chop those up and use them as pickles in egg salad.
Can I make this recipe for egg salad with relish?
Don't want to chop up pickles? You CAN use dill pickle relish for this pickled egg salad (and many people love a recipe for egg salad with relish), but chopped whole pickles will always be my first choice.
If you decide to use relish, try to press it into a fine mesh strainer to release some of the extra liquid before adding it to your egg salad with pickles.
Do you put vinegar in egg salad?
When I make traditional egg salad, I always add a splash of cider vinegar to the mixture (this is also the vinegar I use to make pineapple sauce for ham).
However, since the eggs are pickled in vinegar for this egg salad and we're ALSO adding chopped pickles to it, I don't think the egg salad with pickles mixture needs any additional vinegar.
But taste it for yourself and if you'd like more tang, you can always add a touch more vinegar to the egg salad mixture.
That's the great thing about cooking, and what I learned in culinary school – adjusting things to your own taste.
My favorite kitchen gadget for perfect hard boiled eggs for this best egg salad recipe with pickles:
A little shout out to the Cuisinart egg cooker (not sponsored, but affiliate link).
I actually didn't know egg cookers even existed until I took a food styling class a few years back, and the instructor recommended this cooker for perfect, easy-to-peel soft boiled eggs, like in my cottage cheese breakfast bowl and smoked salmon pizza recipes.
I'm not much of a kitchen gadget person, but this appliance spoke to me, because I have NEVER had good luck with hard boiled eggs done the old fashioned way on the stove. I guess it's just not one of my talents.
This little cooker doesn't take up much space in my kitchen (I store it in a deep drawer with other small appliances when not in use), and it's worth it's weight in gold, whether I want just one soft boiled egg on top of my toast, four hard-boiled eggs for an Easter salad, or a dozen for a double batch of Halloween deviled eggs.
It makes perfect hard boiled and soft boiled eggs EVERY. SINGLE. TIME. I cannot recommend it enough!
What to serve with pickled egg salad:
I like pickled egg salad served on a croissant or some nice crusty bread. Sometimes I'll even add a few slices of crispy bacon to my pickled egg sandwich. See my guide on how to cook bacon in the oven to get the best, easiest crispy bacon.
For an Easter charcuterie board, pile all the sandwich fixings onto a big platter to make it look like a unique charcuterie board idea.
I also love to just put cream cheese on an english muffin and serve it alongside this egg salad with pickles.
More recipes for your perfect brunch menu:
Whether you're hosting a buffet for a big crowd on Easter, or just making breakfast in bed for mom on Mother's Day, these recipes are tried and true favorites for a morning meal.
Egg Salad with Pickles
Egg Salad with Pickles is a versatile, irresistible recipe, great for meal prepped lunches throughout the week or as part of a brunch buffet. Serve on croissants, bread, or just with a fork!
Ingredients
2/3 cup apple cider vinegar
2/3 cup rice vinegar
1-1/2 teaspoons granulated sugar
1-1/2 teaspoons kosher salt
8 large eggs
1/2 cup finely chopped dill pickles
1/3 cup mayonnaise
2 tablespoons whole grain Dijon mustard
1/2 teaspoon freshly ground black pepper
2 tablespoons finely chopped fresh chives
Instructions
Place apple cider vinegar, rice vinegar, sugar, salt and 2/3 cup water in small saucepot. Heat to boiling over medium heat. Remove from heat; let stand until cool.
Meanwhile, prepare a large bowl of ice water. Make hard boil eggs in egg cooker OR place eggs in medium saucepot and add water to cover by 2 inches; heat to boiling over medium-high heat. Cover and remove from heat; let stand 10 minutes. Transfer eggs to ice water; let stand 5 minutes. Drain and peel eggs.
Place eggs in large jar or other container with lid; pour vinegar mixture over eggs. Cover and transfer to refrigerator for at least 12 hours or up to 3 days.
To serve, place pickles, mayonnaise, mustard and pepper in medium bowl and stir until well combined. Remove eggs from pickling liquid; discard liquid. Coarsely chop eggs. Add eggs and chives to bowl with mayonnaise mixture and stir until combined.
Recommended Products
Foxes Love Lemons, LLC is a participant in the Amazon Services LLC Associates Program, an affiliate advertising program designed to provide a means for sites to earn advertising fees by advertising and links to Amazon.com. There is no additional cost to you.
Nutrition Information:
Yield:

4
Serving Size:

1
Amount Per Serving:
Calories:

295
Total Fat:

23g
Saturated Fat:

5g
Trans Fat:

0g
Unsaturated Fat:

17g
Cholesterol:

380mg
Sodium:

1085mg
Carbohydrates:

4g
Fiber:

1g
Sugar:

3g
Protein:

13g
This website provides estimated nutrition information as a courtesy only. You should calculate the nutritional information with the actual ingredients used in your recipe using your preferred nutrition calculator.