Harissa Barbecue Chicken
This Harissa Barbecue Chicken is an easy way to add a little spice to classic grilled chicken!
Every once in awhile, you've gotta shake up your cooking with a new-to-you ingredient. This summer, I've been experimenting with harissa. I've enjoyed it in restaurant dishes, but had never used it at home until last month.
Sometimes described as the national condiment of Tunisia, harissa is a hot chili pepper paste made with a base of roasted red peppers. It has a smoky taste, and can be very spicy when used in large amounts, or it can add just a little bit of heat to a dish when used more sparingly.
It can be found at specialty grocery stores (although I am starting to see it more and more in mainstream stores), and also easily purchased online.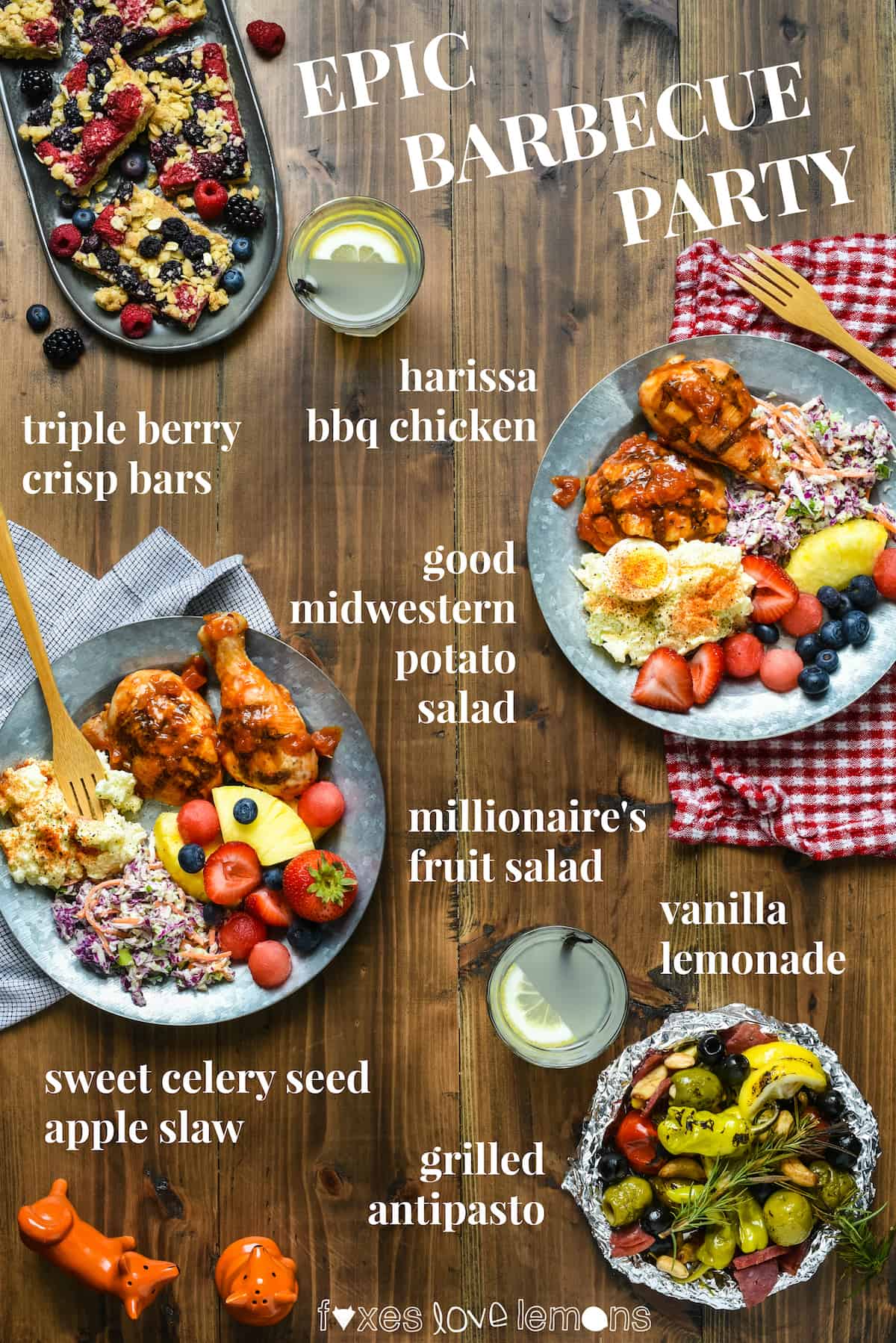 Now, harissa is not something that is typically eaten on its own (although it can be used as-is as a rub for meat or vegetables, if you don't have a batch of my versatile best rib rub on hand).
Instead, it's most often used as an ingredient in soups, stews and sauces. I started my experimentation by going the sauce route with this Harissa Barbecue Chicken.
I'm a big fan of homemade barbecue sauces (like the one for my root beer ribs) in general because you can control the quality of ingredients that go into your sauce, and also limit the amount of things like added sugar and preservatives.
Every homemade barbecue sauce I make begins with Red Gold Tomatoes. Not only are they the freshest tasting canned tomatoes I've tried (see my side-by-side comparison of Red Gold vs. one of their competitors for more detail), but all of their tomatoes are grown on farms within 200 miles of Red Gold's facilities, so they spend as little time in transit as possible, which I really appreciate from a sustainability standpoint.
Using a base of Red Gold Ketchup and Petite Diced Tomatoes with Green Chilies, my sauce is rounded out with a generous amount of harissa (add a little less harissa for a milder dish), onions, garlic, cider vinegar, and a pinch each of brown sugar, salt and pepper.
Slather this sauce on chicken, seafood or my country style pork ribs recipe.
Red Gold has been sustainably growing their tomatoes on Midwest farms for more than 70 years. Red Gold tomatoes are non-GMO project verified, and packed in non-BPA lined cans. For more information, please connect with Red Gold on Facebook, Twitter, Instagram and Pinterest.
Harissa Barbecue Chicken
This Harissa Barbecue Chicken is an easy way to add a little spice to classic grilled chicken!
Ingredients
1 tablespoon olive oil
3 garlic cloves, minced
1/2 small white onion, finely chopped
1/4 cup harissa paste
1 can (14.5 ounces) diced tomatoes with green chiles and their juices
1 cup ketchup
2 tablespoons apple cider vinegar
1 teaspoon light brown sugar
1/2 teaspoon kosher salt, plus additional for seasoning chicken
1/4 teaspoon ground black pepper, plus additional for seasoning chicken
3 pounds bone-in chicken thighs and drumsticks
Instructions
In medium saucepan, heat oil over medium heat. Add garlic and onion; cook 3 to 5 minutes or until golden brown, stirring frequently. Add harissa paste; cook 1 minute, stirring constantly.
Stir in tomatoes and their juices, ketchup, vinegar, brown sugar, salt and pepper; heat to boiling over medium-high heat. Reduce heat to medium-low and simmer 10 to 15 minutes or until thickened, stirring occasionally.
Meanwhile, preheat grill for direct grilling over medium heat. Season chicken with salt and pepper. Transfer chicken to grill and cook 16 to 18 minutes or until internal temperature reaches 165 degrees F, turning occasionally. During last 2 minutes of chicken cooking time, brush chicken with some barbecue sauce. Serve chicken with remaining barbecue sauce.
Notes
Home Chef Tip: This is a chunky barbecue sauce, with visible pieces of onion and tomato. If a smoother sauce is desired, let sauce cool 10 minutes, then transfer  to blender and puree until smooth.
Epic Barbecue Party Recipe Schedule:
Other Barbecue & Picnic Ideas:
Making one of these recipes? Please let me know by sharing a photo on social media with the hashtag #FLLEpicBarbecue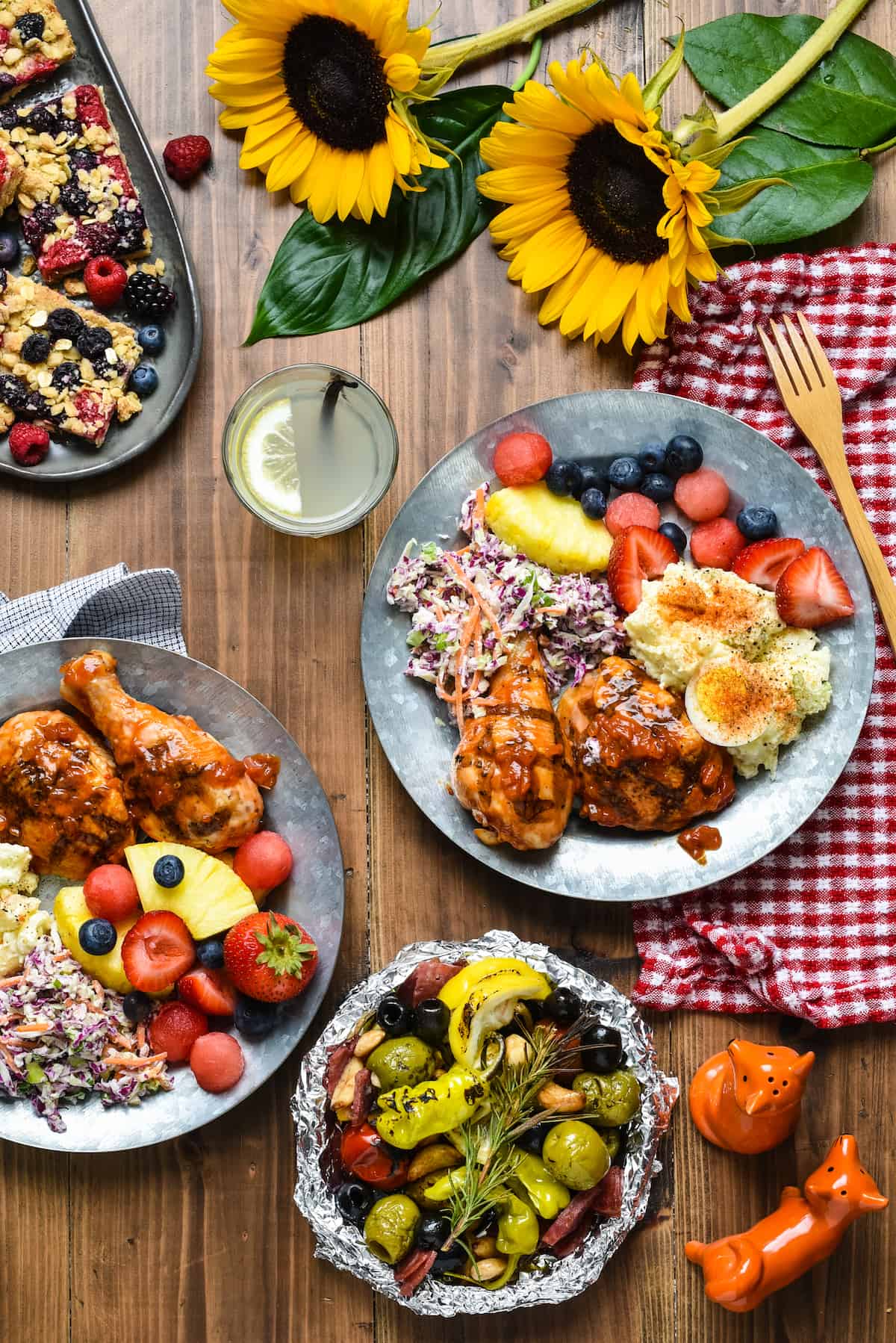 Disclosure: This was a sponsored post written by me on behalf of Red Gold. Sponsored posts help me pay for the costs associated with this blog (groceries…lots of groceries), and help support me as I pursue a career in recipe development and food photography. All opinions are 100% my own.