Cranberry Vanilla Gin Spritzer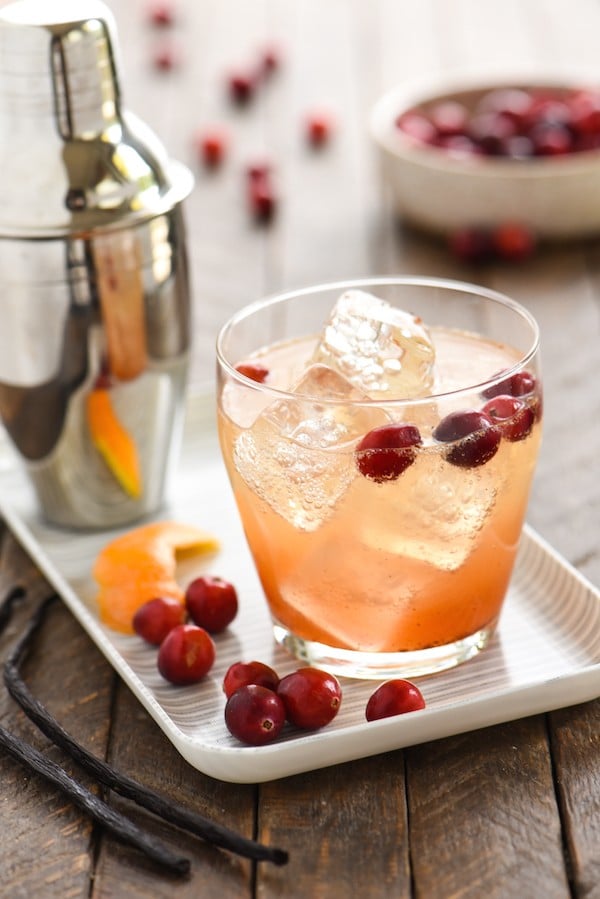 It took me a long time to warm up to gin. It's just so  . . .  flavorful, compared to vodka (which has virtually no flavor). I can see how if you weren't prepared for it, you could think that gin tasted like soap, or medicine, or pine trees (thanks to the juniper berries).
But over the years, I had many small sips of gin cocktails ordered by friends, to see if my taste buds had changed. And lo and behold, a few summers ago, they did.
My taste buds realized that gin and tonics were amazing. I mean seriously, they taste like an adult version of Sprite or something, right?
While gin and tonics are firmly a summer drink for me (and rosemary gin cocktails are my choice in the winter), I wanted to bring my newfound love of gin into the autumn months as well.
So of course, cranberries. I wanted to add a third flavor to tie the gin and cranberries together, and vanilla goes well with both of them, so I turned to vanilla bean coffee syrup.
This might be a cocktail to add to your Thanksgiving recipes list?
To make this Cranberry Vanilla Gin Spritzer, simply grab a cocktail shaker and muddle a piece of orange peel, a few dashes of orange bitters and some fresh cranberries.
Add some gin, vanilla bean syrup and orange juice and give it a good shake. Strain it into a glass over ice, and top with a bit of club soda for fizz.
P.S. Think gin tastes like pine trees? That's cool, I get it. Go ahead and use vodka in this cocktail instead. I selflessly tested that version for you, and it's delicious.
Cranberry Vanilla Gin Spritzer
Ingredients
1 piece (2 inches) orange peel
2 tablespoons fresh cranberries
2 dashes orange bitters
Ice
2 pumps vanilla bean syrup
1-1/2 ounces gin
1 tablespoon orange juice
Club soda, for finishing
Instructions
In cocktail shaker, muddle orange peel, cranberries and bitters until cranberries are crushed. Add ice, vanilla syrup, gin and orange juice; shake well.
Fill double old fashioned glass with ice, strain gin mixture over ice. Top with club soda and serve immediately.
MORE RECIPES WITH FRESH CRANBERRIES: