Lamb Chops & Orzo with Apricot Chutney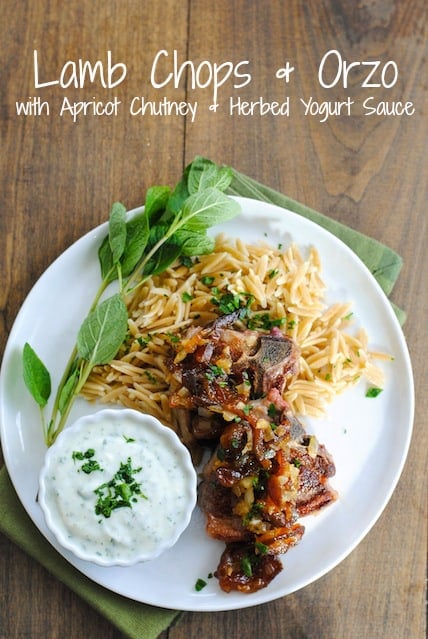 I know, the title of this recipe is kind of a mouthful. But, it's one that I've wanted to create for a long time. I keep a running list of recipes I wanted to develop, and this started as "lamb chop dish?" on that list. Over the next few months, other items were slowly added, as they came to me (usually right before I fell asleep at night. How convenient). Next, I thought it would be good with orzo pasta. There should probably be some dried apricot chutney too, because dried apricots are awesome. And oh yes, I always have yogurt on hand, so let's throw some of that in there too.
You know how yesterday, I told you about the new love of my life, Door to Door Organics (DTDO)? As soon as I signed up, I spotted these gorgeous lamb chops from Michigan's Tirrell Centennial Farms among their offerings, and I knew this dish would become a reality, and soon. I thought it would be fun to see if I could order all of the ingredients from DTDO, and it was no problem at all. They had every single thing I needed to get in the kitchen and make this Lamb Chops & Orzo recipe dream a reality!
This is definitely one of those recipes that looks a little more complicated than it really is. I know, there's four sections to the ingredient list. BUT, hear me out. The Herbed Yogurt Sauce takes literally 2 minutes to stir up. It can be made a few days in advance and kept in the fridge, if you want. Same for the Apricot Chutney. The orzo portion of the event is literally dumping pasta in boiling water and setting a timer. And while the pasta is cooking, you just sear the lamb chops in a pan. See? Pretty simple, yet special. Perfect for a dinner party, or just a fancy meal at home.
Do you want to check out all of these great ingredients from Door To Door Organics yourself? Enter the giveaway using the Rafflecopter below the recipe – two winners will win a $100 gift card to Door to Door Organics! This giveaway is open only to residents in areas where Door to Door Organics delivers. They deliver to Michigan and many other states – check to see if they deliver to your area by plugging your zip code into the search box on this page. Also, Be sure to follow Door to Door Organics on Twitter, Facebook, and Instagram. You can also find great recipes on their site.
Lamb Chops & Orzo with Apricot Chutney and Herbed Yogurt Sauce
Yield: 4 servings
Prep Time: 25 minutes
Cook Time: 20 minutes
Ingredients
For the Herbed Yogurt Sauce:
1 cup Thomas Organic Creamery whole milk plain yogurt
2 tablespoons finely chopped fresh parsley
1 tablespoon finely chopped fresh mint
1/4 teaspoon kosher salt
1/8 teaspoon ground black pepper
For the Orzo:
8 ounces DeLallo whole wheat orzo pasta
For the Apricot Chutney:
1 tablespoon extra virgin olive oil
2 garlic cloves, minced
1/2 medium yellow onion, finely chopped
1/2 cup Made In Nature dried apricots, thinly sliced
1/4 cup water
2 tablespoons Wholesome Sweeteners light brown sugar
1 tablespoon Bragg apple cider vinegar
For the Lamb Chops:
1 tablespoon extra virgin olive oil
8 Tirrell Centennial Farm bone-in lamb chops
Finely chopped fresh parsley, for garnish
Instructions
Prepare Herbed Yogurt Sauce: In small bowl, stir together all ingredients.
Prepare Orzo: In large pot of salted boiling water, cook orzo according to package instructions. Drain and keep warm.
Meanwhile, prepare Apricot Chutney: In medium skillet, heat oil over medium heat. Add garlic and onion; cook 2 to 3 minutes or until onion is softened, stirring frequently. Stir in remaining ingredients; heat to boiling over medium-high heat. Reduce heat to medium; simmer 6 to 8 minutes or until apricots are softened and most liquid is absorbed, stirring occasionally.
Prepare Lamb Chops: In large cast iron skillet, heat oil over medium-high heat. Add lamb chops and cook 6 minutes for medium doneness, turning once halfway through cooking.
Serve Lamb Chops over Orzo, garnished with parsley, with Herbed Yogurt Sauce and Apricot Chutney.
Disclosure: This is a sponsored post written by me on behalf of Door to Door Organics. Sponsored posts help me pay for the costs associated with this blog (groceries…lots of groceries), and help support me as I pursue a career in recipe development and food photography. All opinions are 100% my own.